Ah, summer-lovin'. What better way to enjoy the heat and the sun, than to do outdoor swimming? Skip the beaches, or even your house pools, and try these 8 of the best swimming holes in the USA:
Source: Flickr Sean Hagen
Source: Flickr Sean Hagen
1. Havasu Falls
Location: Supai, Arizona
A wonder among the Wonder! Why? It's nestled in the Grand Canyon. But just a reminder: this beautiful place is for the experienced hiker, because of the heat and terrains. Though do not be worried if you are no hiker. Just be patient, as the awaiting falls is worthy!
2. Meadow Run
Location: Ohiopyle, Pennsylvania
Water slide, water slide, water slide! This is a popular spot for cooling down for Pennsylvanians, but also for tourists. Watch out for bumpy rides before the place. Despite that, the thrill is worth it all!
Source: Flickr robert thigpen
Source: Flickr Tara Schmidt
3. Blue Hole
Location: Wimberley, Texas
Are you looking for fun? This is the best place to go. This area is preserved since 2005 by the Wimberley citizens. We could see why they did it, since this natural wonder would make you channel your inner Tarzan, using the rope swings there.
Source: Flickr Jenn Deane
Source: Flickr Doug Kerr
4. Sliding Rock
Location: Asheville, North Carolina
Families and adventurers would definitely love this place! The "slide" is really worth a try, so kids and even kids-at-heart will enjoy. Do not worry for danger, since lifeguards are there all summer.
Source: Flickr Paul Clark
Source: Flickr Paul Clark
5. Madison Blue Springs State Park
Location: Lee, Florida
Think Neverland is a fictional place? Then go here. The blue waters and abundant flora add to the beauty of the area. You could also see some wildlife action, which would make you want to go back to this gorgeous place more than once.
Source: Flickr Julian Garduno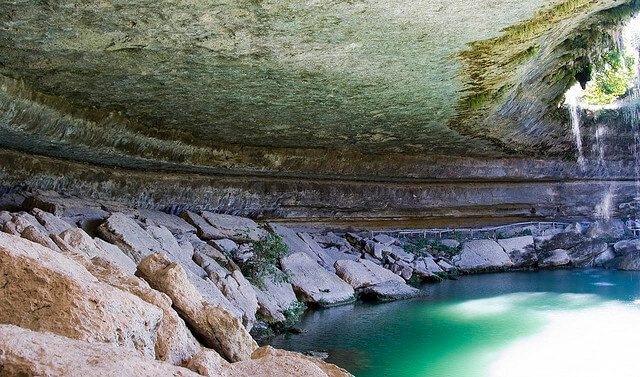 Source: Flickr Jessica Paterson
6. Hamilton Pool
Location: Dripping Springs, Texas
Just two words for this outstanding place: underground river. The dome collapsed a thousand years ago, and the beautiful result is just undeniable. If ever you've been to Texas, you would learn water here is sacred.
Source: Flickr Brenton Rogers
7. Cummins Falls
Location: Jackson County, Tennessee
Want to have a unique picnic experience, like no other? Go to this place! The big rocks surrounding the area are too surreal. Dining there while hearing the splash of water is very relaxing.
8. Jacob's Well
Location: Wimberley, Texas
Perfect for the outdoor adventurers, but not for the faint of heart, this place is a 30-feet underwater cave. If you're an experienced diver, you'll surely enjoy this area, especially the dive-off rock. But do not fret if you are not, since there are shallow ledges for soaking in the sun and for just wading in the waters.
Source: Buzzfeed