For those who are into hiking deep into the backcountry, the parks' popularity can make it tricky to find your own slice of solitude. Tricky, but not impossible. Here are 15 of America's best but hidden hikes to try!
1. Appalachian Trail Oxford County, Maine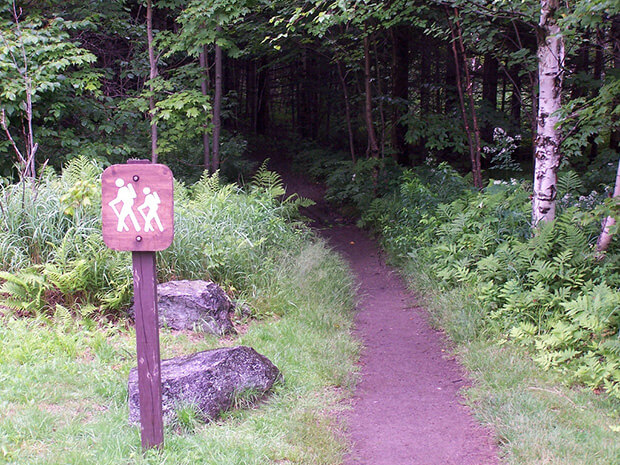 The best secret trail in the East's national parks isn't some unknown bridle path in Acadia (there is none), and it's
nowhere near the Smokies (with 9 million annual visitors!). The hidden treasure here is this northern 33-mile section of the Appalachian Trail—yes, the granddaddy of long trails is part of the national park system.
Direction:
By far the most common mode of transport for getting to the trail is by car. There is ample parking along the trail (at
trailheads leading to the trail proper)—in the more populated areas there is usually an entrance parking lot every 10 miles or so. Be sure not to leave anything valuable/visible in your car while gone (especially nice hiking equipment!). The Appalachian Trail is not set up for many circular routes, so you may want to arrange transportation to and from the trail at your start and end points. You can try to get off the trail near a town and try and pay someone to take you back to your car, but it's a much better plan to have a good friend or relative responsible for your transport!
2. Dingmans Falls Trail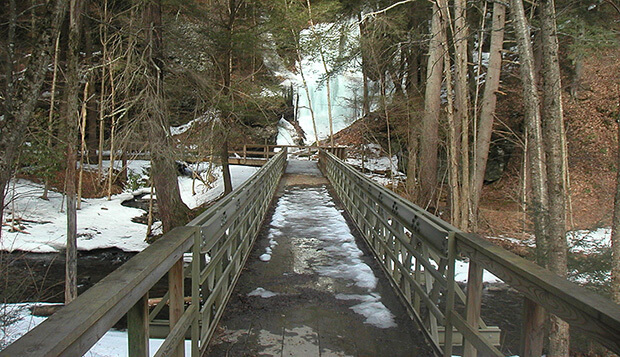 This flat boardwalk trail meanders gently through a hemlock ravine. Just after you cross the first footbridge, you'll find Silverthread Falls, gracefully plunging through a narrow geometric chute; you'll scarcely believe it was naturally
formed! As you continue through thickets of rhododendron, dappled sunlight dances gently on the forest floor to the sound of your footfalls. The high falls are the second highest in the state of Pennsylvania. If you come for a visit after a good rain, the falls will be at their most magnificent. Leaving the boardwalk trail is strictly prohibited, for the sake of our dwindling hemlocks, whose shallow root systems are fragile. A staircase leads to a bird-eye view from the upper falls.
Directions: Get it here
3. Pochuck Mountain, Sussex County, New Jersey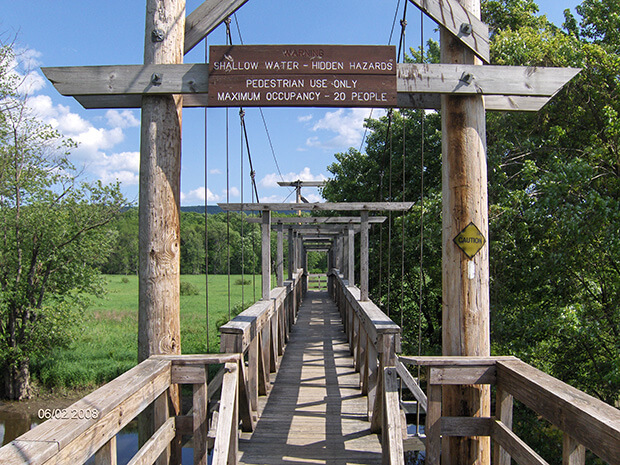 Pochuck Mt. is not as high as the other mountains of New Jersey but it is one of the most unique. The rocks that lay
around and on top of the mountain are over a billion years old and they are the same types of rock that are found on
Wawayanda Mountain. Both Pochuck and Wawayanda Mts. rise out of and form the borders of the Vernon Valley. The Vernon Valley was an important farming and mining area of New Jersey. Most of the land between the montains is low and flat. Wawayanda offers the best views of the valley and Pochuck's only view is to the west. Pochuck is not the mountain that you go to for views.
Directions:
From Interstate 80: Exit at Exit 19 and take County Route 517 North. Stay on 517 North.
Follow 517 North through Andover, Sparta, Franklin, Hamburg, McAffee, and Glenwood when you are half way through Glenwood you will see a sign for a trail parking is 100 feet after that. Follow the Guard Rail to the Cross walk and there is the start of the hike.
4. Falls in the River Trail, Pittsburg, New Hampshire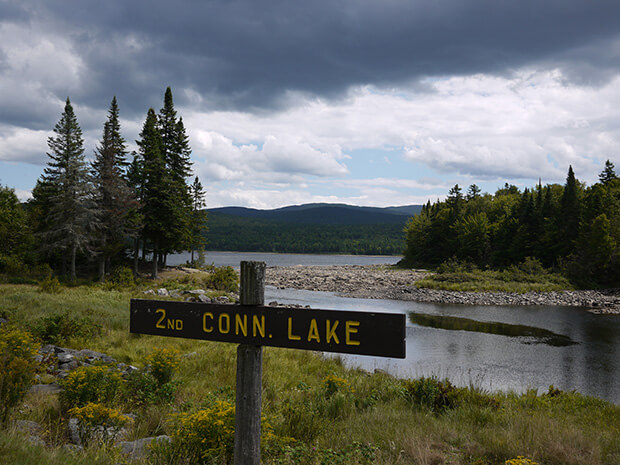 This family-friendly trail runs beside the Connecticut River, and the sounds of rushing water greet hikers as they make their way along the path. Wildlife and waterfowl call this place home; otherwise you'll find few distractions from peace and solitude.
Directions:
Take state Route 3 up to the northernmost reaches of New Hampshire. Turn off the road to the right just before the Second Connecticut Lake Dam and park. Facing the dam, look 90 degrees to the right. There is a large sign with bright yellow raised letters at the woods line that signals the start of the newly constructed Falls in the River Trail.
5. Eshqua Bog Natural Area, Hartland, Vermont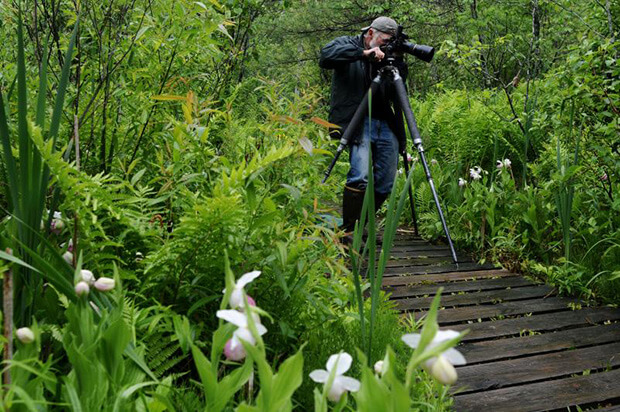 Eshqua Bog is a botanical wonderland of cold-climate holdovers–small pockets of bog plant species and a two acre fen–from the post-glacial era 10,000 years ago. This preserve contains a diverse array of bog and fen plants: labrador tea, cotton grass, pitcher plants, showy lady's slippers, larches and buckbean.
Direction:
Eshqua Bog Natural Area is located in Hartland. From I-89 take Exit 1, for Rte. 4 west toward Woodstock and Rutland. Drive 10.4 miles nearly into Woodstock, where Rte. 4 makes a sharp 90-degree bend to the right. (There is a gas station on the right hand side.) DO NOT GO RIGHT. Instead turn left on Hartland Hill Rd. Drive 1.2 miles and bear right onto Garvin Hill Road. Drive another 1.2 miles and look for the Nature Conservancy parking area with room for 4 cars on the right. The well-marked trail is also on the right, just beyond the pull off.
6. Turkey Run Park, McLean, Virgina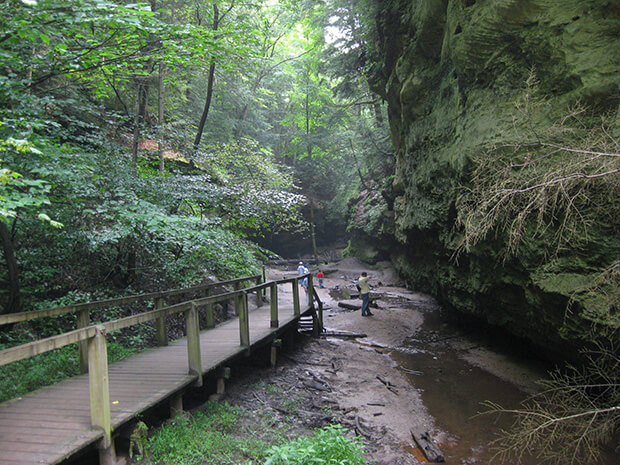 Turkey Run Park preserves a vertical slice of the Potomac Gorge ecosystem. A unique combination of flora and fauna makes a home in the park's riverbanks, flood terraces, upland forest, streams, and underground seeps.
Turkey Run Park is in Virginia on the George Washington Memorial Parkway near I 495.
Direction:
From I 495 take exit 43 and merge onto the George Washington Memorial Parkway. Take the exit for Turkey Run Park. Turn left at the sign on the exit ramp to enter the park.
From the northbound George Washington Memorial Parkway take the exit for Turkey Run Park. Turn right at the sign on the exit ramp to enter the park.
7. Spruce Flats Falls and Chestnut Top Wildflowers, Townsend, Tennessee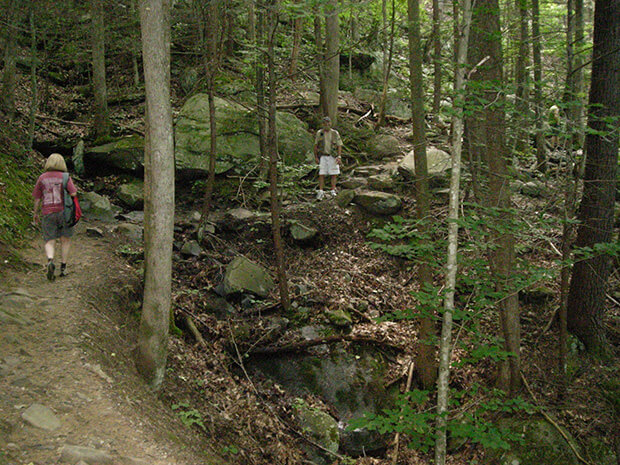 Spruce Flats Falls and Chestnut Top Wildflowers is a 2 mile out and back trail located near Townsend, Tennessee that features a waterfall and is rated as difficult. The trail is primarily used for hiking and is accessible year-round. The waterfall is one of the parks best kept secrets.
You may not see a soul on the trail, but don't be surprised to find people at the falls. The hike is not as well known or publicized as many others in the park, but it's no secret either. If you're after photos and you don't want people in them, you need to be here early in the morning. The waterfall consists of four separate drops; however, only the lower sections are safe to view.
8. Blair Spring Hollow Trail, Mammoth Cave, Kentucky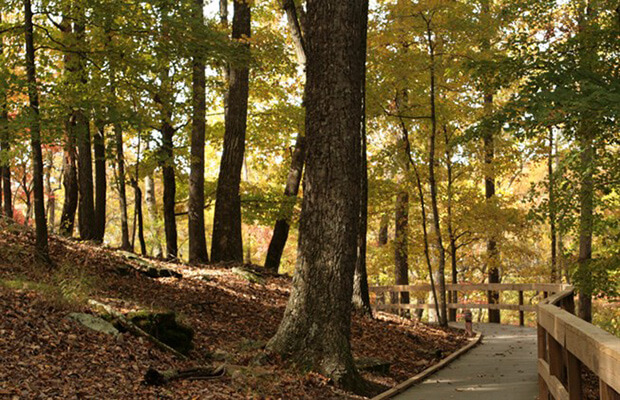 Mammoth Cave National Park is a place for letting your feet lead you – or your horse's hooves, or the tread of your bike's tires. With nearly 84 miles of trail in the backcountry, frontcountry and Visitor Center areas combined, from easy to rugged, you're certain to find just the one-on-one with nature you're looking for.
Six trailheads, at Maple Springs, Lincoln, Big Hollow, First Creek, Temple Hill and White Oak give access to the backcountry's 65.8 miles of trail. Most backcountry trails are for pedestrian and horseback use only, with the exception of Big Hollow Trail, which is for pedestrian and mountain bike use only, and Maple Springs Trail and White Oak Trail, which are all-use trails.
9. Crabtree Falls, Nelson County, Virginia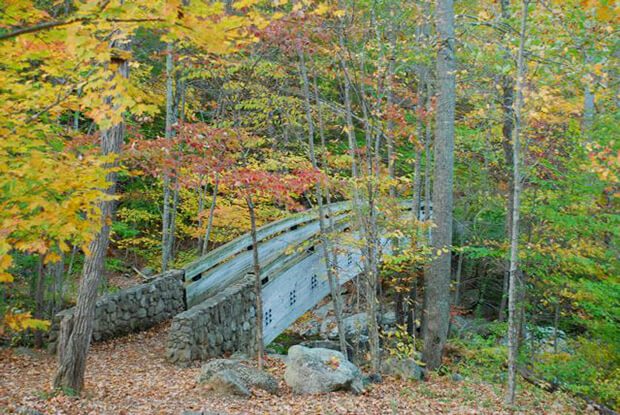 Crabtree Falls is one of the most beautiful waterfalls in Virginia, and certainly the tallest. It is commonly referred to as the tallest waterfall in the East. This is a mistake because Crabtree Falls is actually a series of waterfalls, all beautiful and tall but not one distinct drop. Crabtree Creek flows from Crabtree Meadows through a rare hanging valley for this region before plunging 1,080 feet towards the Tye River.
Directions:
From the North: Take Interstate 65 to Exit 53 (Cave City Exit). Turn right onto KY-70. Follow 70/255 as it becomes the Mammoth Cave Parkway in the park. Follow the Mammoth Cave Parkway to the Visitor Center.
From the South: Take Interstate 65 to Exit 48 (Park City Exit). Turn left onto KY-255 and follow 255 as it becomes the Park City Road into the park. Follow Park City Road until it joins the Mammoth Cave Parkway; turn left. Follow the Mammoth Cave Parkway to the Visitor Center.
10. Guignard Clay Quarry Loop Trail, Cayce, South Carolina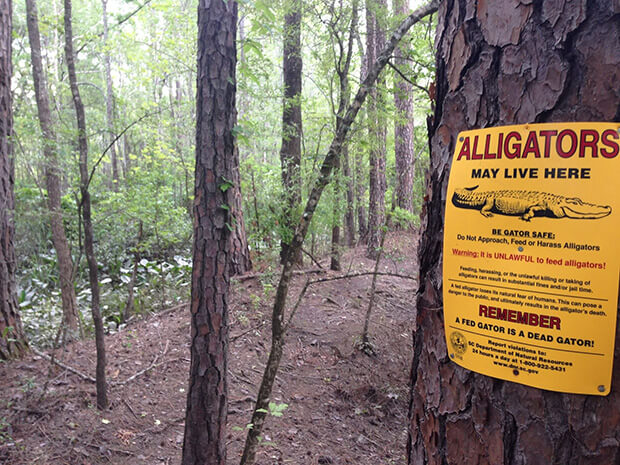 From the parking area, follow red and green trail markers on this winding, occasionally steep, and challenging loop trail through a dense wetland area. You will pass through mixed woods beneath dangling Spanish moss, make your way through tall, swampy grass, and balance atop dikes between murky backwaters. Benches at several points along the trail provide an opportunity to stop for a minute, and possibly observe wildlife including a variety of birds, alligators, large turtles, iridescent-indigo dragonflies, great blue heron, and snakes.
During wet weather the trail may be impassable in places. Insect repellent is recommended, especially in warm weather, as well as water and first-aid supplies. Although the trail is located near some of Columbia's larger industries, the area is quite isolated.
Directions:
From I-77 Exit 2 (Saxe Gotha Dr.) south of Columbia, drive north on 12th Street Extension and turn right onto Godley Street. At the stop sign, turn right onto New State Road. At the fork, turn right onto Old State Road (S-32-66) and the parking area is 1.4 miles on the right.
11. Blind Ash Bay Trail, International Falls, Minnesota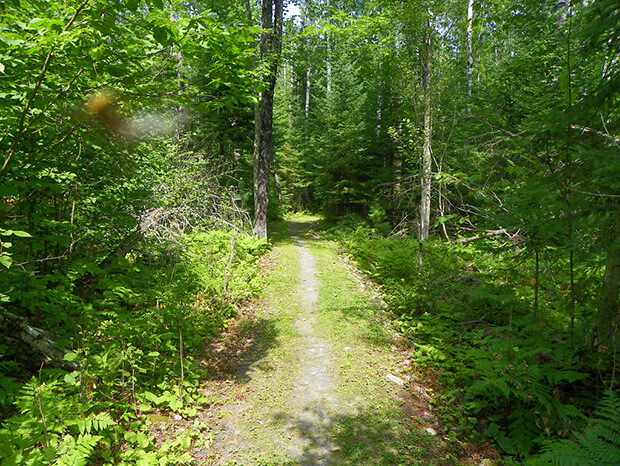 Voyageurs National Park lies within the heart of the North American Continent. Here you can see and touch rocks half as old as the world, experience the life of a voyageur, immerse yourself in the sights and sounds of a boreal forest, view the dark skies, or ply the interconnected water routes.
Voyageurs National Park is located in Northern Minnesota. The park shares its northern boundary with Canada and lies just west of the Boundary Water Canoe Area Wilderness. The park visitor centers are accessible by car but in order to truly experience the park, one must leave their vehicle behind and access the park by boat.
12. Heron Rookery, Chesterton, Indiana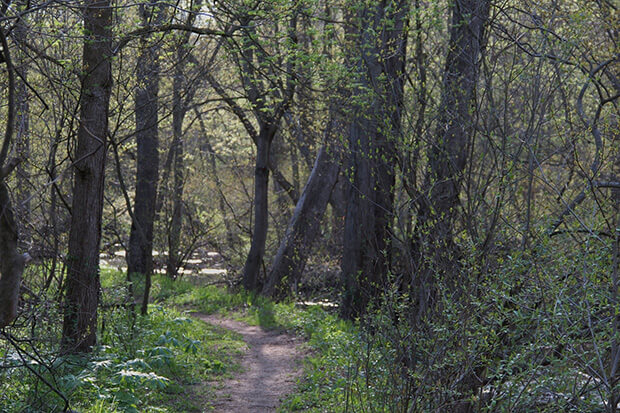 Indiana Dunes National Lakeshore hugs 15 miles of the southern shore of Lake Michigan and has much to offer. Whether you enjoy scouting for rare species of birds or flying kites on the sandy beach, the national lakeshore's 15,000 acres will continually enchant you. Hikers will enjoy 45 miles of trails over rugged dunes, mysterious wetlands, sunny prairies, meandering rivers, and peaceful forests.
Direction:
Visitors can access the national lakeshore via I-94, the Indiana Toll Road, I-80/90, U.S. Highway 20, Indiana State Highway 12, and various state roads. The Indiana Dunes National Lakeshore Visitor Center is located off of Indiana Highway 49 between U.S. Highway 20 and Interstate 94, Chesterton, Indiana.
13. McGee Creek Natural Scenic Recreation Area Trail System, Atoka, Oklahoma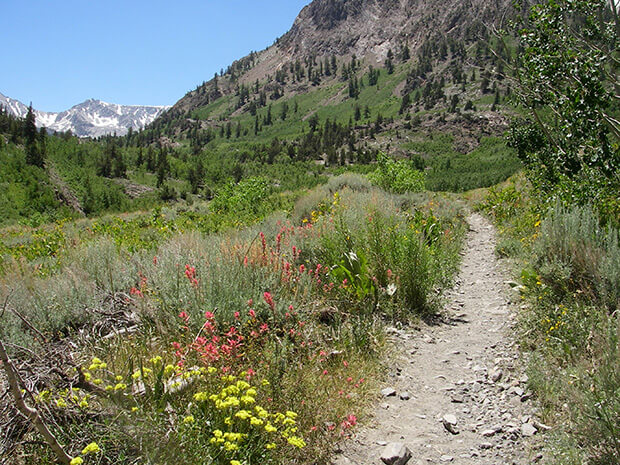 Just 10 short miles north of McGee Creek State Park in Atoka, the McGee Creek Natural Scenic Recreation Area Trail System is a hidden gem with over 20 miles of hiking trails. The area doesn't allow any motorized vehicles and is a strict "quiet-water zone." To hike, mountain bike or ride your horse through this trail system, you must register for a permit from the Natural Scenic Recreation Area office. Each permit is free and helps keep track of the number of trail users. This beautiful, nearly untouched area is also teeming with wildlife, so keep your cameras ready.
Direction:
At state highway 3 in Atoka (13th Street), turn east off of US 69/75 and travel southeast on highway 3 for 20.8 miles. Near the top of a rise, there is a sign about the NSRA. Turn north onto Centerpoint Road.
14. Indian Creek Bike and Hike Trail, Overland Park, Kansas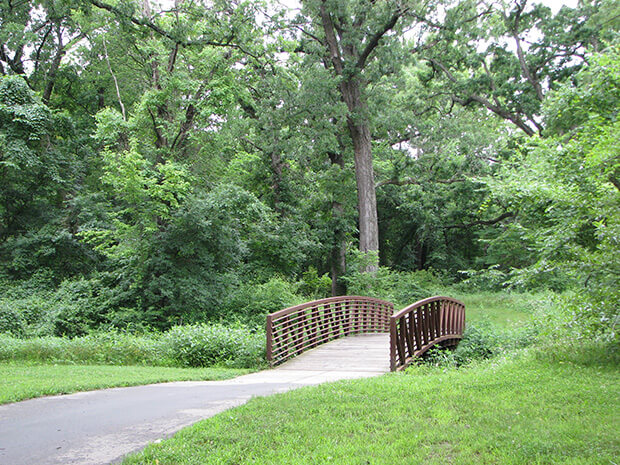 The Indian Creek Bike and Hike Trail is almost 17 miles long and is patrolled during the summer by the Overland Park Police Department.
The 10-mile Overland Park portion starts at Foxhill South Park, 109th and El Monte, and follows Indian Creek south and west to Forest Creek Park, 125th and Pflumm.
A connecting link continues south along Quivira Road toward the Tomahawk Creek Trail via 127th and Nieman.
15. Girdner Trail, Sedona, Arizona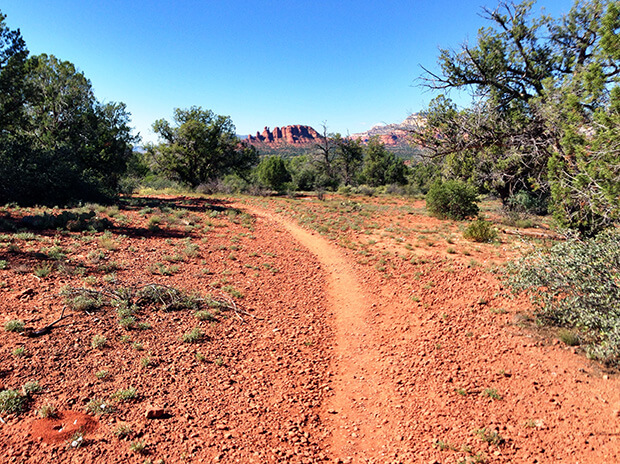 The trail may be hiked one-way with arranged transportation and would be rated moderate. The route north from the Cultural Park Trailhead to the Dry Creek Road Trailhead is described here. The trail begins near the ramada and interpretive signs and descends gradually to the north, then northwest, with good views. At 1 mile, it begins a moderate descent to the west, bends north and enters the Dry Creek drainage. After two crossings of the drainage, the trail meets the gas pipeline access road (closed to motor vehicles) at 1.5 miles. It follows the road for about 1/8 mile, then branches north and rejoins Dry Creek which it follows for the next 1.2 miles. This portion of the trail involves crossing the normally dry creek many times in a rather narrow, shallow canyon and should not be hiked following heavy rain.
Directions:
Cultural Park Trailhead: From the intersection of Routes 89A and 179, take 89A west 4.2 miles to Cultural Park Place on the right at the traffic signal. Go north 2.2 miles to the picnic ramada and interpretive displays on the right.