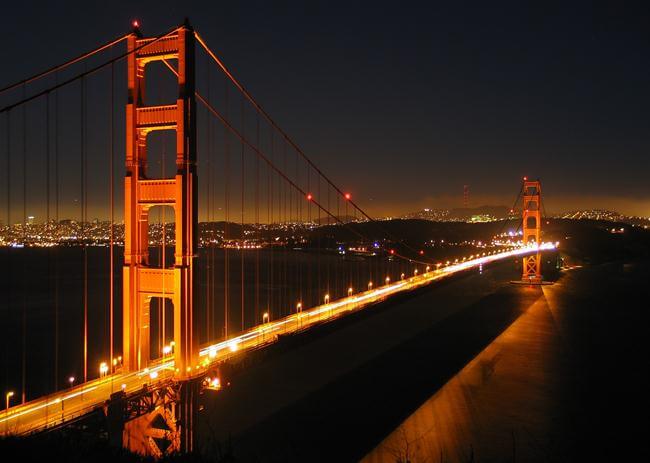 Photo: wikipedia.org
1. Golden Gate Bridge, San Francisco, United states
This world famous symbol of the West Coast of the United States and the most popular attraction of San Francisco has a main span of 1,280 meters (4,199 ft) which makes it around the 11th longest span in the world. 11th place may not sound much, but taking into consideration that the bridge opened in 1937 makes it quite remarkable as the other top 10 were built during the last 10-20 years. The Golden Gate bridge is located in San Francisco and is perhaps the city's most famous attraction. With the view of the bay around it, it is truly a sight to see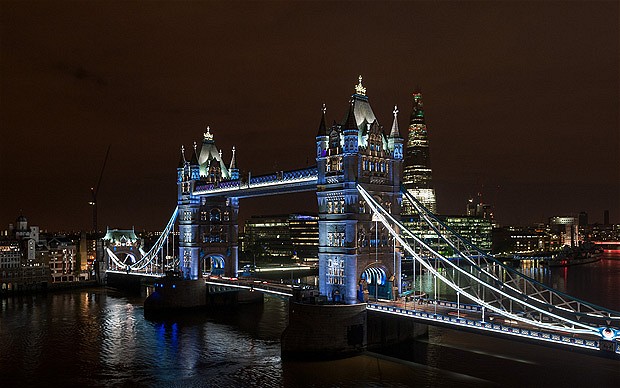 Photo: travelingdictionary.com
2. Tower Bridge, London, England
Built from 1886 till 1894, this symbol of London is a combined bascule and suspension bridge in London, over the River Thames. It is close to the Tower of London, from which it takes its name. Both the bridge and the castle next to it are one of the most visited monuments not only in London or England, but in Europe and even the entire world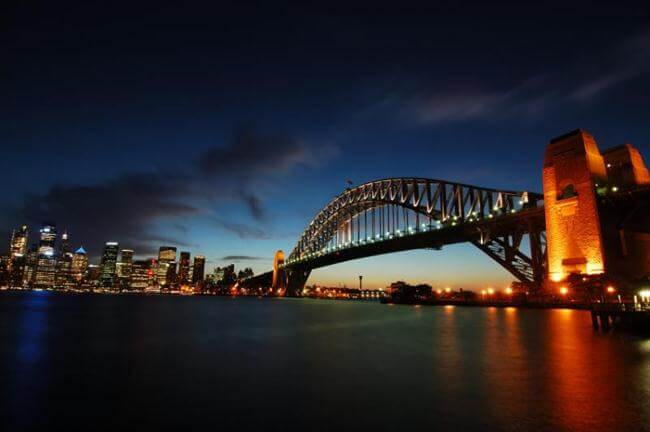 Photo: sydney.visitorsbureau.com.au
3. Sydney Harbour Bridge, Sydney, Australia
A steel through arch bridge across Sydney Harbour. The bridge carries roads for vehicles and railroads as well as bicycle and pedestrian traffic between the North Shore and the central business district of the city. The beautiful view of the bridge with the harbour and the Sydney Opera House form the so familiar and wonderful skyline of the city. It is a symbol of Sydney and Australia. The bridge is nicknamed "The Coathanger" by the local residents because of its arch-based design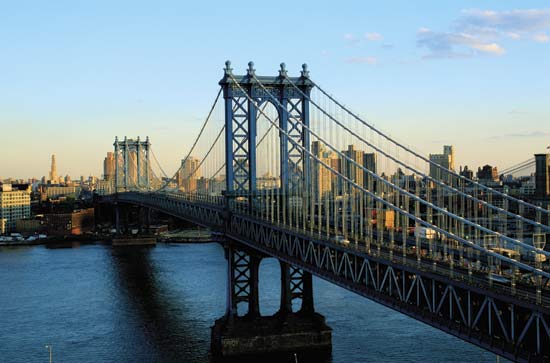 Photo: britannica.com
4. Brooklyn Bridge, New York, United States
Completed in 1883, the Brooklyn Bridge is one of the oldest suspension bridges in the United States. It connects Manhattan and Brooklyn by spanning the East River. It has a main span of 1,595.5 feet (486.3 m) which made it longest suspension bridge in the world from its opening until 1903. It has become one of the icons on New York from its opening day and it's still one of the city's major attractions. All day long you can spot tourists crossing the the 5,989 feet (1825 m) bridge by foot while taking pictures of the beautiful bridge with the skyline of Manhattan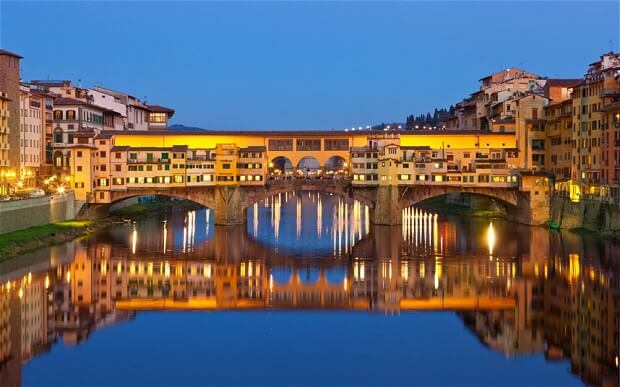 Photo: sindbadtravels.com
5. Ponte Vecchio, Florence, Italy
The "old bridge" is a medieval stone arch bridge, famous for still having shops built along it as was once common. It is the only bridge in Florence to survive the second world war. In the past the shops were owned by butchers but today the shops are mostly owned by souvenir sellers as well as art dealers and jewelers. The bridge is one of the most famous attractions in Florence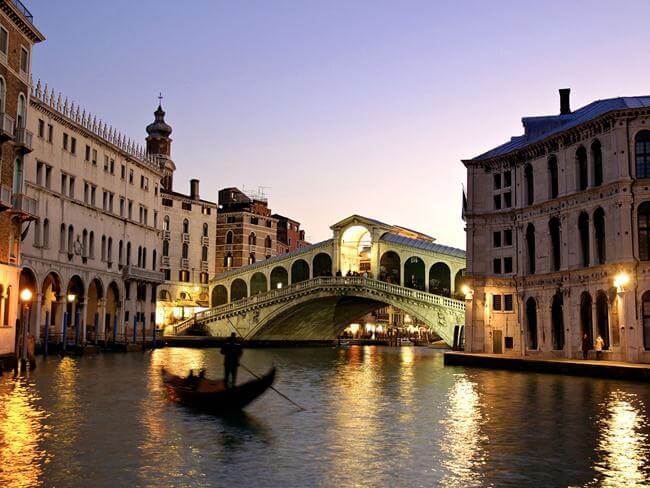 Photo: miriadna.com
6. Rialto Bridge, Venice, Italy
The oldest of four bridges spanning the Grand Canal in Venice. It was completed in 1591, replacing a wooden bridge that collapsed in 1524. The beautiful old bridge is one of the icons of Venice and is always packed with excited tourists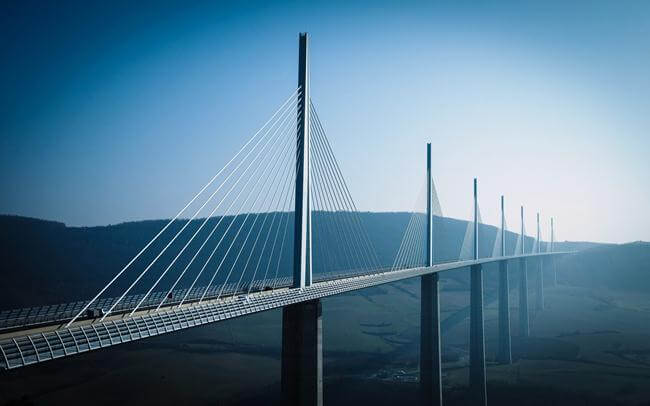 Photo: iliketowastemytime.com
7. Millau Viaduct, Millau, France
With a structure height of 343 metres (1,125 ft) the Millau Viaduct bridge is the tallest bridge in the world! Opened in 2004, this 4 lanes bridge is a cable-stayed bridge that spans the valley of the River Tarn near Millau in southern France. The bridge has 7 piers of different heights. The second one is the tallest with a height of 244.96 m (803 ft 8 in) – making it the tallest structure in France, taller than the Eiffel Tower!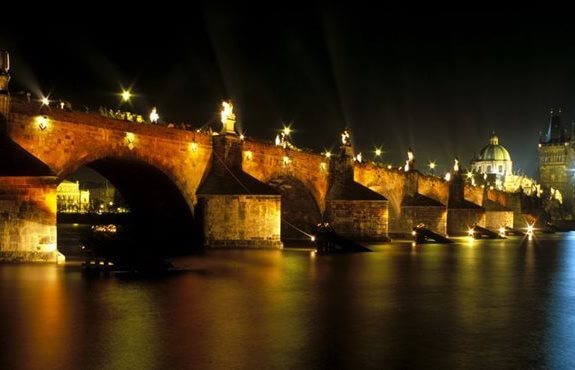 Photo: czechtourism.com
8. Charles Bridge, Prague, Czech Republic
A world famous bridge that crosses the Vltava river. The stone Gothic bridge construction began in 1357 and ended only in the beginning of the 15th century. As it was the only means of crossing the Vltava river, the Charles Bridge was the most important connection between the Old Town and the area around Prague Castle. Today it is one of the most visited sights in Prague, and as you might expect, the areas around and on the bridge itself are always filled with painters, kiosks owners and other traders as well as pickpockets – beware!
Photo: archineeringtalk.com
9. Akashi Kaikyō Bridge, Japan
The famous Akashi Kaikyō bridge has a long main span of 1,991 meters (6,532 ft). Opened in 1998, it links the city of Kobe on the mainland of Honshu to Iwaya on Awaji Island. It is the 4th tallest bridge in the world and one of the longest suspension bridges!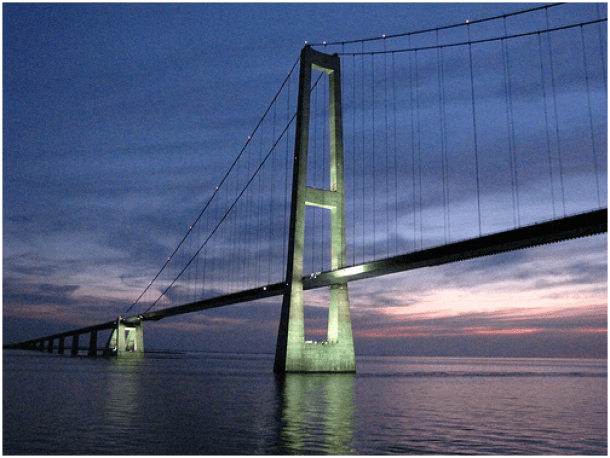 Photo: Beautiful Bridges 2013
10. Great Belt Bridge, Denmark
The Great Belt bridge was opened in 1998 and runs between the Danish islands of Zealand and Funen. Its total length is 6,790 meters (22,277 ft) and max height of 254 meters (833 ft) makes it is the third longest suspension span bridge in the world and 8th tallest bridge in the world
Source: 10mosttoday.com