America has diverse natural landscapes encompassing active volcanoes, mountains, swamplands, sequoia forests, painted deserts, etc. These protected areas provide pleasure and adventure to many visitors around the globe with a firsthand experience at the unique beauty of the American wild.
Here, we listed 10 of the most beautiful national parks in America. If you think your favorite park should be on the list, let us know in the comments section below.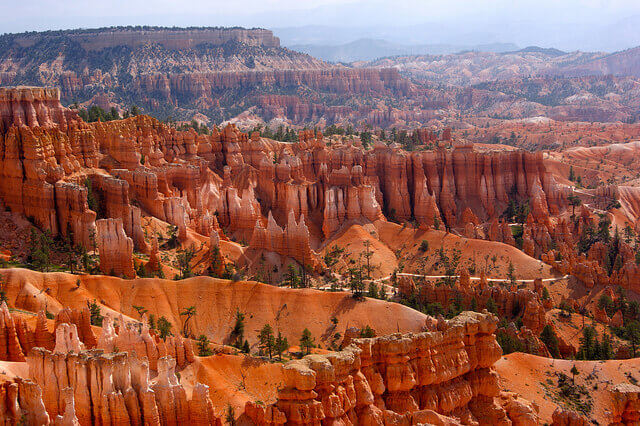 1. Bryce Canyon National Park
Bryce Canyon National Park in Utah offers amazing scenery and recreational opportunities for all ages of every interest. It boasts a collection of giant natural amphitheaters in red rock structures and spires. Bryce is very unique because of its stunning geological formations called hoodoos which are formed by frost weathering and erosion. Bryce sits at an elevation of 8,000 to 9,000 feet (2,400 to 2,700 m). There are eight marked trails to get around the park. You can explore the areas through hiking, horseback riding, or getting the Canyon trail rides. The popular activities you can enjoy at Bryce include ATV tours, biking, hiking, and horseback or mule back riding year-round; and cross-country skiing and sleigh rides over the winter.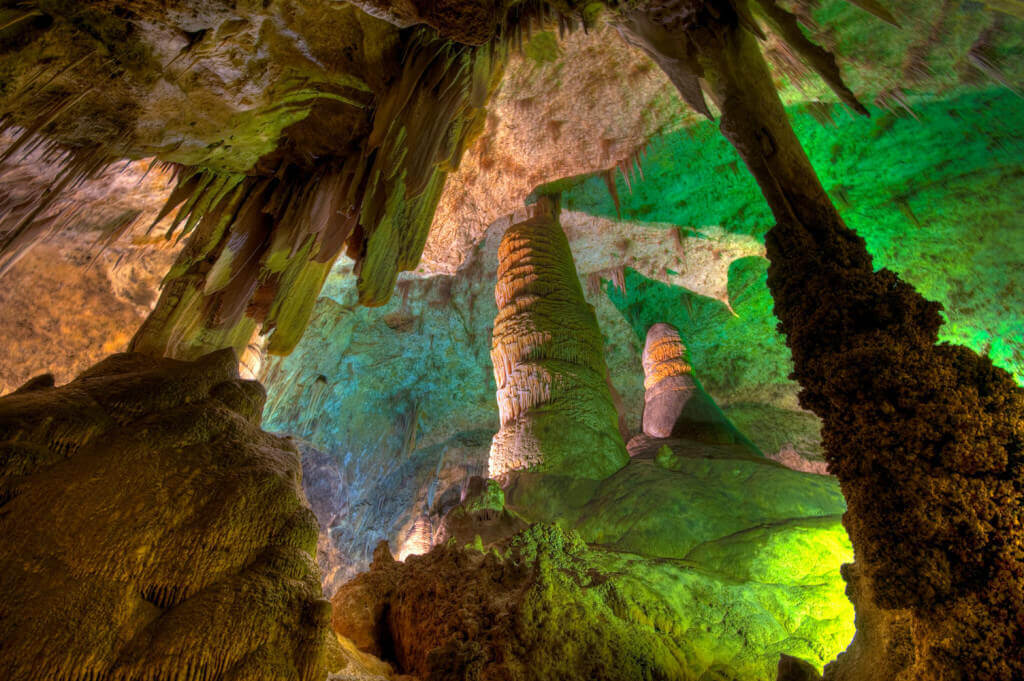 2. Carlsbad Caverns National Park
Located in southeastern of New Mexico, this rugged landscape is rich with amazing treasures: cactus, grasses, and thorny shrubs, deep rocky canyons, high rising ancient sea ledges, and 119 known caves formed by sulfuric acid that has dissolved the surrounding limestone. Its caves are famous for their immense size, vibrant colors, and cathedral-like interiors. The caves are not lit with any colored lights; all colors in the caves are natural. The park is also a great place to watch the night sky. Visitors can take the full moon and star party tours, and watch the Mexican free-tail bats burst from the caves.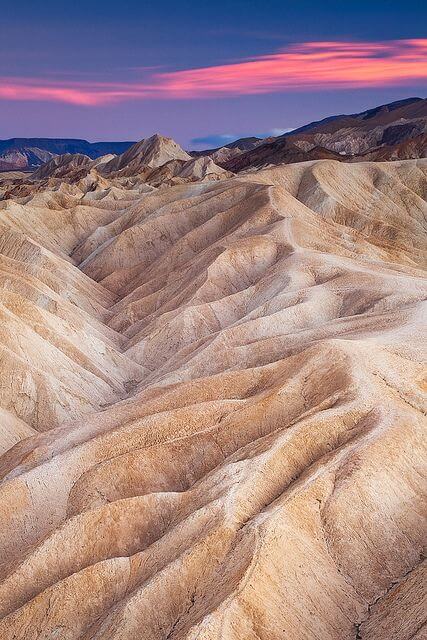 3. Death Valley National Park
This below-sea-level basin located in California features a diverse desert environment of badlands, canyons, mountains, salt-flats, sand dunes, valleys, vast fields of wildflowers, and refuge for wildlife. This park is known as the land of extremes due to its steady drought, and is considered the driest and hottest national park in the United States. With its hills of colored sedimentary and volcanic rock, jagged rock salt spires, and a spectacular view of the sunset many photographers take pleasure in capturing the park's natural beauty. Despite the morbid name, it is home to a diverse roster of 36 reptile species, 307 bird species, some 50 mammal species, and over 1,000 species of plants. You can also explore the Scotty's Castle area, an old castle-like Spanish style home in the middle of the desert.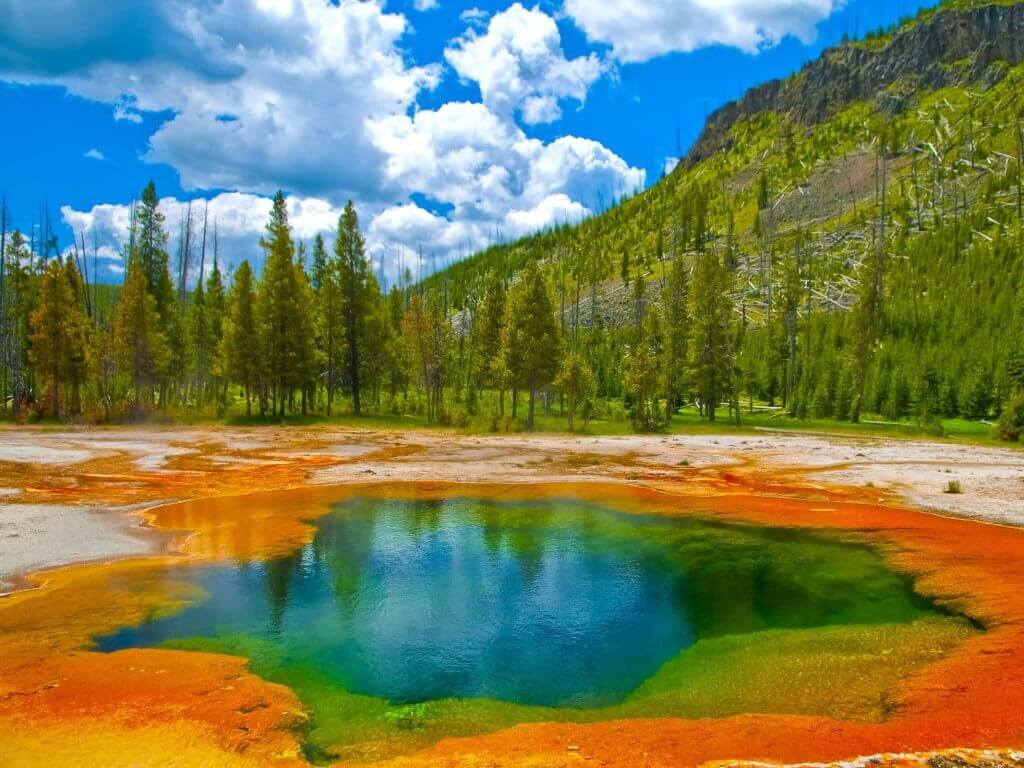 4. Yellowstone National Park
The first national park in the world, located at Wyoming is the only place in the United States where every native species of large mammal, including the last free-ranging bison herd continue to exist today. The park features an impressive collection of canyons, lakes, mountain ranges, and rivers. The largest lake in North America, the Yellowstone Lake is found here. It has over 300 geysers, and more than 10,000 thermal features. It has 12 campgrounds and 9 visitor centers.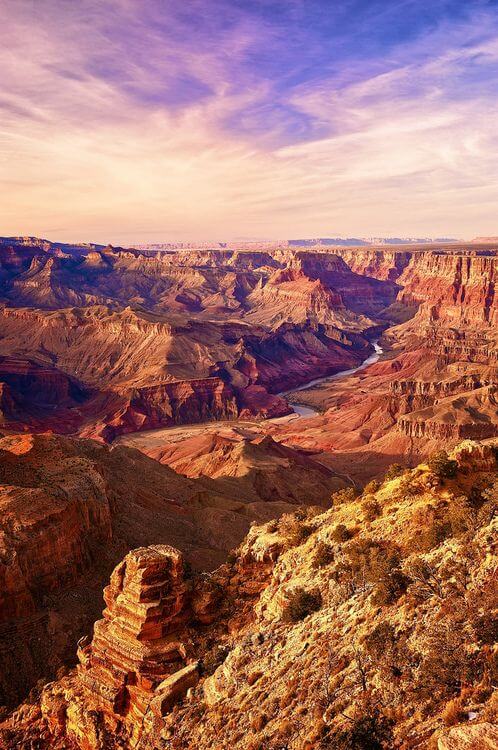 5. Grand Canyon National Park
This national park located in Arizona is famous for its immense size; at its widest point it is 18 miles wide, 277 miles long, and one mile deep. The mighty steep-sided canyon are unique combinations of erosional forms and geologic color. Aside from hiking, the popular activities include rafting, running, helicopter tours, and the Grand Canyon Skywalk.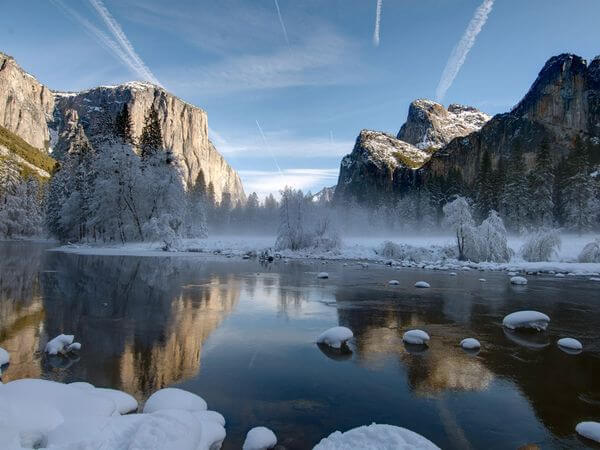 6. Yosemite National Park
Yosemite National Park, located in California boasts splashing waterfalls, deep valleys, a grove of ancient sequoia trees, grand meadows, and hundreds of wildlife species. Popular activities in the area include hiking and camping, rock climbing, biking, mule and horseback rides, guided bus tours, golfing, rafting & Water Sports Nature, and village Ice Skating during winter.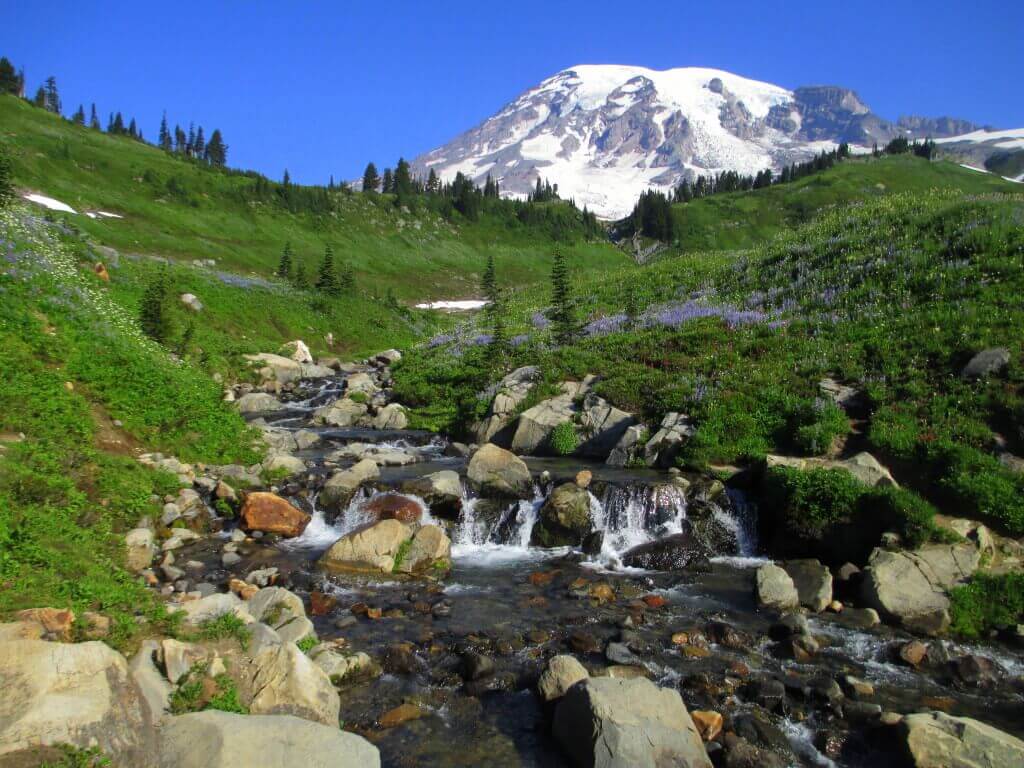 7. Mt. Rainier National Park
Mount Rainier is an active volcano and an icon in the Washington landscape. It is the most glaciated peak in the contiguous U.S.A. Around it are subalpine meadows, waterfalls, valleys, old-growth forest and more than 25 glaciers.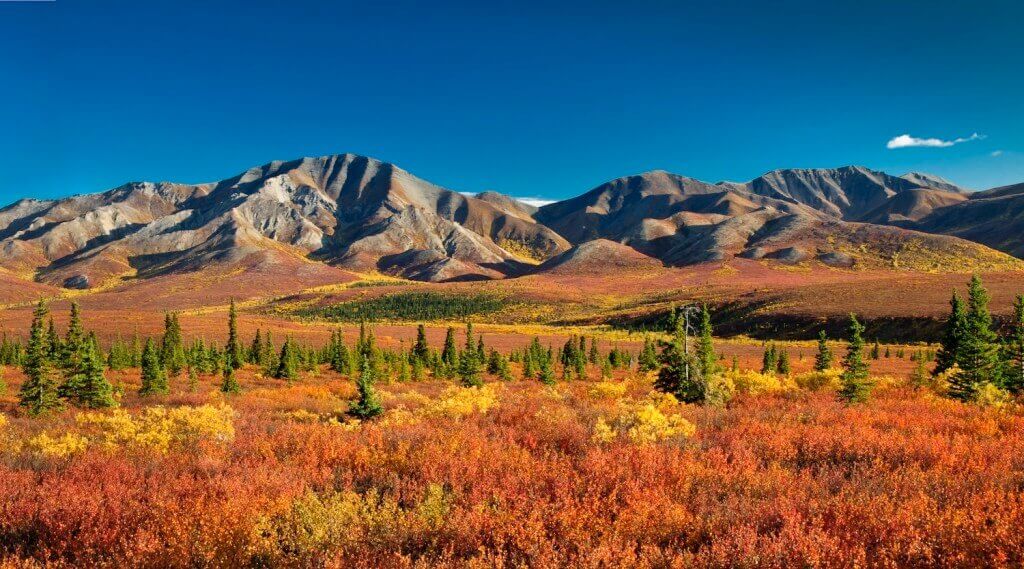 8. Denali National Park and Preserve
Located in Alaska, this national park is centered in Denali (Mount McKinley), the highest peak in North America. The preserve is a combination of spectauclar glaciers, rock, and snow at the highest elevations, forest at the lowest elevations (including deciduous taiga), and it's also home to tundra at middle elevations.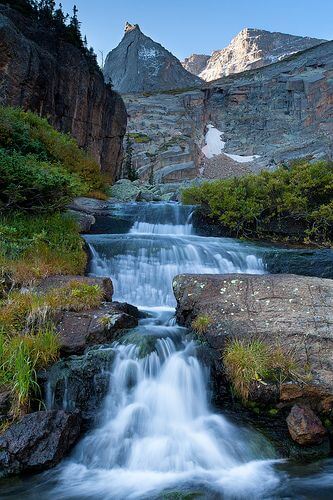 9. Rocky Mountain National Park
Located in Colorado, Rocky Mountain National Park encompasses spectacular mountain environments. This is a high elevation park, with crests over 12,000 feet. The trail ridge road offers an amazing view of wildflowers, wildlife, and rocky terrain. People usually describe their experience here as being "on top of the world"!
10. Everglades National Park
Everglades National Park, located in Florida, is a World Heritage Site, a Wetland of International Importance, an International Biosphere Reserve, and a specially protected area under the Cartagena Treaty. It is home to numerous endangered species.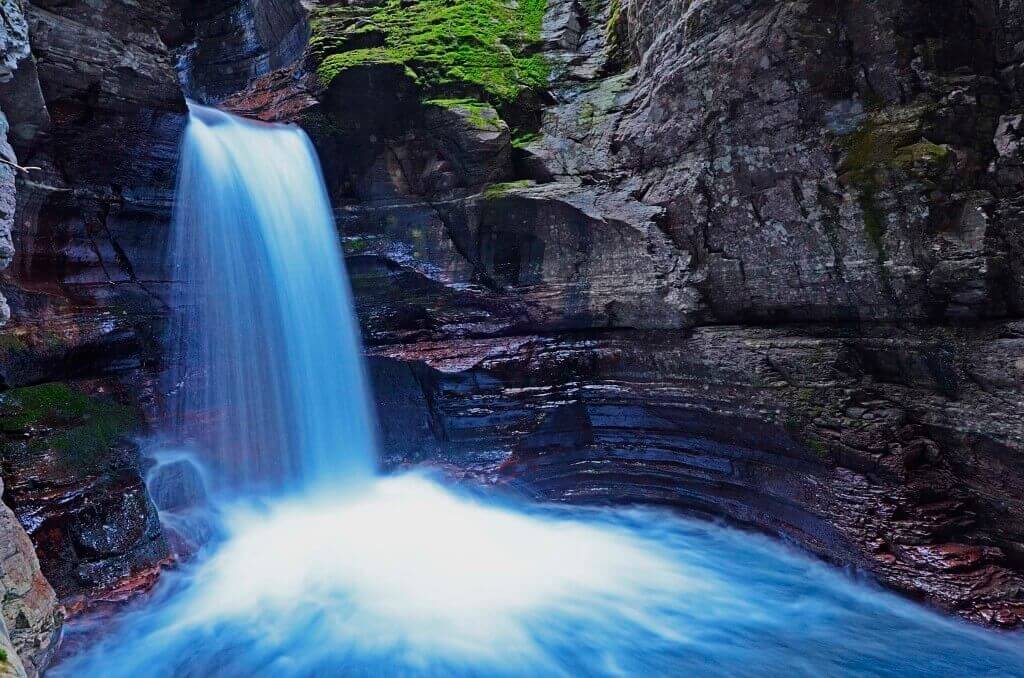 Source: Glacier Park
11. Glacier National Park
Experience Glacier's pristine forests, alpine meadows, rugged mountains, and spectacular lakes. With over 700 miles of trails, Glacier is a hiker's paradise for adventurous visitors seeking wilderness and solitude. Relive the days of old through historic chalets, lodges, transportation, and stories of Native Americans.