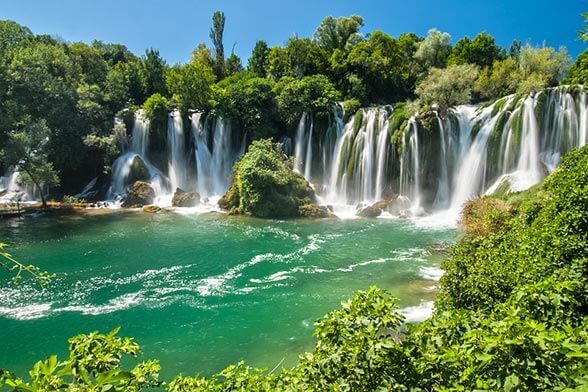 Photo: natureflip.com
1. Kravice Falls, Bosnia and Herzegovina
Considered as one of Europe's hidden treasure, the Kravice Falls is located in a nature preserve near the Trebižat River. It is good that this hidden treasure has not been damaged by major tourism and infrastructure. If you want to visit Kravice Falls, you can go there during the spring; this is when you can see the full beauty of the place.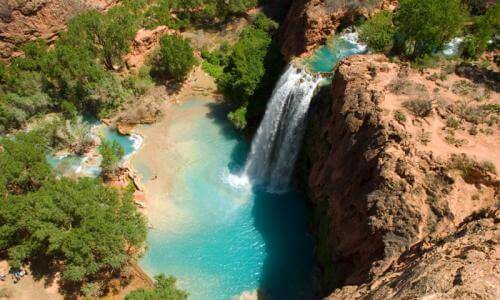 Photo: allgrandcanyon.com
2. Mooney Falls, Havasupai, Grand Canyon
There are five waterfalls that can be found in Grand Canyon National Park, and one of them is the Mooney Falls. You can go here to swim and relax after a long and tiring hike in the Grand Canyon.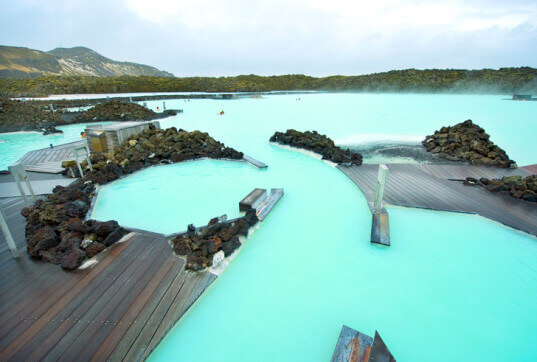 Photo: inhabitat.com
3. Blue Lagoon, Iceland
The Blue Lagoon in Iceland is situated in a lava field in Grindavik. This stunning swimming destination is formed from the water waste of Svartsengi.
Svartsengi is a geothermal power plant located near the Blue Lagoon that releases superheated waters from the ground going up. The waters will go straight into the lagoon after being used to generate electricity and provide heat from a municipal water heating system.
The warm water in the lagoon is rich with minerals and it is a good place to visit for people who are suffering from skin diseases like psoriasis.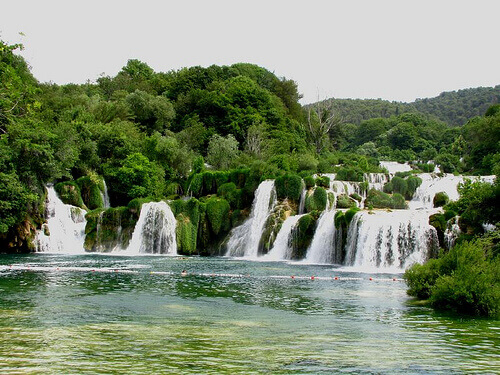 Photo: flickr.com
4. Skradinski buk, Krka National Park, Croatia
This beautiful natural swimming destination has 17 individual falls, and it is considered as one of the most amazing calcium carbonate waterfall systems around Europe. The Skradinski buk found in Krka National Park is a popular swimming destination for people who are looking for a cool place to relax.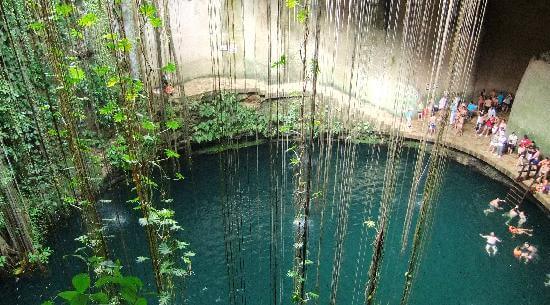 Photo: tripadvisor.com.br
5. Sacred Cenote, Chichen Itza, Mexico
The Sacred Cenote is formed by a limestone sinkhole and it is located north of the ancient Mayan ruins in Chichen Itza. This stunning swimming spot is also a part of history; this is a place where Pre-Columbian Mayans would perform their ritual sacrifices. Gold, jade, pottery, and human remains have been recovered in this place.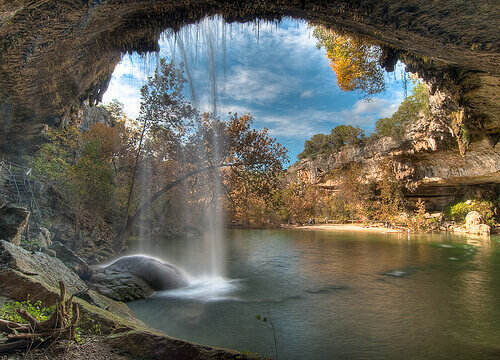 Photo: boomsbeat.com
6. Hamilton Pool Preserve, Austin, Texas
The Hamilton Pool Preserve is the result of widespread erosion thousands of years ago. This swimming destination located 23 miles west of Austin is a very popular destination for locals and tourists in the 1960s. However this natural pool is not treated chemically, that is why it is being monitored regularly and sometimes swimming is restricted.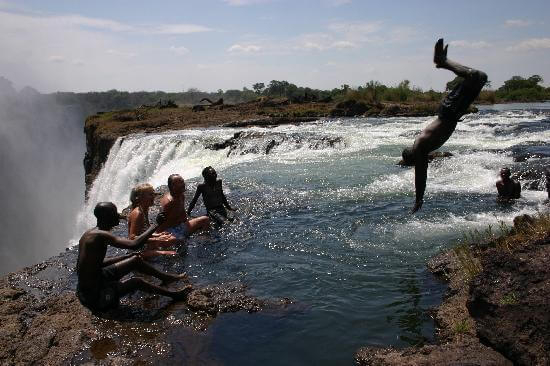 Photo: zambiajubileeatlanta.com
7. Devil's Pool, Zambia
The Devil's Pool is located at the edge of Victoria Falls, and this amazing swimming spot is for people who are looking for extreme experience. This low current pool has a protective rock barrier around it which allows swimmers to jump in and splash around the pool without being taken over the cliff.
The Devil's Pool is considered as safe to swim to, however there have been some reports of deaths over the years. If you're planning to visit this beautiful swimming destination, make sure to be very careful.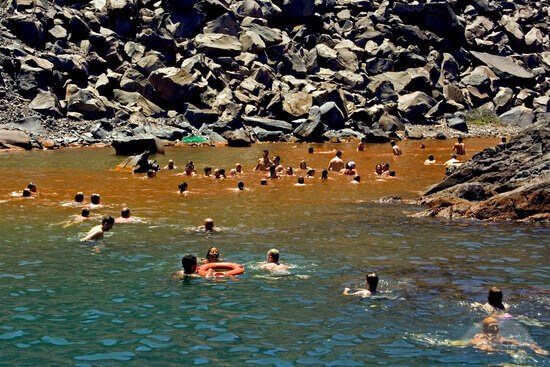 Photo: tripadvisor.com
8. Palea Kameni, Santorini, Greece
In 1630 B.C. there was a volcanic eruption that blew apart the island of Santorini. The island of Santorini is best known for its white-and-blue habitation that is carved into rocky cliff faces. One of the well-known destinations in Santorini is the Palea Kameni. If you're going to visit this place, keep in mind that the iron-rich sulphurous waters can stain your clothing and can make you smell like eggs.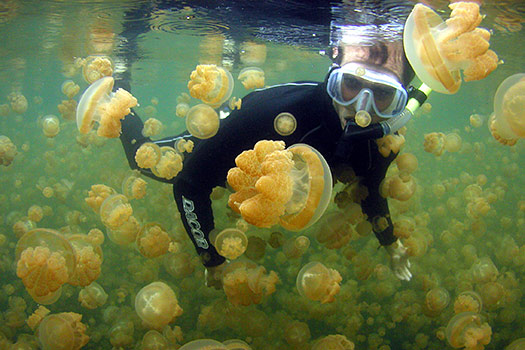 Photo: cheapflights.co.uk
9. Jellyfish Lake, Eil Malk Island, Palau
Visit this place and swim with millions of stingless jellyfish that live here. This isolated marine lake environment is completely safe for swimmers, because you can't find any predators here, only jellyfish that swim around the lake.
Photo: Flickr Gregor Samsa
10. Caldeira Velha, São Miguel Island, Azores
The Caldeira Velha located in São Miguel Island is a beautiful warm geothermal spring, and it is a great place to visit and relax. This swimming destination is also considered as a Natural Monument in the Island of São Miguel.