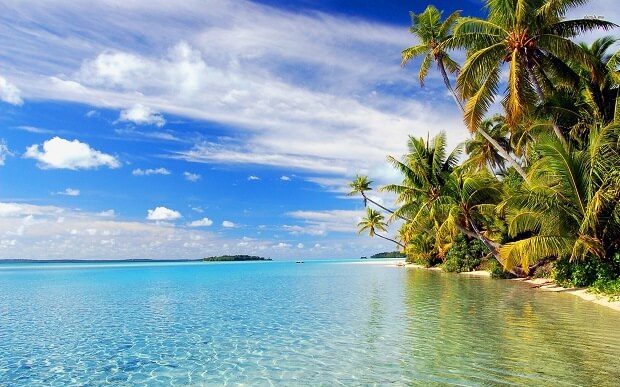 photo: tallahasseescene feature: travelonline
1. Aitutaki, Cook Islands
A tropical paradise! Perfect snorkeling waters. Climb Mt. Maungapu and have a breathtaking 360 degree view of the lagoon.
To get there, fly via Air Rarotonga. They have 5 flights daily (Monday-Saturday) and 2 flights on Sunday. It's a 45-minute flight.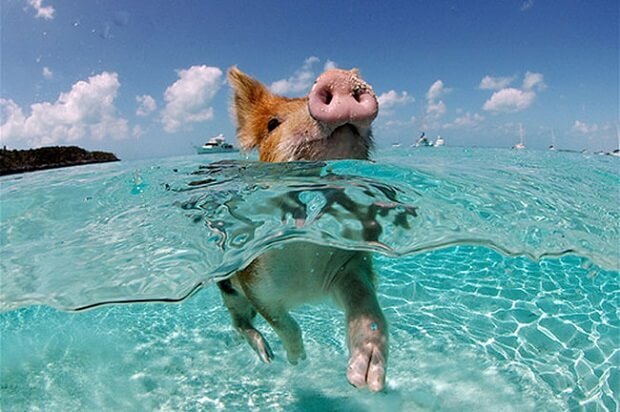 photo:travelsandliving
2. Pig Beach, The Bahamas
Visit the Exuma Cays and swim with pigs! It's also known as Pig Island, Major Cay, or the official one Big Major Cay.
The best deal AND best tour experience would be from Robert's Island Adventures. Others would cost you an arm and a leg.
photo: moonmicrosystem1
3. Bora Bora, French Polynesia
An excellent tropical getaway. Described by British explorer James Cook as the "The Pearl of the Pacific". Have a unique dining experience!
To get there, most visitors fly into Bora Bora Airport or Motu Mute Airport, which is located on an islet named Motu Mute, north of the main island.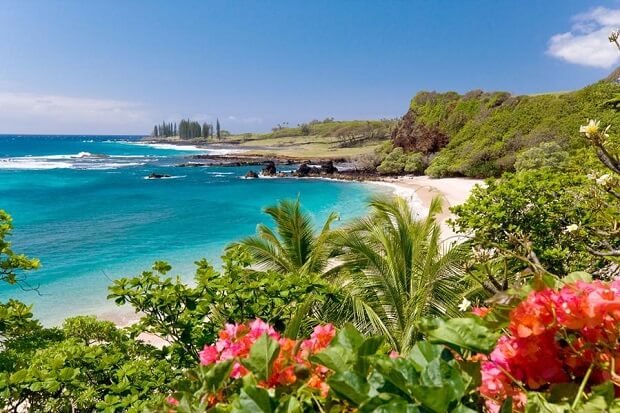 photo: sleeperscarf
4. Maui, Hawaii
Climb Mt. Haleakala and enjoy the sunrise and/or sunset. Beautiful tropical flowers. You can get around by shuttle, tour bus, taxi, or public transportation. But the most recommended would be to rent a car at the airport.
To get there, you can go on direct flights to Maui. Another option is to fly into Honolulu International Airport on Oahu, then head to Maui on a 30-minute flight.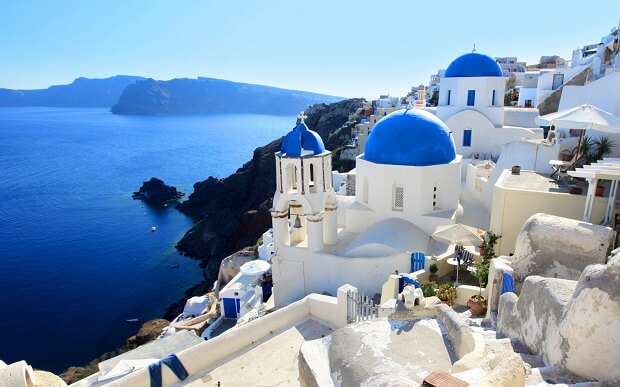 photo: hdwallpapersfit
5. Santorini, Greece
The "Crown Jewel of Greece." It is also known as "Thira". The harbor of Santorini is part of the crater that was formed when a volcano erupted around 1500 BC. Explore the village of Oia with its whitewashed houses with blue shutters.
To get there, the cheapest way would be a flight to London or Dublin and then fly to Athens on one of Europe's budget airlines. Get on a 45-minute flight to Santorini.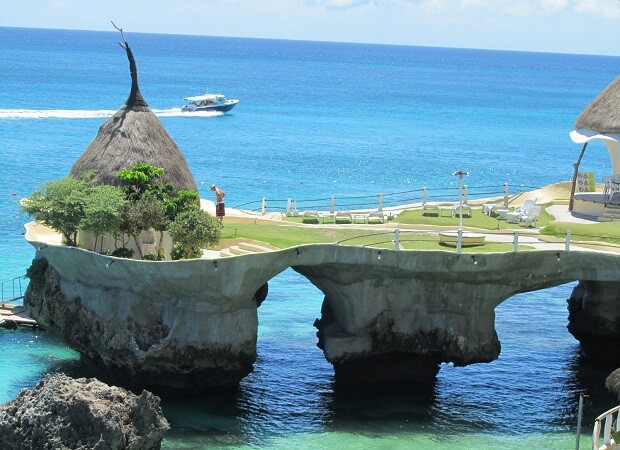 photo: travel-explorer
6. Boracay, Philippines
Lounge around the powdery white sands of Puka Beach, explore Crystal Cove Caves, and more!
To get there, fly to Manila and then to either Caticlan or Kalibo (cheaper). You would then need to go to Caticlan Jetty port, and go on a 15-20 minute boat ride to Boracay. You get around by motorized tricycles.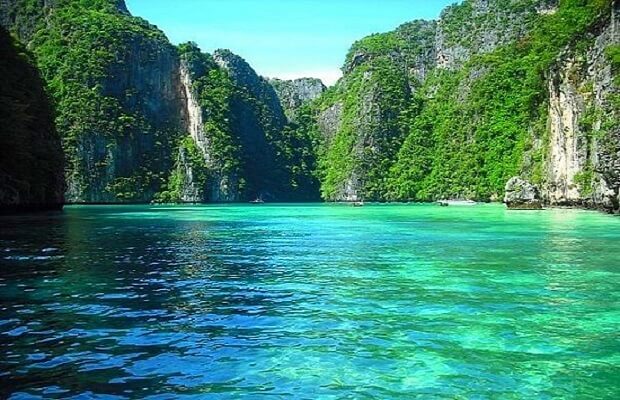 photo: altegobrand
7. Ko Phi Phi Don, Thailand
This is the biggest island in Krabi Province, Southern Thailand.
A popular place for budget backpackers as you can get a room for a very reasonable rate up the hill, a little far from the beach.
Observe the marine life in Hin Muang. Go kayaking, snorkeling with sharks, and check out Monkey Beach.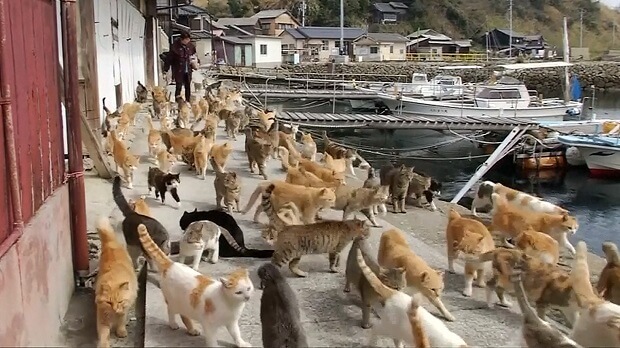 photo: nbcnews
8. Cat Island, Japan
Tashirojima is a tiny island in Miyagi, Japan. A meowing welcome awaits you. Visit the cat shrines and stone monuments.
To get there, take a bus to JR Ishinomaki station. Go to Ishinomaki Port, and take the 40-minute Ajishimaline cruise. Get off at Nitoda Port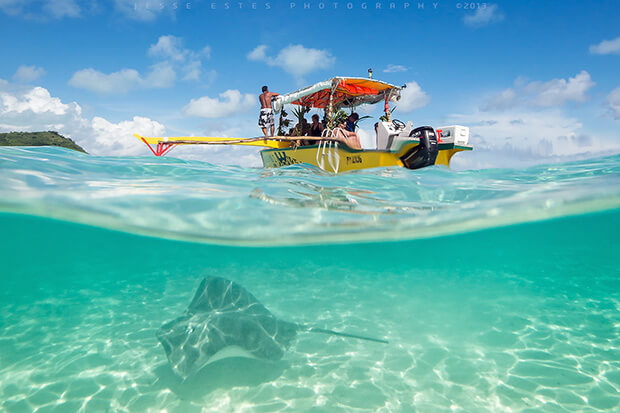 photo: jesse-estes
9. Tahiti, French Polynesia
Tahiti has 2 volcanic mountain ranges in the shape of a turtle. Tahiti Nui – the larger one, and Tahiti Iti – the peninsula. It is famous for its black sand beaches, lovely lagoons and waterfalls.
To get there, visitors fly into Faa'a International Airport, which is on the outskirts of Pape'ete.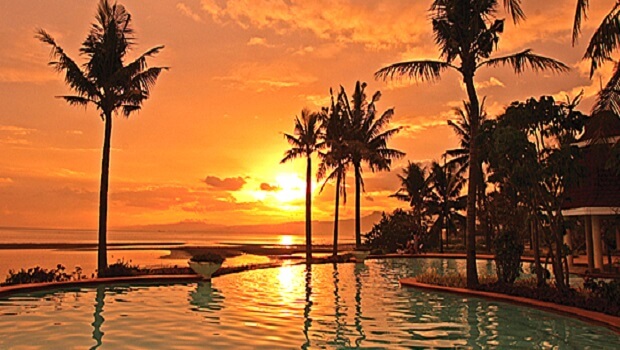 photo: investfil
10. Talisay, Philippines
The Ruins is a wonderful historical yet romantic architecture. A great place for taking pics. Explore Lagundi Reef, Larawan Beach, and visit Sta. Teresa de Avila Church.
To get there, fly to Bacolod, and then it takes 10-15 minutes to reach Talisay either by car or by public transportation.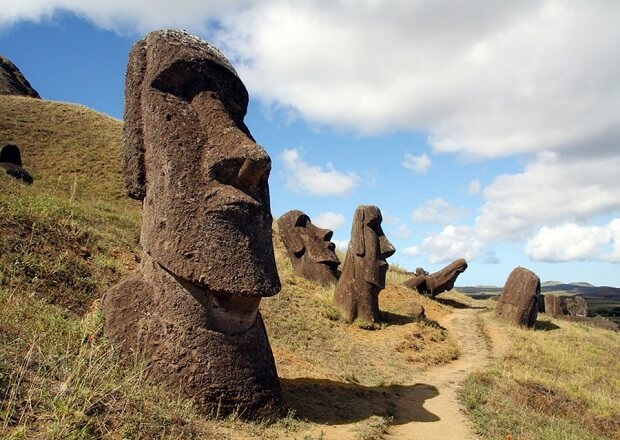 photo: insightguides
11. Easter Island, Chile
Marvel at their monumental statues, the moai. Explore caves and see their Petroglyphs (pictures carved into rock).
To get there from Tahiti, you can fly LanChile. You may also fly to Easter Island from Santiago.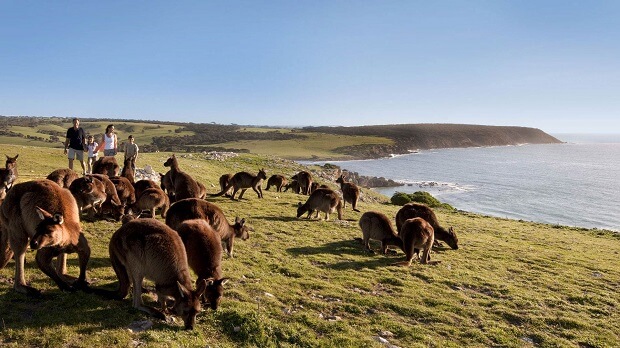 photo:travellinginoz
12. Kangaroo Island, Australia
Aside from Kangaroos, you can also see birds, seals, penguins. Explore the Remarkable Rocks and Admiral's Arch.
To get there, you can get a 30-minute direct Regional Express flight from Adelaide to Kingscote Airport. You may also get on a ferrt or drive to Kangaroo Island. There's limited public transportation available so it's best to rent a car and drive around.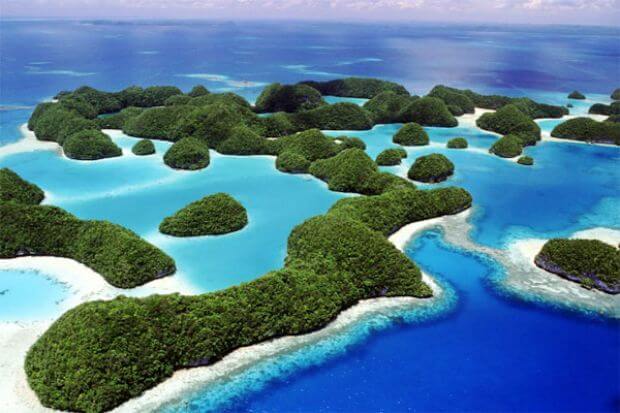 photo: disween
13. Galapagos Islands, Ecuador
Say hello to the tortoises, and sea lions. Hike up Sierra negra, which is the world's second largest volcanic crater.
To get there, fly to Guayaquil or Quito, Ecuador's capital. The best way to travel to the island is a 2 hour and 15 minute-flight by air as it will take you at least 3 days if you go by water. You can land on either Puerto Baquerizo Moreno on San Cristobal Island or on Baltra Island.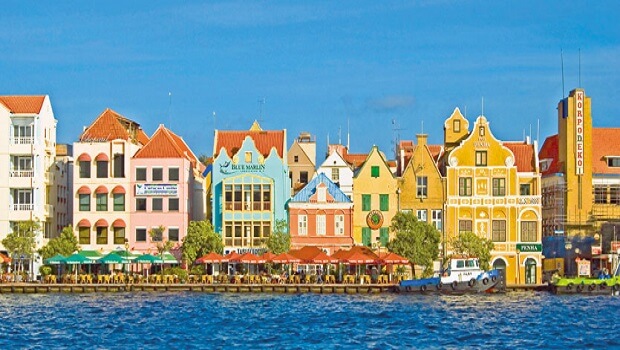 photo: pullmantur
14. Curaçao
An island in the southwestern Caribbean, and divided into 2 areas by a large canal. Famous for its 2 bridges: Queen Juliana – the highest bridge in the Caribbean, and Queen Emma Pontoon – swings several times a day to allow access to one of the world's busiest ports.
Check out the Ostrich Farm, the forts, the Hato Caves, Winery, etc.
To get there, you can catch a direct flight from Newark, Miami, Amsterdam, and Caracas. Another flight to Curaçao awaits you that will land at Curaçao's Hato International Airport.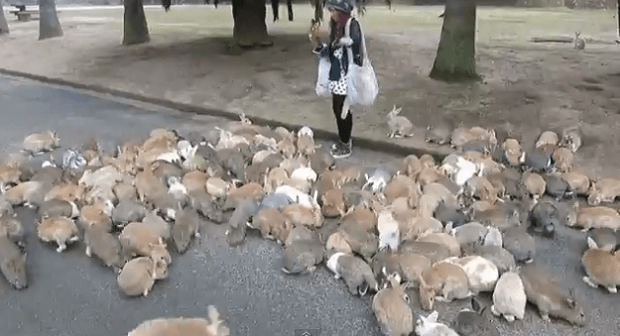 photo: blakefm
15. Rabbit Island, Japan
Interact with these cute little furballs that run the island.
To get there, take a 3-hour train from Kyoto to Tadanoumi station. You can then take the ferry which takes just 12 minutes.