Waterfalls are definitely one of the natural wonders on Earth. Visiting some of these waterfalls below might be a breathtaking experience, since they overwhelm with the stunning sight, as well as a splitting voice. And it's not easy to put together 10 of the World's Most Stunning Waterfalls List because it's completely subjective and limited to each person's experience with the falls being named. So here is 10 of my choice in no particular order.
10 of the World's Most Stunning Waterfalls in no particular order.
1. Plitvice Waterfalls in Croatia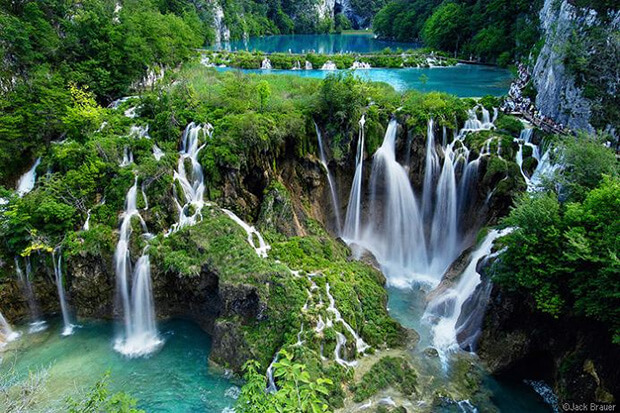 Plitvice Lakes National Park in Croatia is the home of some of the most beautiful waterfalls on the planet, with 16 cascading lakes in crystal-clear shades of emerald and turquoise. Water flowing over the limestone and chalk over thousands of years have created the barriers, resulting in natural dams that form incredibly stunning waterfalls as well as rivers and caves.
2. Victoria Falls in Zimbabwe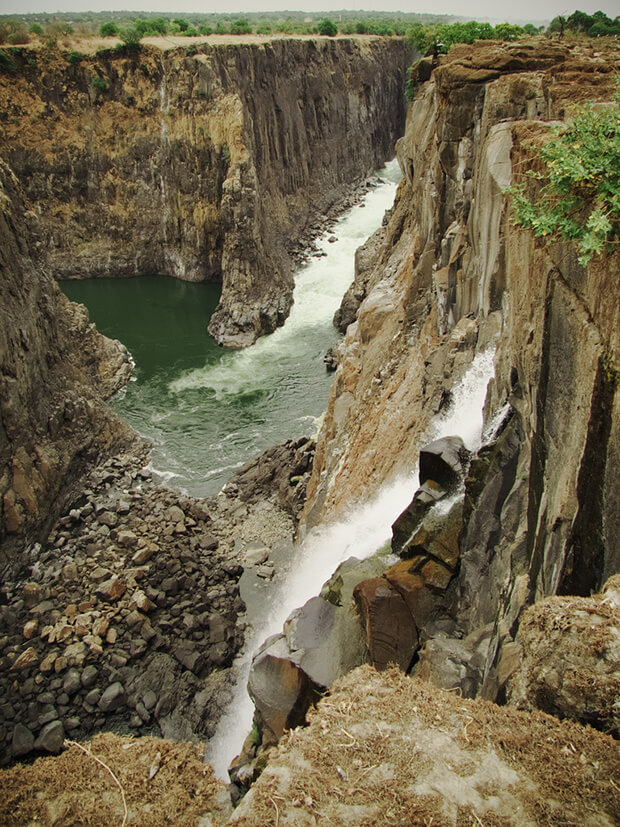 The Victoria Falls or Mosi-oa-Tunya is a gorgeous waterfall, located on the Zambia and Zimbabwe border. The water of Zambezi river falls down in a straight line for 354 ft (108 m). It is wide ( 5,604 ft/1,708 m), therefore water spray raises very high and can be spotted from many kilometers away.
3. Kaieteur Falls in Guyana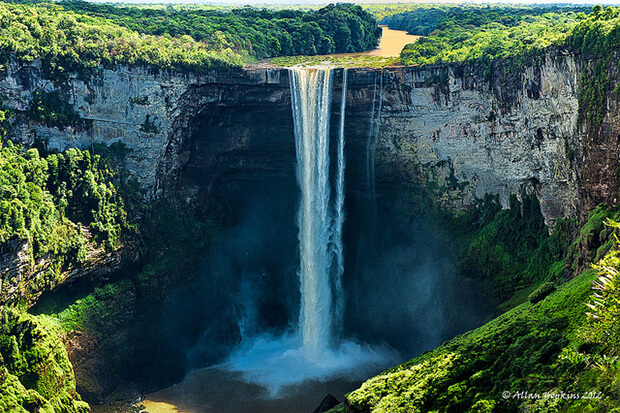 If you could custom-build the perfect waterfall, it might resemble Kaieteur Falls. Tucked away at the heart of Guyana, on the north-east shoulder of South America, this is the waterfall as supermodel – a single curtain of liquid where the River Potaro slips 741ft (226m) into a forested chasm. Remoteness only adds to its splendor – it is most easily reached via a nearby airstrip (the alternative is a three-day overland journey). Yet it is not so jungle-clad as to be beyond approach.
4. Niagra Falls in Canada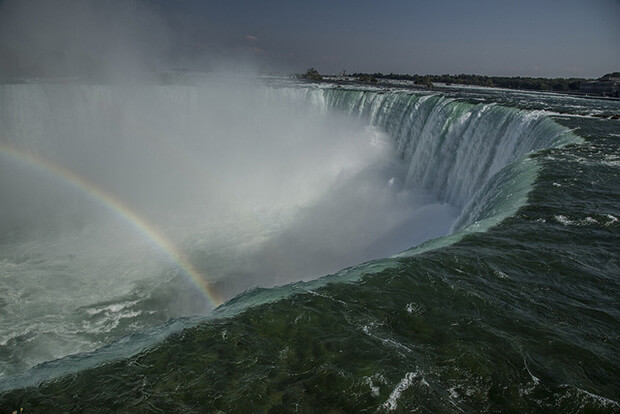 Niagara Falls is probably the most famous in the world. It marks US and Canada border. Niagara is formed of two sections – the Horseshoe Falls on the Canadian side and the American Falls on the American side – that are separated by an island. The Horseshoe Falls are more impressive: water here drops 173 ft (53 m), while the American Falls drop only 70–100 ft (21–30 m).
5. Iguazu Falls in Argentina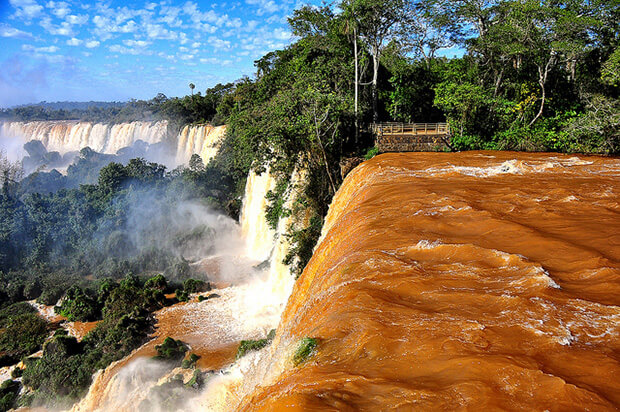 These spectacular falls along the Iguazu River bordering Brazil and Argentina stretch across two miles of rain-forested cliffs, featuring an incredible 275 individual waterfalls, making it one of the most jaw-dropping treasures on the planet.
6. Gullfoss Falls in Iceland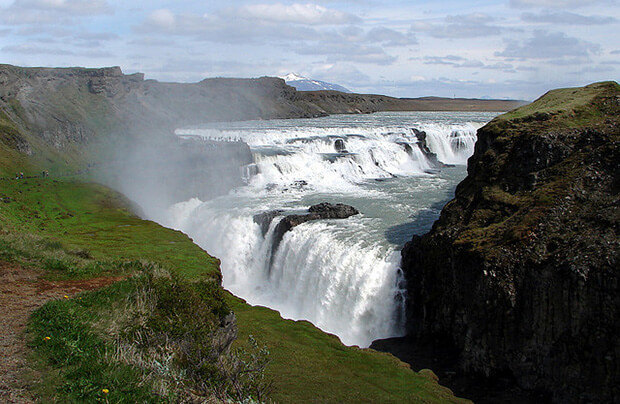 Gullfoss Falls, or Golden Falls in English, is one of Iceland's most popular attractions. It features two distinct drops in succession at right angles to each other, while spanning the entire width of the Hvítá River. On a summer afternoon, you'll frequently see spectacular rainbows in its wafting mist.
7. McWay Falls in Bigsur California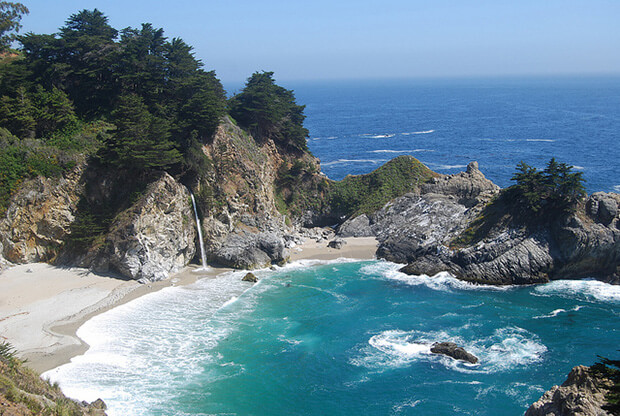 McWay Falls on California's Central Coast near Big Sur, may not be as famous as some, but it's no less spectacular. This 80-foot waterfall in Julia Pfeiffer Burns State Park plunges off the cliffs onto the sand at the edge of the Pacific, flowing year-round.
8. Yosemite Falls in USA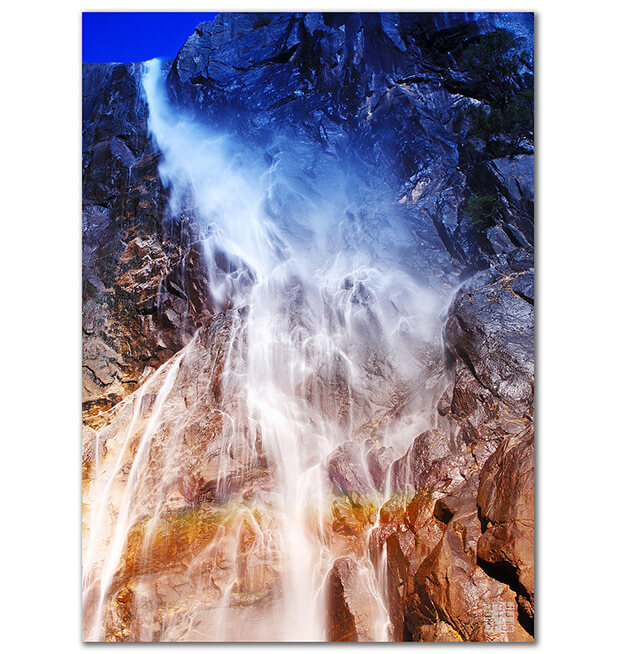 Yosemite Falls is the highest waterfall in North America. It drops 2,425 ft (739 m) in the Sierra Nevada, California. The source of water is melting snow, therefore sometimes the stream may cease due to a little amount of snow.
9. Nohkalikai Falls in India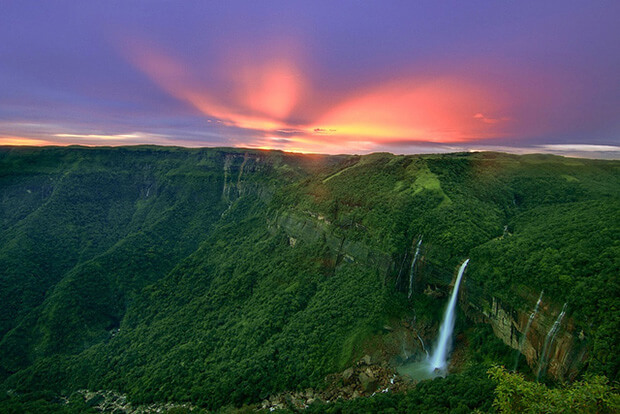 Nohkalikai Falls is found in India. Water falls down for 1100 ft (335 m). Although the feeding stream is only 1,5 mi (2 km) long, Nohkalikai is still very impressive. A pool is formed below the fall, in which water receives green color.
10. Ban Gioc Falls (Detian Falls) in Vietnam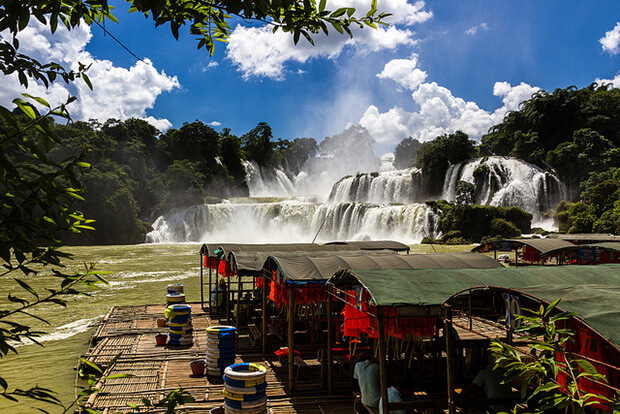 The waterfall is made up of a three-tiered watercourse that cascades over stunning stony peaks, scattered with trees and jutting rocks. Also known as Detian Falls, these two waterfalls are the largest in Asia and the fourth largest that separate a national border. Any time of year is the perfect time to visit Ban Gioc Falls, as the scenery is ever-changing, depending on the season. In summer, for instance, you'll be amazed at the water's turbulent nature, whereas winter brings with it slowly falling streams. Springtime at Ban Gioc Falls is blooming with fiery red blossoms that transform into a golden hue come autumn. A dream-like mist surrounds these impressive formations and the region's blossoming vegetation and flowers.