The tree house has grown to be more than just a fairy tale-like hideout or an unusual living place in far-away lands. For those who seek to recognize some of their greatest childhood dreams and are looking for an exceptional way to refresh and unwind, architects and designers now create some astonishing tree houses and hotels for vacation. Without a doubt, tree houses appeal to the child in all of us and bring us closer to nature. At one point you almost certainly dreamed of living among the birds in a house situated on the leafy branches of a towering tree.
So if you're tired of city life, or just worn-out of life on the ground, here are 7 awesome tree houses hotels that will make you want to pack up your things and settle in these perfect getaways.
1. Free Spirit Spheres in Canada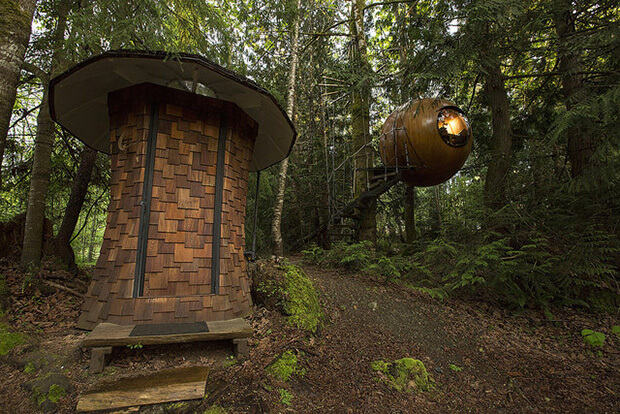 Eve, Eryn and Melody are three spherical treehouses, suspended in a patch of Vancouver Island forest. Beautifully crafted, the joinery is yacht-style with brass trim, varnished wood and cane doors. Even the smallest, single-person-sized Eve, provides a spiritual connection for guests to the forest, swaying in time with the trees to encourage creative thought.
Each sphere is wired for power and has built in speakers for those who wish to bring their own music… the perfect opportunity to experience true surround sound.
2. Treehotel in Harads, Sweden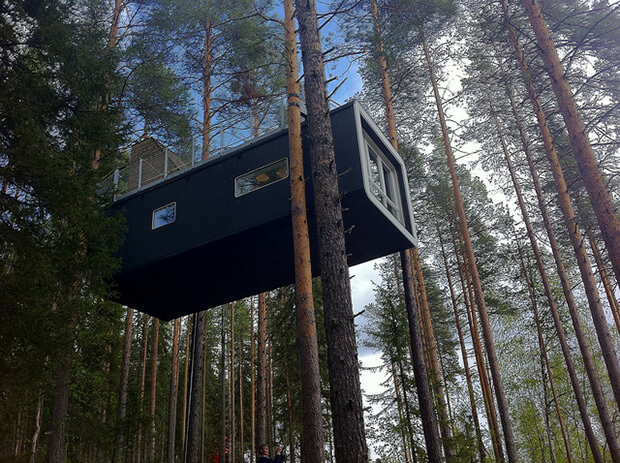 A tree hotel in the far north of Sweden, near the small village of Harads, close to the Arctic Circle. A shelter up in the trees; a lightweight aluminium structure hung around a tree trunk, a 4x4x4 meters box clad in mirrored glass. The exterior reflects the surroundings and the sky, creating a camouflaged refuge. The interior is all made of plywood and the windows give a 360 degree view of the surroundings.
3. Tranquil Resort in India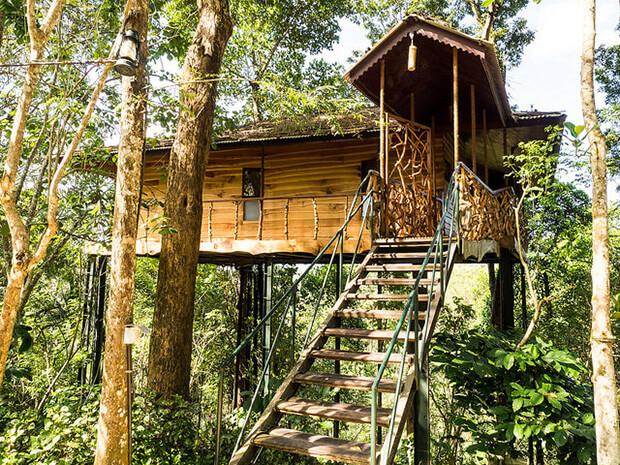 Located in southern India on a private 400-acre estate complete with a working coffee and vanilla plantation, in the Kerala rainforest, the resort has a main lodge with eight well-appointed rooms. The 500-square-foot treehouse, built from coffee wood and equipped with a king-size bed, has a full bath, veranda, and the trunk of a flowering Royal Poinciana growing through the bedroom.
4. Tsala Treetop Lodge in South Africa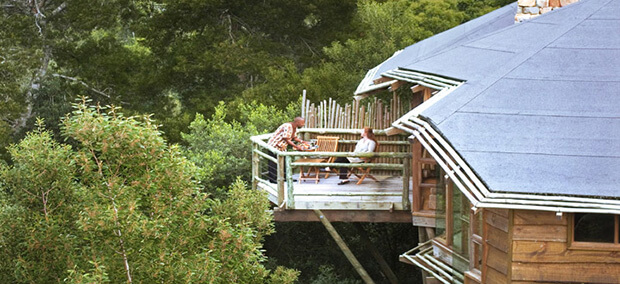 Overlooking the Tsitsikamma Forest, the architecturally stunning stone-and-glass lodge has 10 secluded treehouse suites, each with floor-to-ceiling bedroom windows, log fireplace in the living room, private deck, and infinity-edge pool.
5. Ariau Amazon Towers Hotel in Brazil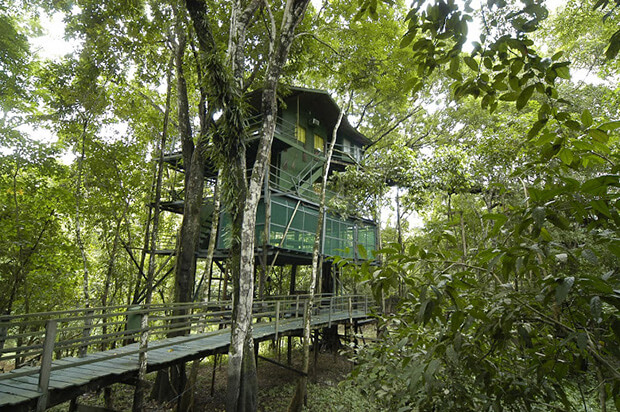 One of the largest commercial treehouse hotels in the world, is located 35 miles from the Amazon gateway city of Manaus. Accommodations include the President Lula "Tarzan House," built at canopy level with its own private balcony, plunge pool, and Jacuzzi. Stairwells and wooden catwalks (which stretch for 10 miles and are flanked by incredible flora and fauna).
6. Les Alicourts Resort Treehouses in France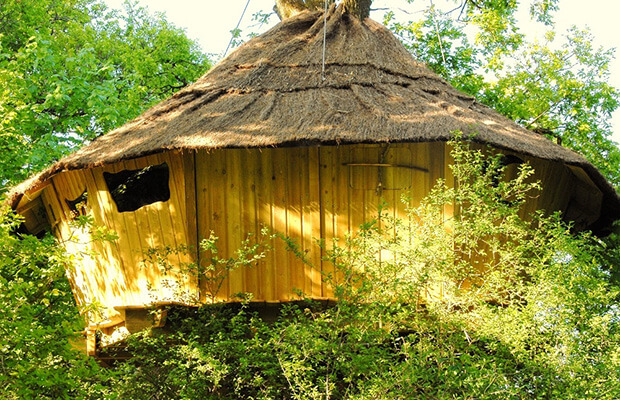 The Alicourts Resort covers an area of nearly 60 hectares in the heart of the Loire Valley with picturesque views and top rate facilities. On 30 acres of preserved forest the resort has constructed 8 beautifully crafted treehouses to provide a truly unforgettable experience. Suitable for families as well as couples, there are different types of treehouses: for 2, for 4 and up to 6 people at a height between 3,50 meters to 7,50 meters off the ground. All tree houses have ecological toilets and garden furniture. In the treehouses, you're provided with candle lights and torches. Washing facilities are in the main buildings and a morning breakfast is provided, delivered to the bottom of your tree!
7. Costa Rica Tree House Lodge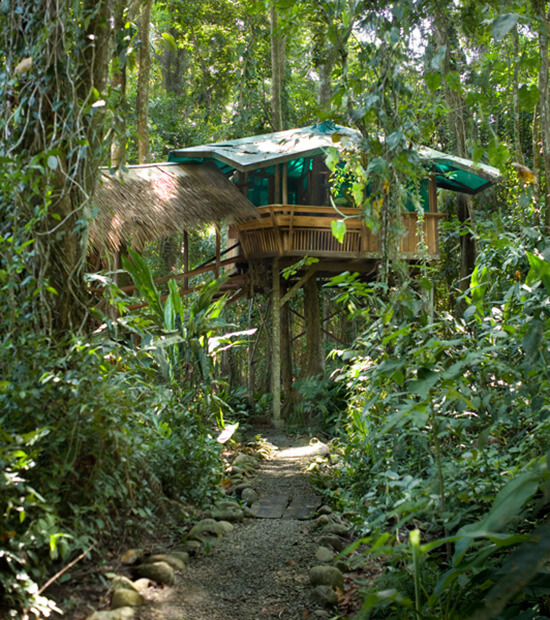 Built on tall stilts, this back-to-your-childhood house is submerged by the forest, with a sloped wooden suspension bridge leading steeply to its front door. Inside it's split level: upstairs, a double king size bed and a small ensuite toilet; downstairs, a second double bed, a single bed and a kitchen. There's enough room for a family, however also very romantic and very suited to a couple.