Our world is full of wonders. Many of them are still hidden and are yet to be discovered. If you are adventurous and love to travel, especially to explore under-explored regions, but you believe that you just haven't seen the wonders of the world, that we have now prepared. Find out our handpicked gorgeous wonders of the world that you should be visiting in 2015.
1. Fly Geyser
Location: Nevada, USA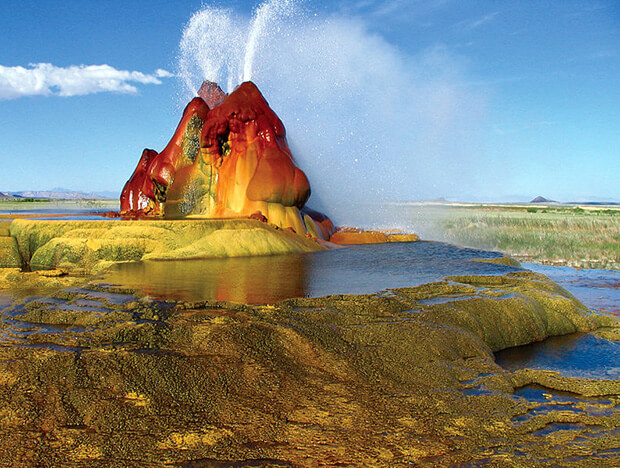 Fly Geyser is located on the private Fly Ranch in Hualapai Flat, about 0.3 miles (0.48 km) from State Route 34. The ranch is currently owned by Todd Jaksick. There is a high fence and a locked gate topped with spikes to exclude trespassers. The only access is a dirt road, but it is large enough to be seen from the road.Fly Geyser is not an entirely natural phenomenon; it was accidentally created by well drilling in 1964 exploring for sources of geothermal energy. The well may not have been capped correctly, or left unplugged, but either way dissolved minerals started rising and accumulating, creating the travertine mound on which the geyser sits and continues growing. Water is constantly released, reaching 5 feet (1.5 m) in the air. The geyser contains several terraces discharging water into 30 to 40 pools over an area of 74 acres. The geyser is made up of a series of different minerals, but its brilliant colors are due to thermophilic algae.
2. Ice Towers of Mount Erebus
Location: Ross Island, Antarctica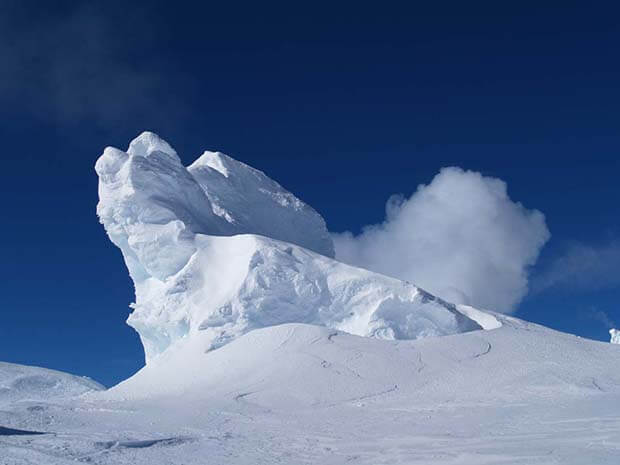 Mt. Erebus is one of the largest active volcanoes on Earth. It reaches nearly 4 km above sea level, and is renowned in
volcanological circles for its persistently active lava lake, which is sited in the summit crater. The hot volcanic gas
steaming from Erebus does more than fuel for the lava lake. Hot gasses traveling up through cracks and fractures in the volcanic rocks surrounding the Erebus summit have created an intricate system of ice caves all over the mountain.
3. Pamukkale
Location: Denizli Province Turkey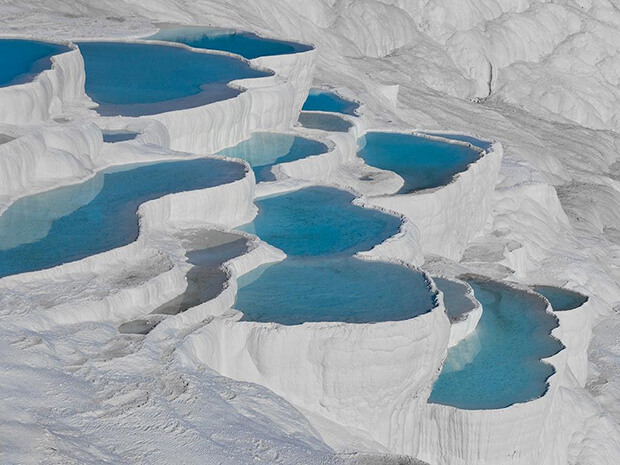 Pamukkale, meaning "cotton castle" in Turkish, is a natural site in Denizli Province in southwestern Turkey. The city
contains hot springs and travertines, terraces of carbonate minerals left by the flowing water. It is located in Turkey's
Inner Aegean region, in the River Menderes valley, which has a temperate climate for most of the year.
The ancient Greco-Roman and Byzantine city of Hierapolis was built on top of the white "castle" which is in total about 2,700 metres (8,860 ft) long, 600 m (1,970 ft) wide and 160 m (525 ft) high. It can be seen from the hills on the opposite side of the valley in the town of Denizli, 20 km away.
4. Salar de Uyuni
Location: Daniel Campos Province, Potosi Bolivia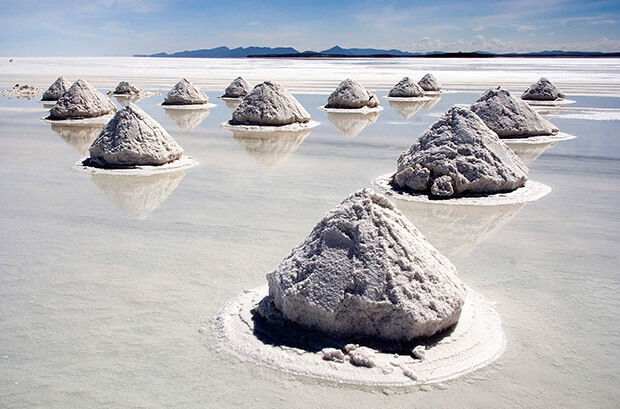 The Salar is one of the iconic images of Bolivia, a massive salt desert in the middle of the Altiplano. It is an expansive,
virtually flat desert that reflects the sun in such a way as to create a mirror effect with the sky. There are several lakes in the desert with strange colours from the mineral deposits in the region.
Some 40,000 years ago, the area was part of Lake Minchin, a giant prehistoric lake. When the lake dried, it left behind two modern lakes, Poopó Lake and Uru Uru Lake, and two major salt deserts, Salar de Coipasa and the larger Uyuni. Uyuni is roughly 25 times the size of the Bonneville Salt Flats in the United States. It is estimated to contain 10 billion tons of salt, from which less than 25,000 tons is extracted annually.
5. Danxia Landform
Location: Zhangye, Gansu Province China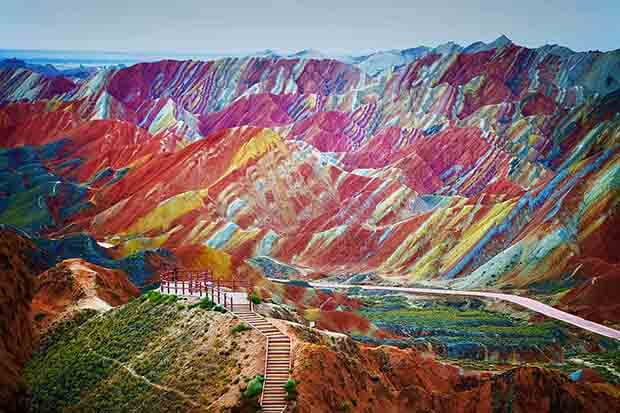 The Danxia landform refers to various landscapes found in southeast, southwest and northwest China that "consist of a red bed characterized by steep cliffs". It is a unique type of petrographic geomorphology found in China. Danxia landform is formed from red-coloured sandstones and conglomerates of largely Cretaceous age. The landforms look very much like karst topography that forms in areas underlain by limestones, but since the rocks that form danxia are sandstones and conglomerates, they have been called "pseudo-karst"
landforms. This unique geological phenomenon, known as a 'Danxia Landform', can be seen in several places in China. This example is located in Zhangye, Gansu Province. Danxia, which means "rosy cloud", is a special landform formed from reddish sandstone that has been eroded over time into a series of mountains surrounded by curvaceous cliffs and many unusual rock formations.
6. Banaue Rice Terraces
Location: Mountain Province, Banaue, Ifugao Philippines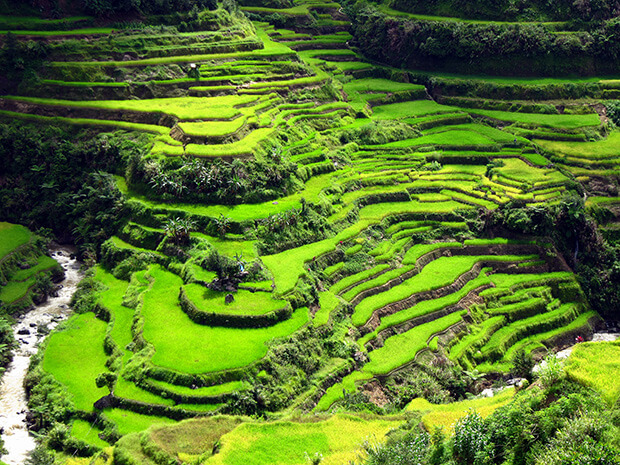 The Banaue Rice Terraces (Filipino: Hagdan-hagdang Palayan ng Banawe) are 2,000-year-old terraces that were carved into the mountains of Ifugao in the Philippines by ancestors of the indigenous people. The Rice Terraces are commonly referred to as the "Eighth Wonder of the World". It is commonly thought that the terraces were built with minimal equipment, largely by hand. The terraces are located approximately 1500 metres (5000 ft) above sea level. They are fed by an ancient irrigation system from the rainforests above the terraces. It is said that if the steps were put end to end, it would encircle half the globe. Locals to this day still plant rice and vegetables on the terraces, although more and more younger Ifugaos do not find farming appealing, often opting for the more lucrative hospitality industry generated by the terraces.
7. Wulingyuan Hunan
Location: Wulingyuan, Zhangjiajie, Hunan, China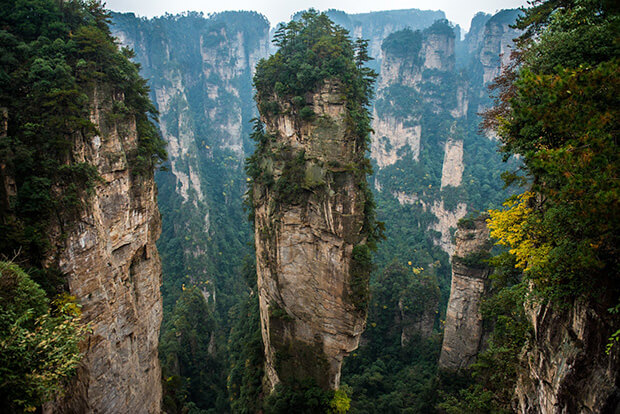 The Hunan region is full of dramatic landscapes and the magnificent Wulingyan is one of their biggest attractions. This geological wonder is made up of over 3000 limestone karsts. There are scenic waterfalls and some of Asia's biggest limestone caves.
8. Great Blue Hole
Location: Belize Coast Central America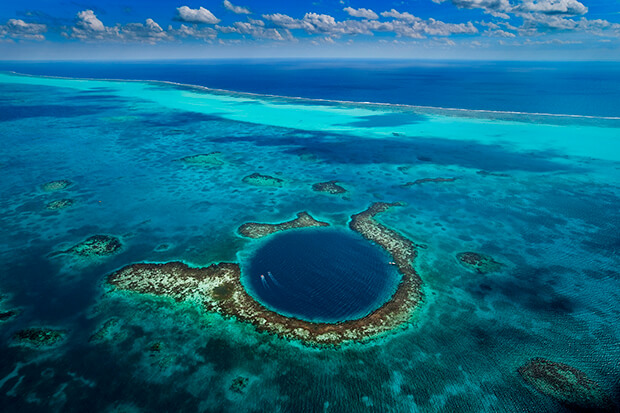 Part of the Lighthouse Reef System, The Great Blue Hole lies approximately 60 miles off the mainland out of Belize City. A large, almost perfectly circular hole approximately one quarter of a mile (0.4 km) across, it's one of the most astounding dive sites to be found anywhere on earth. Inside this hole, the water is 480 feet (145 m) deep and it is the depth of water which gives the deep blue color that causes such structures throughout the world to be known as "blue holes."