1. Canobie Lake Park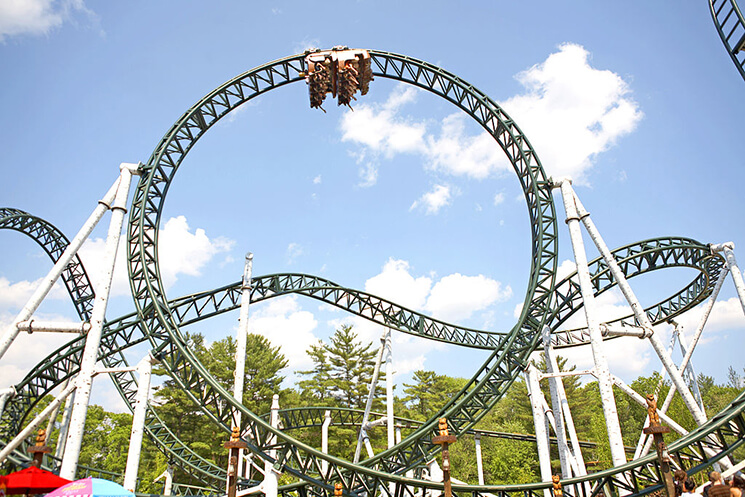 Canobie Lake Park is open from May through early November. In the early years, this amusement park is well-known for its gentle attractions, flower gardens, and promenades. The park contains 50 rides including a Ferris wheel, roller coasters, an antique carousel, a log flume, kiddie rides, three arcades, and a stream train. Some of the well-known rides in the park are DaVinci's Dream, Starblaster, Yankee Cannonball, and Canobie Corkscrew.
The park also features prize games for kids, foods, firework displays, and live entertainment.
Location: Salem, New Hampshire
2. Cedar Point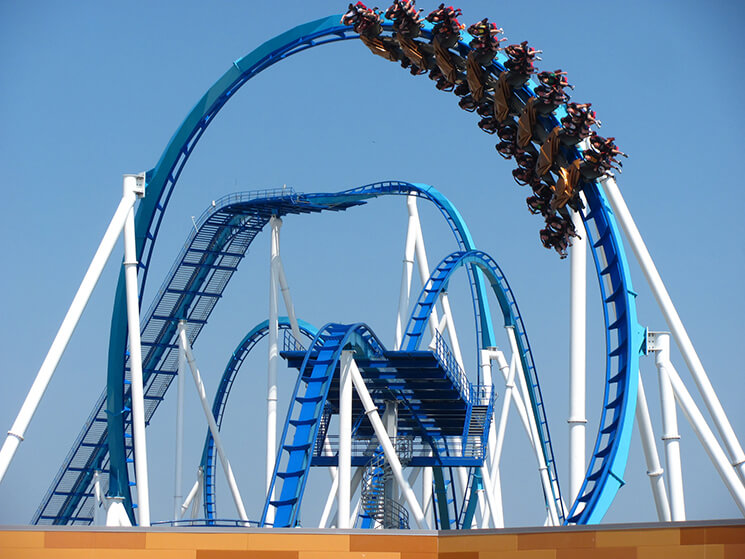 Cedar point is the second oldest amusement park in the U.S. The park features hotels, restaurants, and a world record of 72 rides, including 16 roller coasters. Four of these roller coasters are taller than 200 feet; these coasters are Magnum XL-200, Millennium Force, Wicked Twister, and Top Thrill Dragster.
There are also other attractions near the park that you can visit such as Soak City – an outdoor water park, Challenge Park, Castaway Bay – an indoor water park, a white-sand beach, a few resorts, and marinas.
Cedar Point is open daily from May through early November.
Location: Sandusky, Ohio
3. Holiday World & Splashin' Safari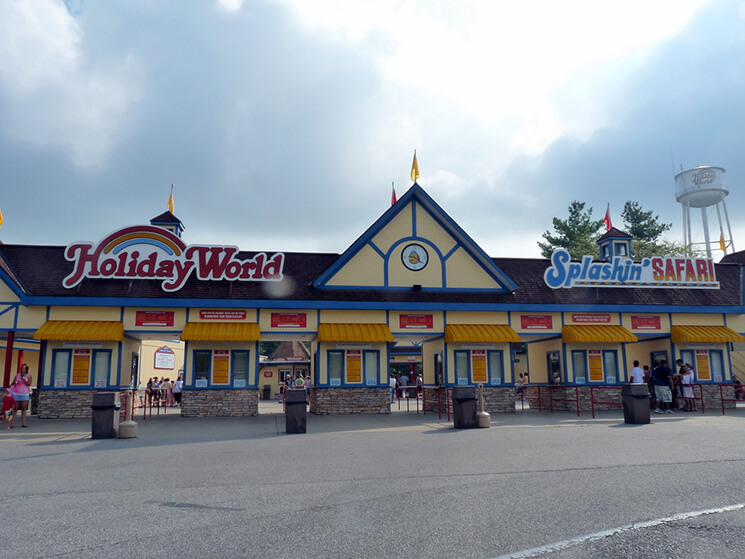 Holiday World & Splashin' Safari is a combination of theme park and water park. This park offers a lot of free things such as free parking; free soft drinks, free Wi-Fi, free sunscreen, and you are free to use inner tubes in the water park.
There are 4 different sections in the park with different themes – Fourth of July, Halloween, Thanksgiving, and Christmas. Each section has rides, games, attractions, and live entertainment.
Holiday World is best-known for its three wooden roller coasters – The Raven, The Legend, and The Voyage. Holiday World also features a water park and live entertainment. The best time to go here is during the summer!
Location: Santa Claus, Indiana
4. Hersheypark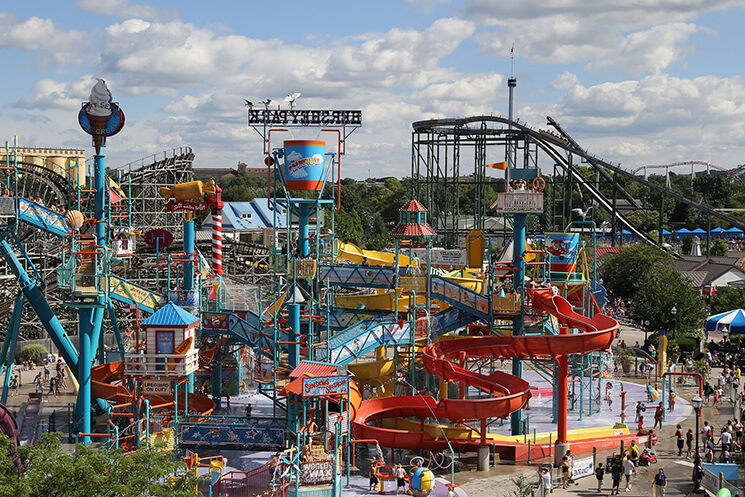 Hersheypark was originally built as a recreational area for the workers of Hershey Chocolate's factory. The park features its oldest roller coaster, The Wild Cat, which was opened in 1923. In 1970 the park introduces new rides, including the first looping roller coaster on the East Coast. The park has added 8 new rides from 1991-2008. Now, the park contains a total of 70 rides. Other notable attractions that you can see here are the Kissing Tower, the Boardwalk at Hersheypark, and ZOOAMERICA.
The park is open on Easter weekend, from May through September, and during Halloween and Christmas.
Location: Hershey, Pennsylvania
5. Knott's Berry Farm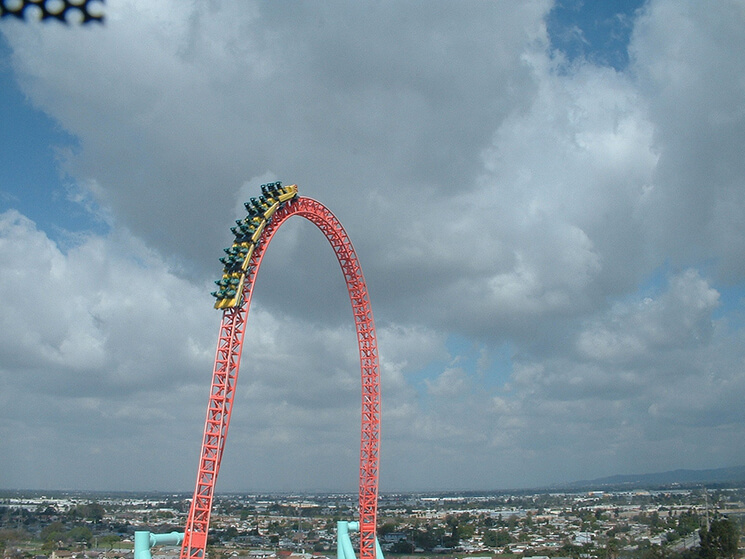 Knott's Berry Farm was once a working berry farm, and now it is among the most visited theme park in North America! The park has 40 rides, including its famous wooden roller coaster the GhostRider; the Supreme Scream, where visitors are hoisted up about 30-stories high and dropped down in just three seconds; and Camp Snoopy, wherein you will have the chance to meet the whole gang of Peanuts.
The park is open year-round, so you can visit here any time of the year.
Location: Buena Park, California
6. King's Dominion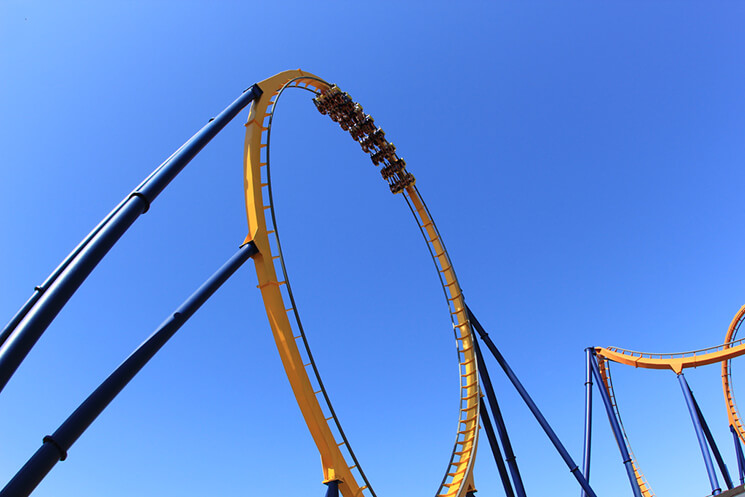 King's Dominion is a 400-acre amusement park with over 60 rides, including 14 roller coasters. The best time to go here is during the summer. You and your kids will surely enjoy the rides such as the Dominator, Grizzly, Anaconda, Volcano, Drop Tower, Rebel Yell, and Intimidator 305.
Planet Snoopy is also a popular attraction in the park. Children will surely enjoy meeting Snoopy, Charlie Brown, Lucy, Linus, and Sally. Planet Snoopy has rides for little kids too, wherein they can swoop, whirl, dive, and fly.
King's Dominion is open every day during the summer, and on weekends during spring and fall.
Location: Doswell, Virginia
7. Knoebels Amusement Park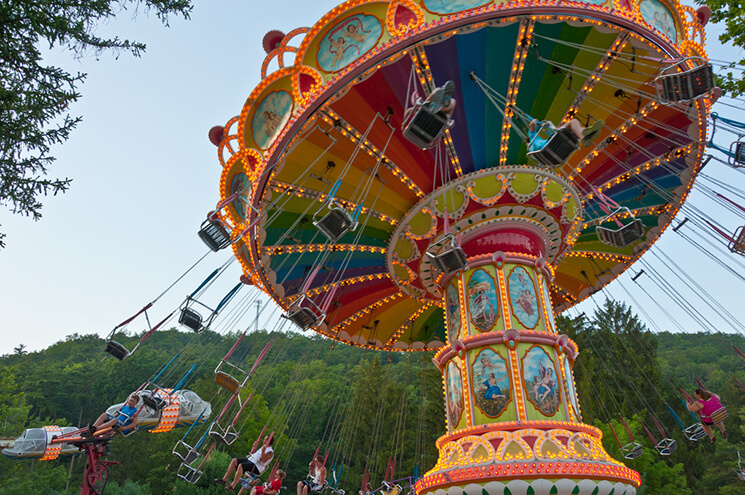 A family owned amusement park, Knoebels is the largest free-admission amusement park in the U.S.Your whole family will surely enjoy this place for its free daily entertainment and free picnic facilities. This place also has free parking, so you don't have to worry where you will park your car.
Crystal Pool and Knoebels Three Ponds Gold Club are some of the best features of Knoebels Amusement Park. The pool has a play area for young children and it includes diving boards and watersides. This amusement park also has more than 60 rides, 2 campgrounds with cabins, and more than 800 campsites.
Location: Elysburg, Pennsylvania
8. Kings Island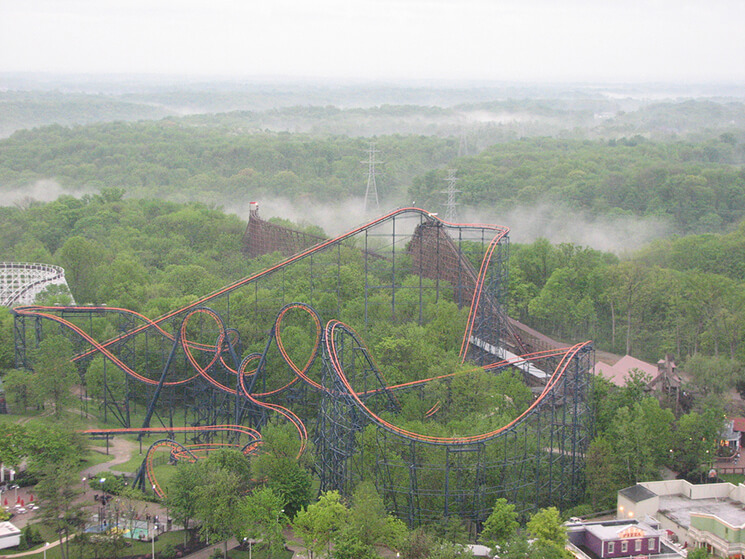 Kings Island is the second most visited seasonal park in the U.S. in 2014, just behind Cedar Point amusement park. The park features 80 thrill rides including 14 coasters, numerous shows and attractions, and a water park. It is also divided into different themed sections.
Kings Island is famous for its record-breaking events and attractions including The Racer, The Beast, and Banshee. Visit Kings Island from spring through fall. The typical operating season of the amusement park is from April through Labor Day. It will be open for a short time on September, during the weekends only.
Location: Mason, Ohio
9. Lagoon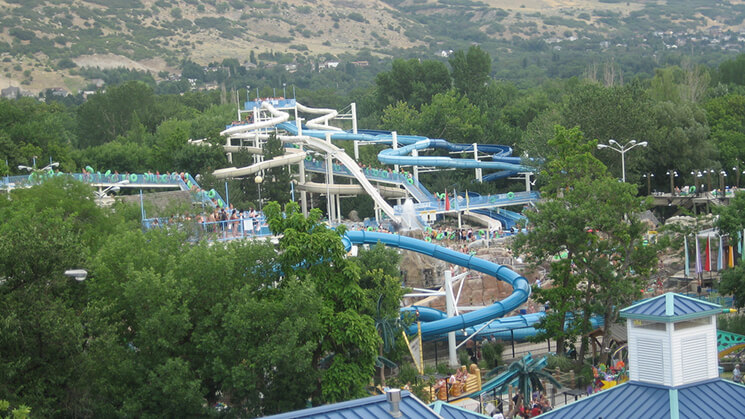 Enjoy your summer vacation by visiting Lagoon Amusement Park! Visit Lagoon's OdySea with your whole family and enjoy an undersea adventure. Pioneer Village offers visitors live entertainment daily. Some of the fun rides that you need to experience here are the Bat, the Spider, the Rattlesnake Rapids, and the Fire Dragon.
The best time to go here is during the summer. Lagoon is open late during the summer.
Location: Farmington, Utah
10. Lake Compounce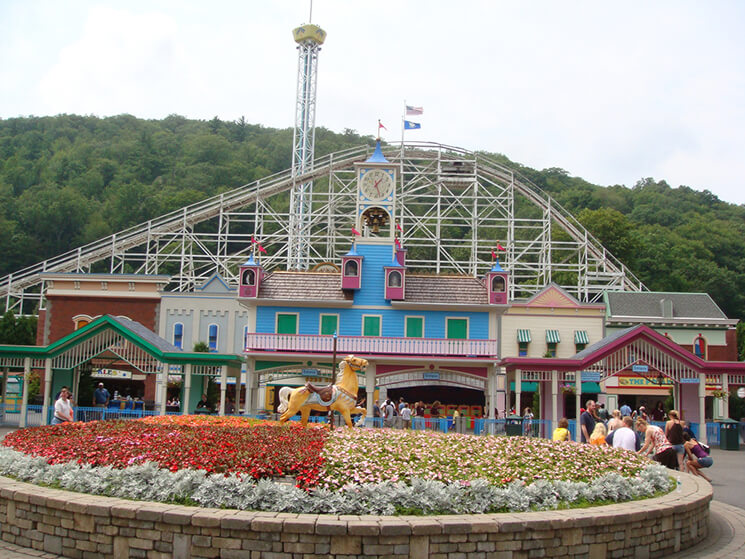 Lake Compounce is the oldest continuously-operating amusement park in the U.S. This amusement park contains a water park and a beach. Visitors can go here for free! The park is full of exciting thrill rides for both young and adults. Some thrill rides that are worth trying are Boulder Dash, Sky Coaster, Thunder N' Lightning, Zoomerang, The Wildcat, and Thunder Rapids.
Lake Compounce also has 10 catering pavilions and it has plenty of rooms. You can celebrate any events here such as parties, family reunions, and birthdays.
Visit Lake Compounce from May through December.
Location: Bristol, Connecticut
11. Michigan's Adventure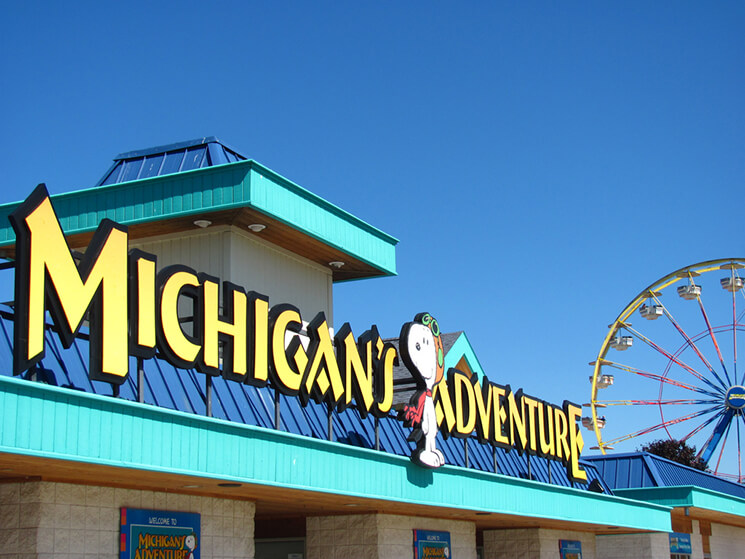 Michigan's Adventure is the largest amusement park in the state of Michigan and it contains 53 rides including 7 roller coasters. The park is headlined by an outdoor water park – the WildWater Adventure, a wooden roller coaster – the Shivering Timbers, and an inverted steel roller coaster – the Thunderhawk.
Other thrill rides that you need to try are Dodgem, Logger's Run, Flying Trapeze, Bumper Boats, and Adventure Falls.
Visit Michigan's Adventure amusement park from May through September.
Location: Muskegon, Michigan
12. Santa Cruz Beach Boardwalk

Santa Cruz Beach Boardwalk is an oceanfront amusement park and it has been a well-known tourist destination for over a hundred years. Admission here is free, however you need to buy ride tickets, and you can purchase ride tickets per day, per season, or per ride. Some of the best rides that you really need to try here are the red and white Giant Dipper wooden roller coaster and the Sky Glider, wherein you'll have the chance to enjoy the beautiful views of the Monterey Bay.
Your kids will absolutely enjoy their visit here, because they can play lots of games along the Boardwalk, and you don't have to worry if they go hungry as there are a lot of places for you to eat.
The Boardwalk is open year-round; however there are some rides that are only open on weekends during the winter months.
The best time to visit Santa Cruz Beach Boardwalk is during the summer. However expect more crowds during the summer weekends, so make sure to arrive early. If you want to avoid the crowd, avoid going here during the summer weekends.
Location: Santa Cruz, California
13. Sesame Place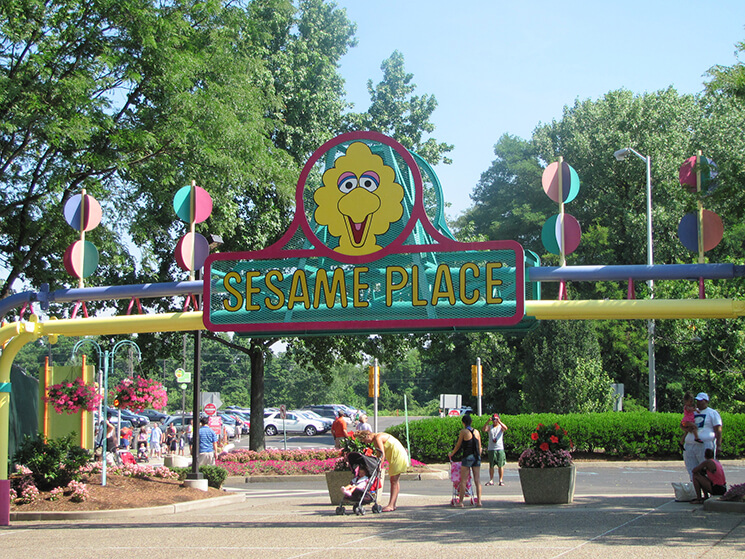 "Be a Kid or Be a Kid Again" – this is the slogan for Sesame Place. Kids and kids at heart are welcome to come here and enjoy the park's attractions and rides. Sesame World is a theme park based on the well-known television program, Sesame Street.
The park is owned and operated by SeaWorld Entertainment, and it features a variety of water attractions, rides, and shows for kids.
Visit Sesame place from May through December.
Location: Langhorne, Pennsylvania
14. Worlds Of Fun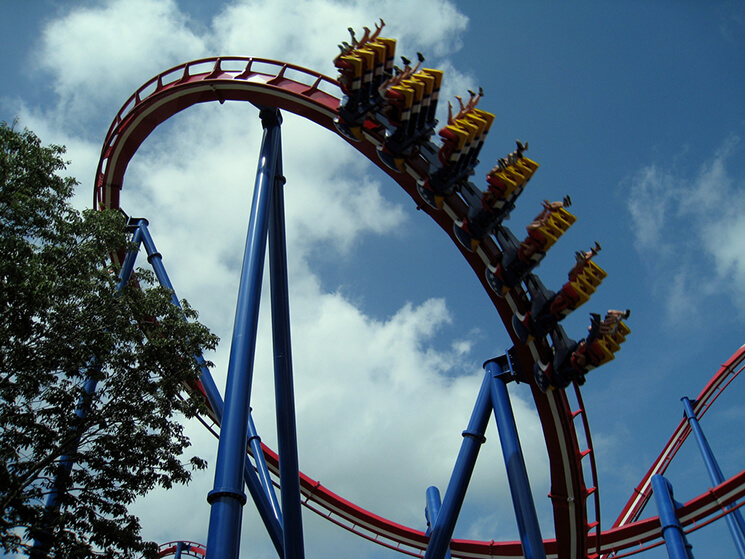 Slide all day and ride all night at the Worlds of Fun! Worlds of Fun is a 235-acre amusement park and its theme is inspired by the book Around The World In 80 Days. There are five major sections in this park – Africa, Scandinavia, the Orient, Americana, and Europa. It also contains thrill rides, seven roller coasters, water slides, Planet Snoopy, and Oceans of Fun.
Location: Kansas City, Missouri
15. Valleyfair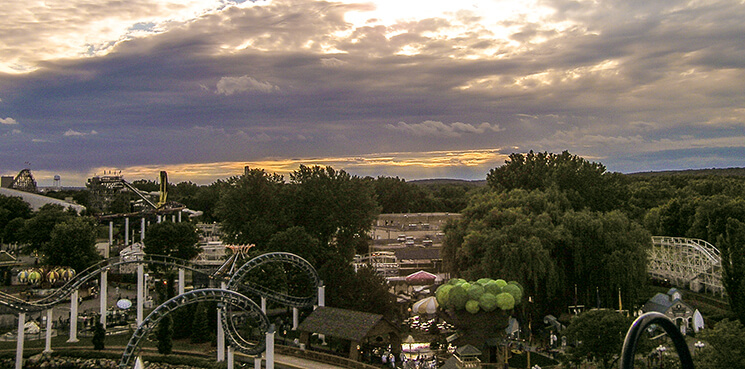 Opened in 1976, Valleyfair features 75 rides and attractions, 8 roller coasters, and Soak City – Valleyfair's water park. Some thrill rides that you need to try during your visit here are High Roller, Excalibur, Wild Thing, Xtreme Swing, Tip Ride, and Power Tower. Valleyfair also has live events for the whole family.
The park is open from Mary through late October or early November.
Location: Shakopee, Minnesota