A great surf town is the nearly magical sum of consistent waves, inviting accommodations, friendly locals, fun nightlife, delicious food, and plenty of activities should the ocean go flat. The following is a list of the world's best surf towns, picked not necessarily because they are home to the best waves, but because the sum of their parts makes them inviting for locals and visitors alike. Plus, for each town, locals tell us where to eat, stay, and play.— Tetsuhiko Endo
World's 8 Awesome Surfing Spots from National Geographic.
1. Tofino, British Columbia

Best For: Couples and surf travelers who want to trade the bleached-blonde surfer-dude vibe for something more hip and outdoorsy … and don't mind wearing a bit of extra neoprene.
California may be one of the surfing world's spiritual centers, but one of the surfiest towns on the West Coast of North America is far to the north. Tofino, British Columbia, is an old fur trading and logging town that just happens to sit in one of the prettiest spots on Vancouver Island. Clayoquot Sound, compromised of nearly 350,000 hectares of land and ocean, is cool, misty, full of wildlife, and utterly spectacular. Although winters can be harsh, the spring and summer bring warmer air temperatures and almost nonstop markets, festivals, and cultural events.
When to Go:
March to September. Winter sees the biggest waves, if you don't mind freezing air temps and raging storm surf. Everyone else will appreciate more warmth and sunlight in exchange for slightly smaller waves.
Local Tip:
In the summer the sun rises at around 5 a.m. and doesn't set until 9:30 p.m. You can surf early, eat breakfast, take a nap, and still manage a hike before lunch.
2. Taghazout, Morocco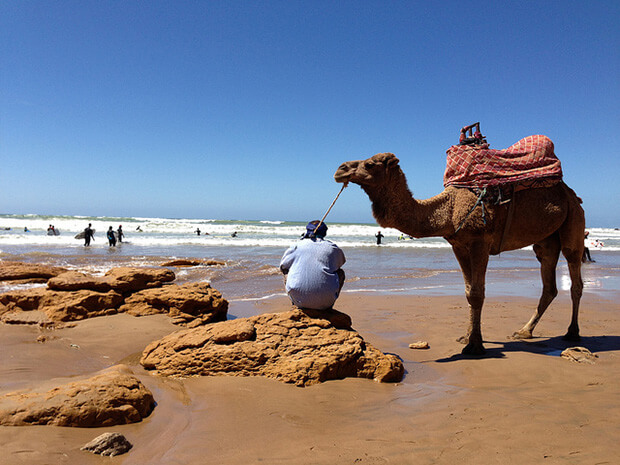 Best For: Couples and serious surf adventurers who want to wander through the labyrinthine corridors of some of the world's oldest cities and also catch the waves of their lives.
Taghazout, Morocco, is a surfing oasis in the middle of a long, rugged coastline that is inundated with waves. This ancient Berber encampment became an outpost for European adventurers trekking into southern Morocco in the 1960s. And throughout that same period, surfers "discovered" the region and set up shop in Taghazout. Today, there are a lot of French and Spanish surfers mingling with the native Moroccans and Berbers in what still feels like a frontier town on the edge of the desert. The waves are almost always long-period ground swells—which means great shape and plenty of power—and the winds consistently blow offshore.
When to Go:
Year-round
Local Tip:
If you go exploring for waves, which you should, 4WD and plenty of water are necessary.
3. Encinitas, California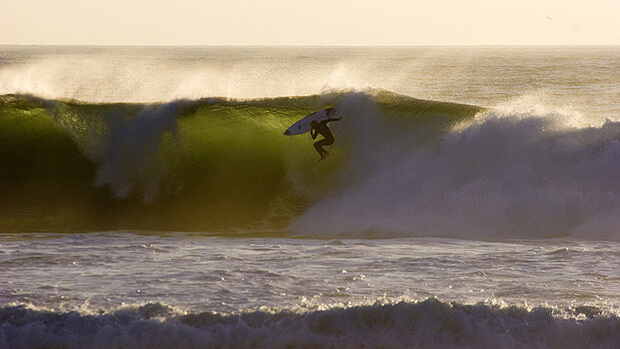 Best For: The whole family can enjoy Southern California's signature blend of classic American beach culture with a refreshing Mexican twist.
No area of the United States says "surfing" quite like Southern California; and no SoCal town is quite as surfy as Encinitas. It's an easygoing mix of West Coast counterculture—from skaters and snowboarders to surfers—and New Age spiritualists. Aside from having some of the oldest and most well-respected surf shops in the country, it is also the home of La Paloma Theatre, which in its 84-year history has premiered countless surf films.
When to Go:
Autumn sees a high percentage of north and south and north/south combination swells rolling in with favorable wind conditions and comfortable water temperatures.
Local Tip:
Encinitas is one of the few places in the world where traffic will voluntarily stop for you when you cross the road. Don't ask questions, just give the driver a wave and go about your business.
4. Bundoran, Ireland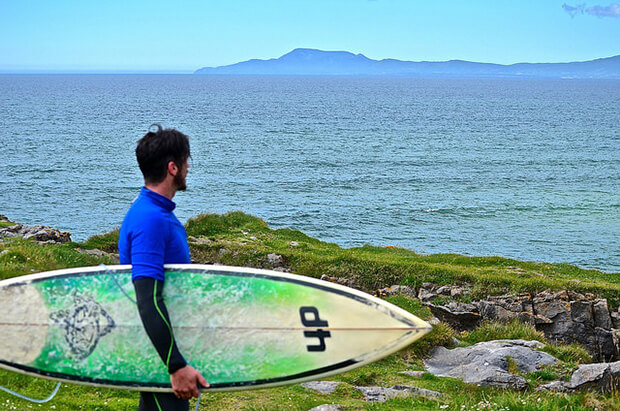 Best For: The salty surf traveler who doesn't mind surfing in cold water or rain.
Ireland, known among surfers as "Europe's cold-water Indonesia" should be on the bucket list of every surfer. And Bundoran should be the start of any surfing adventure on the Emerald Isle. This centuries-old fishing village catches just about any swell that steamrolls through the North Atlantic and onto a smattering of beaches and reefs that suit different levels of surfers.
When to Go:
Go September to November, when the water is warm(ish), the tourists have gone home, and the Atlantic is pumping.
Local Tip:
If you buy a round for the locals, which you should, expect to be drinking for the rest of the night.
5. Florianópolis, Brazil
Best For: Young people looking to burn the candle at both ends.
With 4,655 miles of coastline and an increasingly surf-crazy populace, Brazil is poised to become the next great epicenter of global surf culture. Nowhere is this better exemplified than Brazil's island capital of surfing, Florianópolis, or Floripa, as the locals prefer. There are 42 different beaches to suit all surfing tastes, from the novice-friendly Barra Da Lagoa to the heavier Joaquina Beach, where they sometimes hold professional surfing competitions. The only thing more consistent than the Southern Hemisphere swells is the nightlife. Expect to surf a lot of afternoons, because the parties go late.
When to Go:
This part of Brazil receives year-round swell, but it averages slightly smaller in the summer (November to February).
Local Tip:
The winds are highly variable and can quickly turn from swell-grooming offshores (blowing from the land) to wave destroying onshores (blowing from sea). The good news is that the coastline is very craggy, meaning there is always a beach positioned for favorable winds if you know where to look.
6. Byron Bay, Australia
Best For: Families. Australia is a once-in-a-lifetime trip, and Byron Bay and the rest of the country will enchant all age groups.
In an entire continent of surf towns, Byron Bay stands out as one of the spiritual and historical homes of surfing in what is, pound for pound, perhaps the greatest surfing nation in the world. Despite a tendency toward the upscale, Byron is at heart a hippie town that favors live bands, relaxed cafes that source local ingredients, and plenty of "all natural" everything. Combine that with the naturally cheerful disposition of many Aussies and you won't find better waves in a more pleasant setting anywhere in the world.
When to Go:
June to September. The Southern Hemisphere winter barely touches Byron, with only a slight chill in the mornings and mild-to-warm temperatures during the day. The swell pumps the whole time.
Local Tip:
Surfing points comes with important rules of etiquette. All you really need to remember is to wait your turn and be patient. You won't get as many waves as you would at a beach but can easily get the best wave of your life.
7. Biarritz, France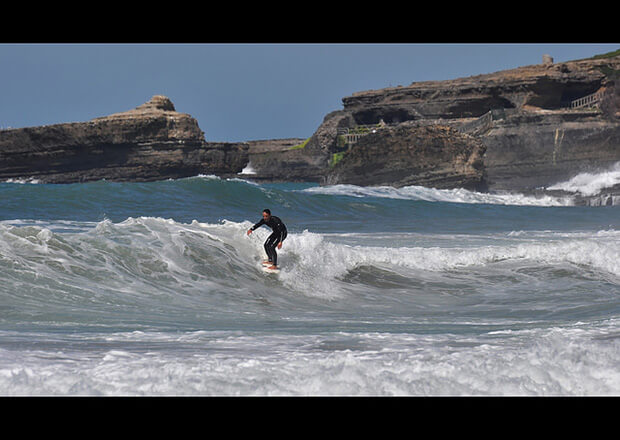 Best For: The discerning surfer who insists that the wine be just as good as the waves.
Biarritz is the only surf town in the world with a royal history. In 1854, Empress Eugénie convinced her husband, Napoleon III, to visit the area. They then bought the land and built a palace on the beach, which made Biarritz one of the hottest resort towns in Europe. Screenwriter Peter Viertel brought France its first surfboard in 1956, when he came to shoot location shots for The Sun Also Rises.
When to Go:
September to November. Beat the summer crowds and catch the best swells that the Atlantic can offer.
Local Tip:
Many of the surf shops only sell clothes. Make sure to come prepared.
8. Paia, Maui, Hawaii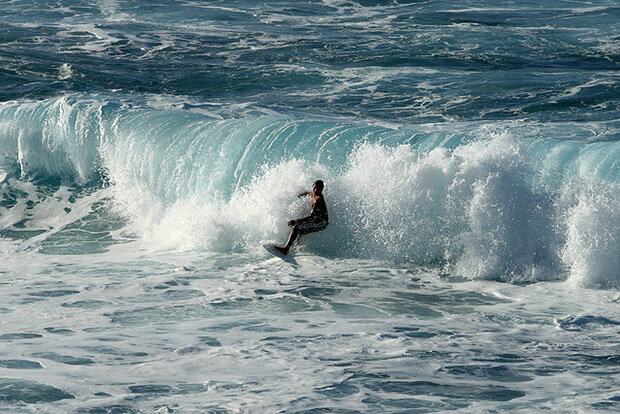 Best For: Families who want a laconic town that caters to every member without all the kitsch and hustle of the larger tourist centers.
Most Hawaiian towns are surf towns, but none have the artsy, eccentric vibe of Paia on Maui's North Shore. What started as a sugarcane boomtown is now a hangout for artists, surfers, and wind sport enthusiasts from around the world. Although not known as a surfing mecca like Oahu's North Shore, partially due to the daily side-shore winds that shred the lineups most afternoons, this actually works in favor of visiting surfers, according to local pro surfer Zack Howard: "There are a lot of great surfers here, but in general, the level is lower than in places like Oahu, and that means there are a lot of waves for everyone."
When to Go:
November to March
Local Tip:
The trade winds are usually blowing strong by midday, so set your alarm clock early for the best waves.