The best time to visit Napa is Fall, meaning Sept to October. This is "crush" time when they harvest the grapes. You want to see a winery in action, you come in Fall. November is also nice because the weather is still good but the crowds and rates have dropped. The second best time is Spring when the mustard plants are all in bloom. This is a "gotta see it to believe it", but everywhere you look you'll see brilliant bright mustard plants with eye-popping color! It's like you stepped into a HD Plasma TV and someone turned the colors on full blast! When you do come to Napa, you should include this 6 wineries in your "to visit list" as they are included in 2015's top wineries in Napa. Check them out below, with their website and contact numbers.

1. Steltzner Vineyards
5 Financial Plaza, Ste 104, Napa, Ca 94558
707-252-7272
707-252-2079 (Fax)
Richard Steltzner established his first Stags Leap District Vineyards in 1965 while concurrently engaging in vineyards management. Steltzner Vineyards' first commercial release was in 1977, and the Steltzner Family established their own modest facility in 1983, with a 3,000 case capacity here in the Stags Leap District.
The image use is from their website/Facebook page.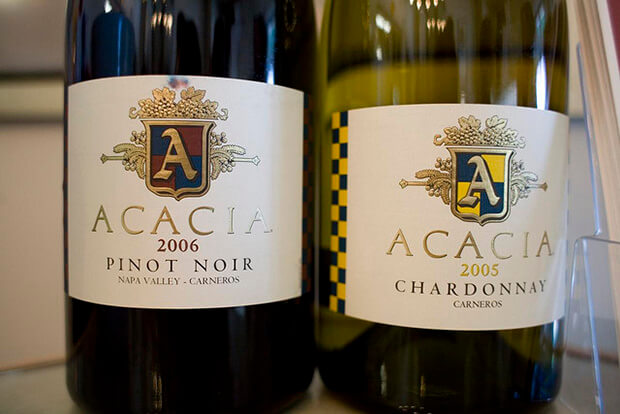 2. Acacia Vineyard
2750 Las Amigas RoadNapa, Ca 94559
707.226.9991
877.226.1700 (toll free)
707.226.1685 (fax)
Long before the climate of the Carneros American Viticultural Area (AVA) was recognized as ideal for growing Chardonnay and Pinot Noir, Acacia's pioneering founders were convinced of it. Their goal when they launched Acacia was to achieve a certain balance in Pinot Noir that, at the time, existed only in French wines. They wanted to make a single-vineyard California Pinot Noir that was both complex and delicate—a wine that heightened the enjoyment of food, making everything a little more delicious.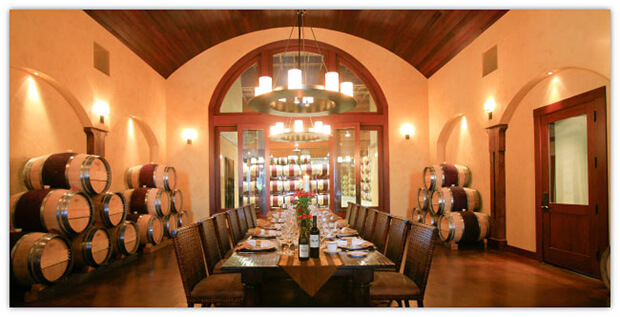 3. Black Stallion Winery
Black Stallion Estate Winery
4089 Silverado TrailNapa, CA 94558
707-227-3250
Located on the grounds of a historic equestrian center, Black Stallion Estate Winery is the latest addition to the distinguished collection of wineries in the Oak Knoll District of Napa Valley. Each of the varietals we produce is handcrafted and carefully blended from small vineyard lots. Each lot is fermented and aged separately in our cellar until just prior to bottling when we carefully blend these lots together to achieve wines of balance with layers of complex flavors. Black Stallion Estate Winery is dedicated to crafting high-quality wines that are elegant and distinctive yet approachable.
The image is from their official website/Facebook page.
707-257-0101
Domaine Carneros is a singular winery best known as a small grower-producer of methóde champenoise sparkling wine, Pinot Noir, certified organic estate vineyards, and a breathtakingly beautiful château.
Founded by the noble family behind Champagne Taittinger, Claude Taittinger's search for a worthy U.S. counterpart began in the late 1970s. In 1987 he selected a 138-acre parcel in the heart of Carneros, Napa Valley. Wisely selecting Eileen Crane to oversee the development of the winery and vineyards, the team created the quintessential California expression of the Taittinger style in Carneros.
The image is from their official website/Facebook page.

5. Chimney Rock Winery
5350 Silverado Trail Napa, CA 94558
Phone: 800-257-2641
Fax: 707-257-2036
Our family was fortunate to have the opportunity to acquire the Chimney Rock estate in 2004. The estate was established in 1980 by Hack and Stella Wilson, who brought their love of wine and South African winery architecture to the Napa Valley. Since our acquisition and involvement, we have built on that foundation and advanced the quality of every aspect of the estate and its wines. We have worked hand-in-hand with our team to elevate Chimney Rock to its potential. We have done so by focusing on intelligent and sustainable farming and grape growing led by V.P. of Winemaking, Doug Fletcher, along with a soft-handed and thoughtful approach to winemaking led by Winemaker, Elizabeth Vianna. We strive to allow the unique and magnificent Stags Leap District soil and fruit to show themselves in their best light. Through this thoughtful and sustainable approach, our estate has a reputation for consistently crafting unique wines of exceptional quality that show a true sense of place.
Our vision and mission is to produce wines of exceptional quality that are capable of standing shoulder to shoulder with the great and important wines of the world. We continue to provide Elizabeth and her winemaking team with the vision, resources, and guidance to craft unique wines of this exceptional quality. Join us as our history continues to unfold.
– John Terlato
The image is from their official website/Facebook page.

6. Holman Cellars
190 Camino Oruga #9 Napa CA 94558
Cellar Line: 707.255.5125
Driven by a passion for wine and the camaraderie of family & friends, Holman Cellars was conceived. The quintessential "Garagiste" winery, Holman Cellars began as a wine project in a horse barn. As the wines resulted in blockbuster hits, production began to grow and more varietals were vinified. Now, 5 years later, we have outgrown that horse stall and production has developed into a full-time passion in South Napa.
The image is from their official website/Facebook page.