Start planning your bucket list now, these golf courses are flung far and wide across the country, and you might just as well need a lifetime to experience them all.
1. Shinnecock Hills, New york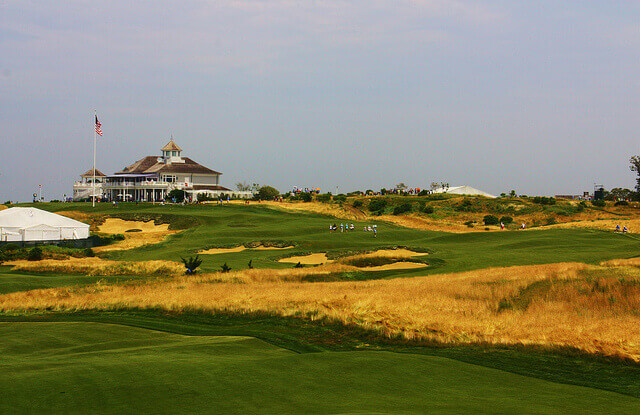 Source: Flickr SweetMeow
The course at Shinnecock Hills in Southampton, New York, dates back to 1891, making it one of the oldest links courses in the U.S. The club will host the 2018 U.S. Open.
2. Black Mesa Golf Club, New Mexico
Source: Flickr Erik Anestad
The remote Black Mesa is absent of any man-made distractions. Designed by architect Baxter Spann, Black Mesa has a wild Irish links look to it, particularly in the spring after a wet winter when the native grasses are leafy and blowing in the breeze. The course plays through dramatic sandstone ridges with Black Mesa visible from several locations.
3. Merion Golf Club, Pennsylvania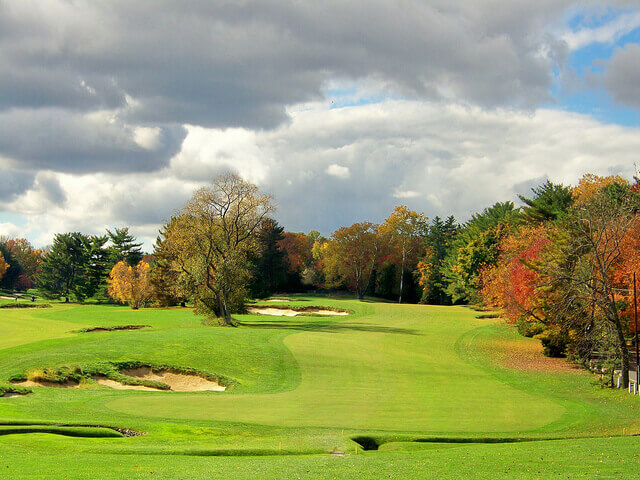 Source: Flickr tewiespix
The East course at Merion Golf Club in Ardmore, Pennsylvania, was designed by Hugh Wilson in 1912. The host of the 2013 U.S. Open, the inland course has contoured fairways and angled greens.
4. TPC Sawgrass, Florida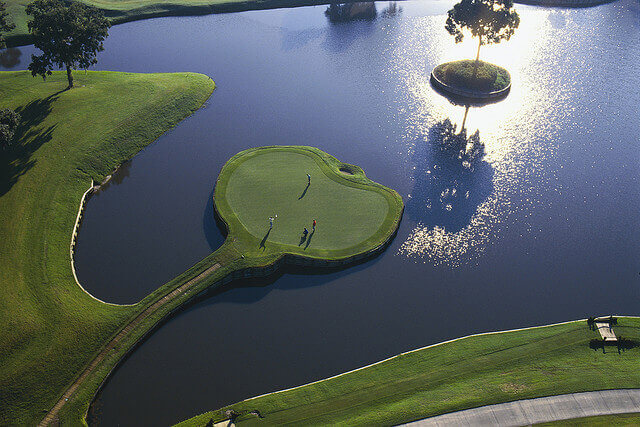 Source: Flickr universal.traveler2
The Stadium course at TPC Sawgrass in Ponte Vedra Beach, Florida, requires a good amount of strategic thinking, with many holes framed around the lake. It's also known for its infamous 17th hole, set on an island.
5. Oakmont Country Club, Pennsylvania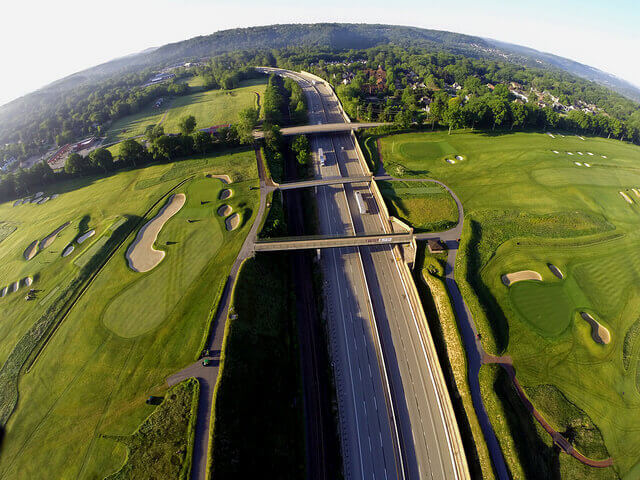 Source: Flickr Wicklow Aerial
Oakmont Country Club in Oakmont, Pennsylvania, has hosted more major Championships than any other U.S. course, aside from Augusta National. Designed by Henry Fownes, the course features some of the fastest greens and most strategic bunkering you can find. The 2016 U.S. Open will be hosted here.
6. The Alotian Golf Club, Arkansas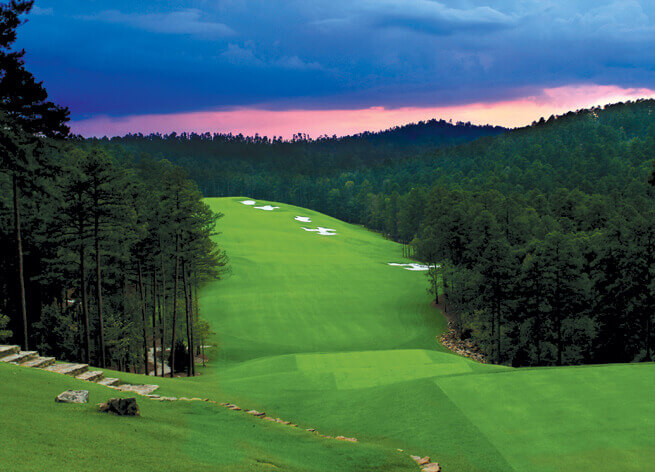 Source: Inarkansas.com
One of the most famous golf architects of all time, Tom Fazio, designed Arkansas' best course.
Alotian has long, rolling fairways that have drawn comparisons to the great Augusta. Located on the banks of Lake Maumelle, the Alotian Club has one of the best backdrops in the country.
7. Boca West Country Club Golf, Florida

Source: Flickr Lang Realty
Designed by Arnold Palmer, the 18-hole "Palmer 1" course at the Boca West features 7,160 yards of golf from the longest tees for a par of 72 .
8. Entrada at Snow Canyon Golf Course, Utah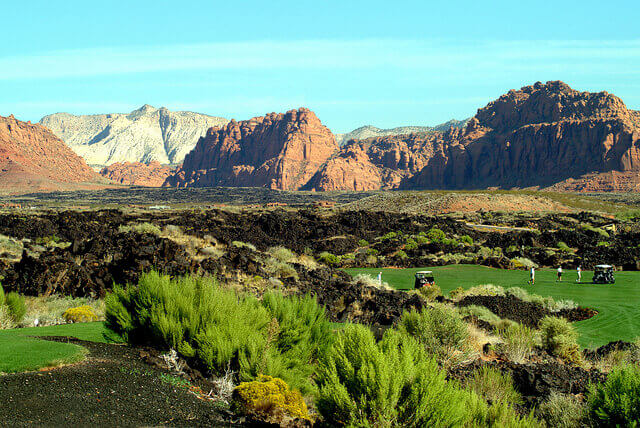 Source: Flickr Henry Walker Homes
The mesmerizing lava fields on three of the holes at Entrada make for a memorable experience. The ambiance of the course is terrific with views of Snow Canyon. The course, especially the back nine, is demanding. A must for the avid golfer.
9. Whistling Straits, Wisconsin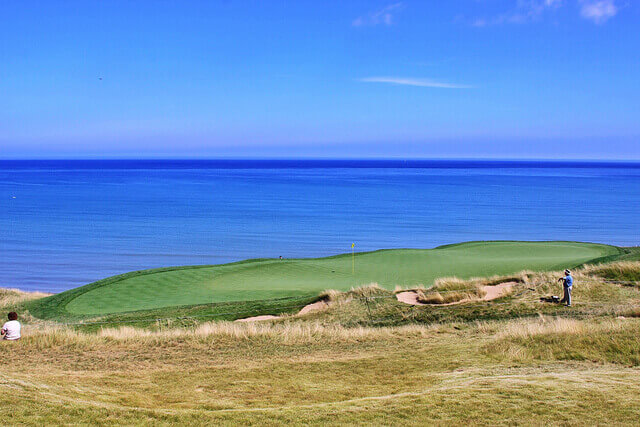 Source: Flickr voleyplr420
Whistling Straits, which opened in 1998, is situated upon an open, rugged and windswept terrain sculpted along two miles of Lake Michigan shoreline. The vision of legendary designer Pete Dye has sculpted a course which includes a dash of Ireland and a pinch of Scotland on the Wisconsin coastline.
10. Ballyneal Golf Club, Colorado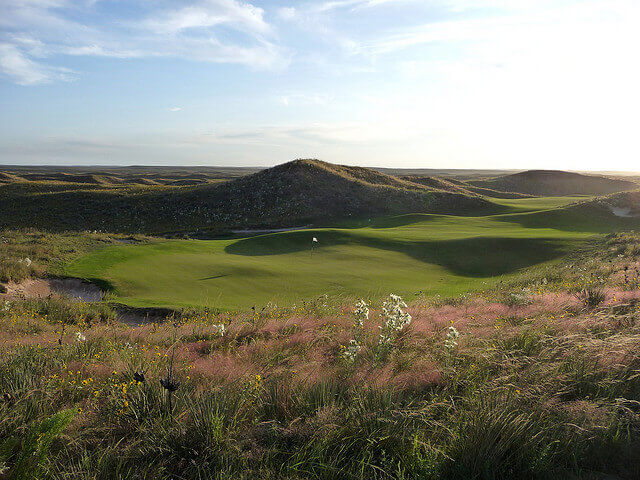 Source: Flickr eko_gfl
Located in the rural north east of Colorado, Ballyneal Golf Club is one of those "middle of nowhere" clubs that no one in the world would have ever heard if it wasn't for the fact that it had received rave reviews by several major golf publications. Enormous bunkers and undulating ground give the course an authentic links-like quality despite being many miles away from the ocean.
If you enjoyed this article, then check out 10 jaw dropping American golf courses that will leave you breathless.