We've searched coast to coast to find 10 of the most spectacular golf courses in America when it comes to sheer awe inspiring scenery.
1. Arrowhead Golf Course, Colorado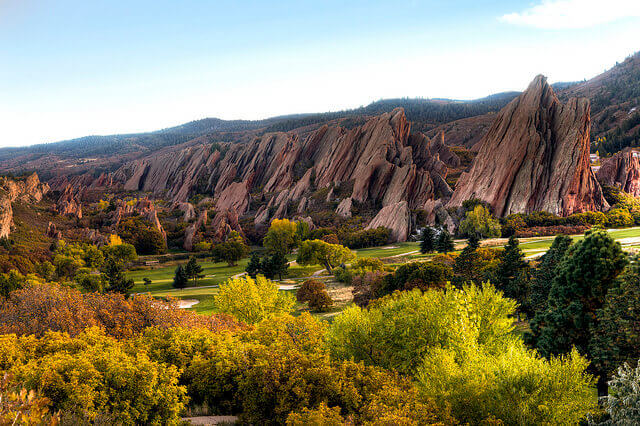 Source: Flickr Chris Locke
One of the most photographed golf courses in the world and ranked as one of the best golf experiences in the state.
This is a jaw-dropping, visually amazing golf course. The rock formations are sublime. The actual course is laid out well with some very interesting holes, big time elevation changes, and blind shots. Some of the greens have some undulation and big breaks, but they aren't overly difficult. There are plenty of deer that run around the course and it's just an absolute must-play. Not cheap, but worth it.
2. Chambers Bay Golf Course, Washington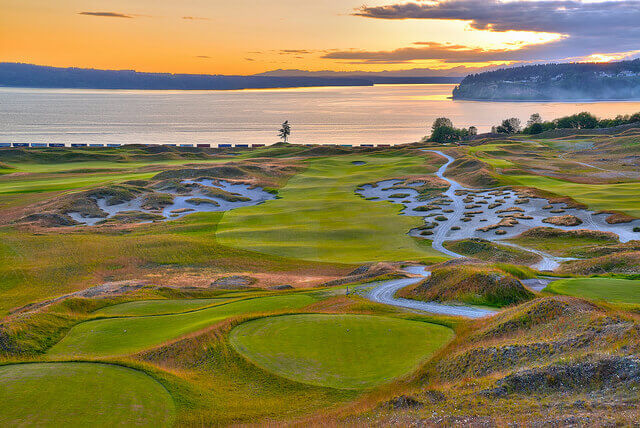 Source: Flickr Don Briggs
This may be the closest recreation of a Scottish-links style golf on this side of the Atlantic.
Host of the 2015 US Open, situated on a former gravel mine site, this seriously gorgeous golf course has jaw dropping views of the Puget Sound.
3. Monterey Peninsula Country Club, California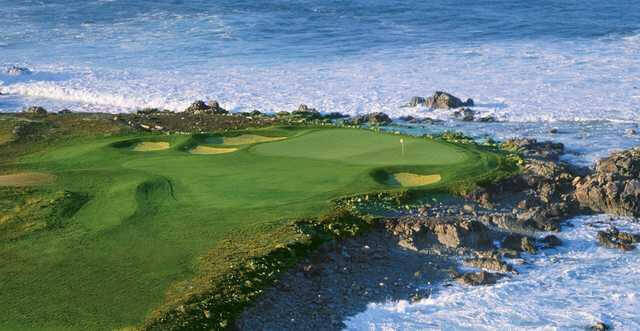 Source: Flickr Forester Athletic Network
14th green at Monterey Peninsula Country Cub "Dunes" Course. The signature hole is a par three that plays to 148 yards from the 'Men's Black' tee box.
4. Bandon Dunes, Oregon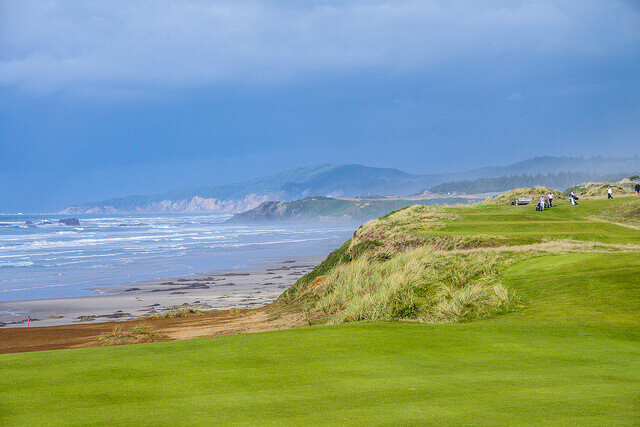 Source: Flickr Grekoh
Golfers know this small seaside town of Bandon as the home to one of the greatest golf resorts in the world. Bandon Dunes Golf Resort opened the Bandon Dunes Golf Course in 1999 which was quickly joined by Pacific Dunes in 2001, Bandon Trails in 2005 and then Old Macdonald in 2010. In 2012 a little 13 hole par 3 course called Bandon Preserve opened for play which completes the current course lineup at the resort.
5. Pebble Beach, California
Source: Flickr isogood
Pebble Beach is a mecca for golfers and it's little wonder why. This course has consistently been in the top rated golf courses worldwide. At more than $400 per round, it still exceeds expectations.
6. Cyprus Point, California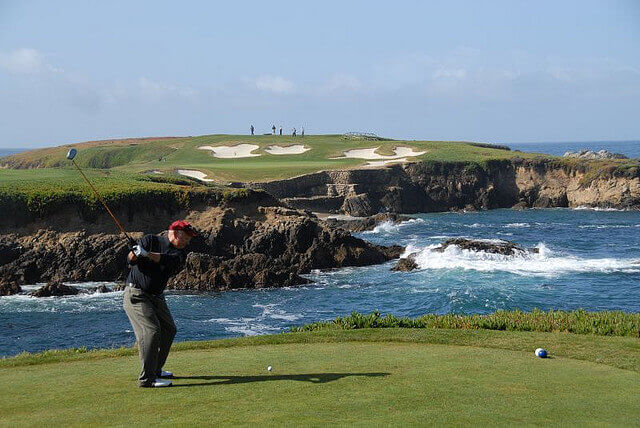 Source: Flickr jimberg
There's a reason why there have been very few changes to all that is Cypress Point. It's perfect. If Alister Mackenzie is arguably the greatest American course architect, then exhibit A of the defense team is the 16th hole, the best par 3 in the world.
7. Arcadia Bluffs, Michigan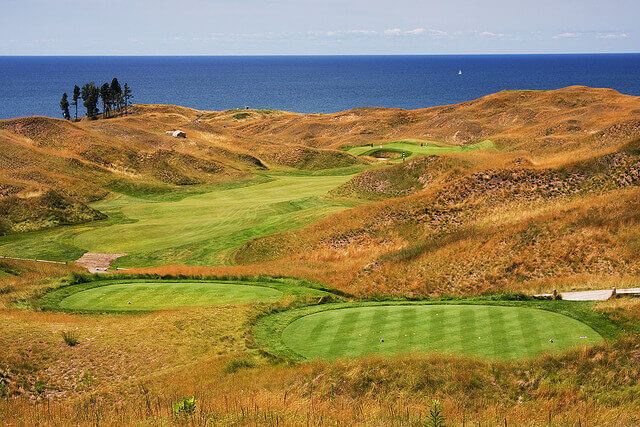 Source: Flickr Andy Simonds
Arcadia Bluffs, perhaps the best course in Michigan, a state with more than 850 public courses.
8. Quintero Golf and Country Club, Arizona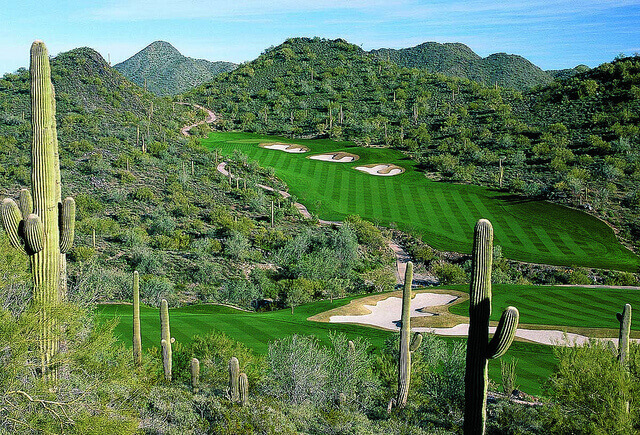 Source: Flickr Sonoran Suites
Quintero Golf Club in Peoria is immersed in desert scenery loaded with cacti and fast greens. You'll get a lot more out of this course if you see it via cart — walkers may wear out fast with some pretty long treks to the tee boxes. Even though Quintero Golf Club is hidden in the desert, golfers everywhere say it's a challenging, breath-taking course worth playing again and again.
9. Kiawah Island, South Carolina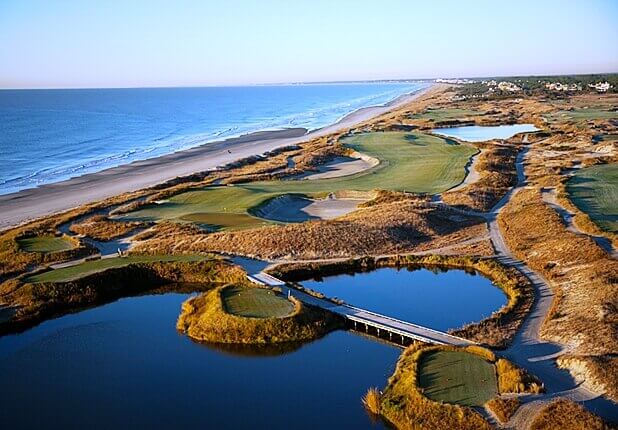 Source: eTraveltrips
The stunning Ocean course at Kiawah Island, South Carolina, offers incredible views of the Atlantic Ocean at every hole. It has hosted the 1991 Ryder Cup and the 2012 PGA U.S. Championship.
10. Stone Eagle Golf Club, California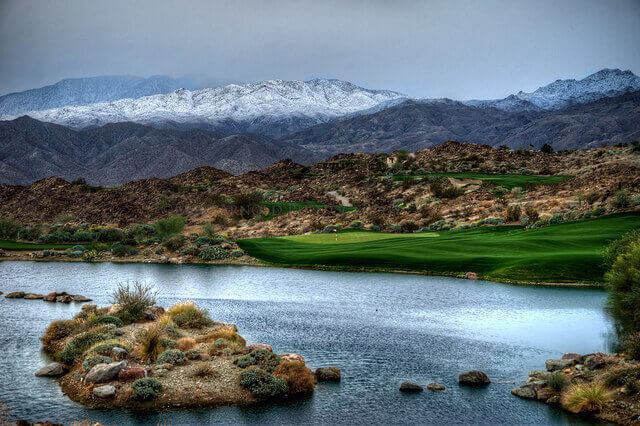 Source: Flickr Brad Arnold
View of the 4th Green on this beautiful Tom Doak's Design course, complete with snow capped mountain backdrop.
If you enjoyed this article, then check out 10 American golf courses every golfer must play before they die.