The best way to experience the best fall foliage drives is to hit the open road. Fall is the best time to drive all you want since the air is brisk and the leaves are deep russet reds, golds, and browns.
Here are our top 10 picks for the best fall foliage colors to see, but also things to do along your drive.
-Margie Goldsmith of Travel + Leisure
1. Blue Ridge Parkway, VA & NC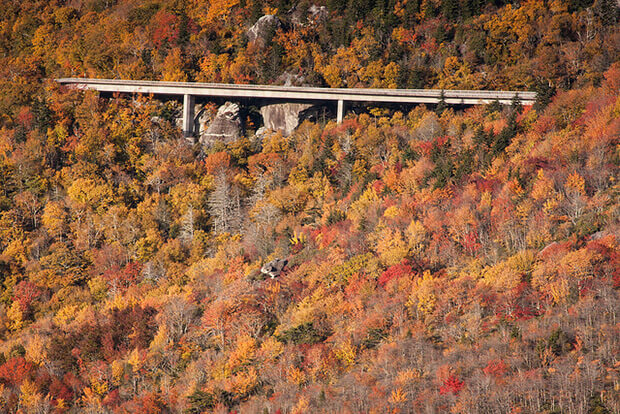 Starting Point: Roanoke, Virginia
The Route: 500 miles.
What to Expect: This slice of the iconic Blue Ridge Parkway combines Virginia's laid-back farmsteads with North Carolina's Appalachian hardwood forests.
Where to Stop: North Carolina's artsy city of Asheville; scenic Price Lake; mountain towns such as Blowing Rock, Floyd, and Galax, home to the Blue Ridge Music Center, which showcases the area's bluegrass tradition.
Stay: The eight-room Black Walnut Bed & Breakfast Inn (Asheville; $$) was created by the architect behind the Vanderbilts' Biltmore Estate, and recently developed a series of "secret gardens" for guests to discover during their stay.
Related Articles: 12 Fantastic Fall Favorites for You to Visit
2. Ozarks, Arizona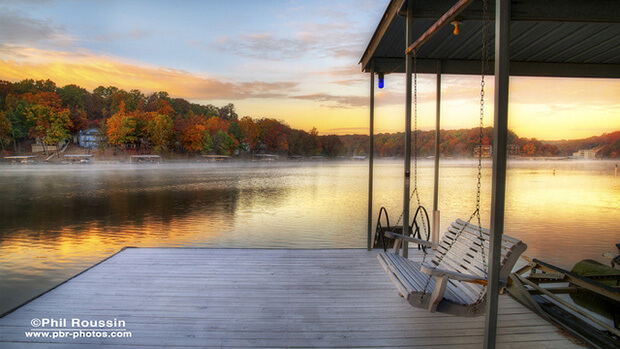 The Route: 197 miles.
From Bentonville, head east to the funky town of Eureka Springs, full of gingerbread houses and art galleries. U.S. Highway 62 and State Highway 21 then lead past spectacular hardwood forests on the way to the town of Jasper. En route, you'll find hand-thrown pottery at Osage Clayworks, and have the chance to float in a small boat 10 miles along the Upper Buffalo National River framed by 500-foot-high bluffs and dense flame-tipped oak forests. Once in town, treat yourself to the Ozark Café's perfectly southern biscuits with chocolate gravy. If you continue along Highway 21 to pick up Highway 16, you can visit the 86-acre Botanical Garden of the Ozarks, in Fayetteville, before riding I-540 back to Bentonville.
Where to Stop: Bentonville highlights include the art-filled 21c Museum Hotel; fried chicken and waffles dinner at Tusk & Trotter (topped with maple-bacon béchamel sauce, of course); and the Crystal Bridges Museum of American Art, which opened in 2011.
Related Article: 12 of USA Cities For Fall Travel
3. Moosehead Lake Region, Maine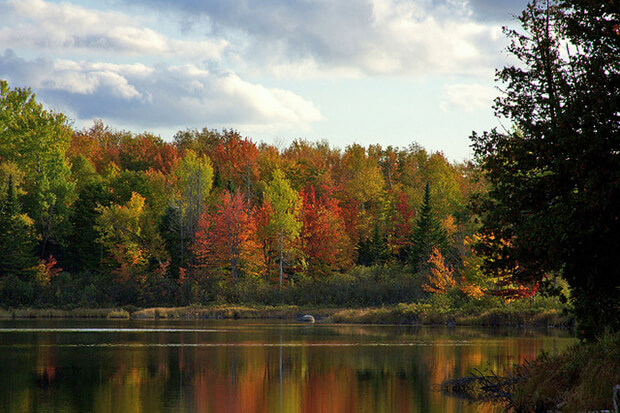 The Route: 75.2 miles.
Visit the spectacular foliage of Maine's largest lake, Moosehead. Start at The Forks, Maine's white-water-rafting hub, then to Jackman, deep in the North Woods. Stop at the Attean Overlook for an extraordinary view of the Moose River Valley all the way to the Canadian border. Head to Rockwood on the shores of Moosehead Lake and spend the night in Greenville. In the morning, drive beneath spectacular tree canopies on unpaved logging roads.
Where to Stop: Overnight at the luxurious Blair Hill Inn; book a moose safari, white-water raft or hike to Moxie Falls, and take a scenic floatplane tour for a bird's-eye view of Moosehead Lake.
Related Article: 8 of the Best Trips To Have This Fall
4. Lake Placid, NY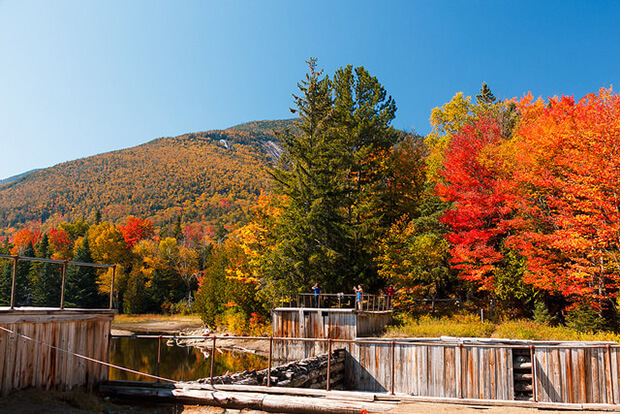 The Route: 45 miles.
The Adirondacks, the largest natural wilderness region in the Eastern United States, offers a dazzling palette of autumnal colors in the six-million-acre Adirondack Park, designated "forever wild." Start in Lake Placid and go northeast on Route 86 along the high cliffs of the Ausable River to view the sugar maples, American beech, and yellow birch trees' dazzling color display. Pass Jay and Keene, continue up the mountain along Cascades Lake, then head back into Lake Placid.
Where to Stop: Overnight at the Lake Placid Lodge; take the Whiteface Mountain gondola ride; attend the annual Flaming Leaves Festival in October, and go to Santa's Workshop in Wilmington.
Related Article: 5 Unusual Destinations To View Fall Colors
5. Skyline Drive, Shenandoah National Park, VA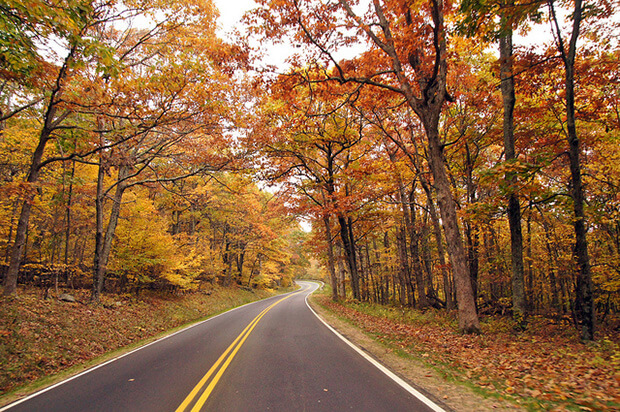 The Route: 105 miles.
This park in the Blue Ridge Mountains is the quintessential fall foliage destination for Southeast travelers, and Skyline Drive has been called one of the top 10 scenic mountain drives in the U.S. Cruise along the crest of the Blue Ridge Mountains from Front Royal, VA, to the Waynesboro-Charlottesville area, and ogle at the bright red Virginia creeper vines, yellow and orange hickories, and deep purple dogwoods.
Where to Stop: Visit the Skyland Resort Gift Shop for local Virginia wines, and stay at the historic Skyland Resort, 3,680 feet above sea level. Ride horseback through the park's scenic wooded trails, and don't miss Luray Caverns.
Related Article: 5 Ski Towns Where You Can Enjoy Fall Colors
6. Cades Cove, The Smoky Mountains, Gatlinburg, TN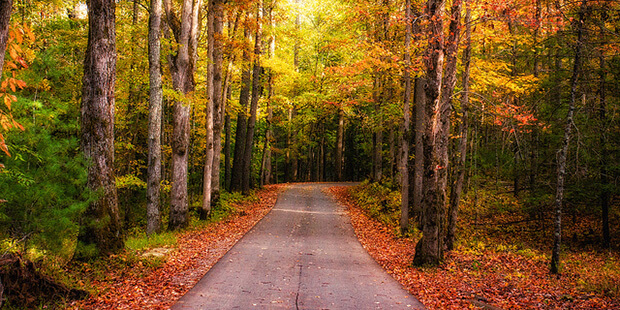 The Route: 49 miles.
Straddling the Tennessee–North Carolina border, Great Smoky Mountains National Park is the most visited national park in America. For optimal leaf viewing, start at the "top of Ole Smoky" at Newfound Gap, and drive down the mountainside to Cades Cove. You'll experience the fiery yellows of American beech and birch and vibrant reds of mountain ash, cherry, and mountain maple. Take the 11-mile loop around Cades Cove, winding past foliage surrounded by waterfalls, streams, and panoramic views.
Where to Stop: Shop for handmade baskets, scrimshaw, and leather goods at Gatlinburg's Great Smoky Arts & Crafts Community; bite into a stack of flapjacks at the Pancake Pantry (smoky mountain buckwheat, old-fashioned buttermilk, deep woods black walnut with orange syrup); hike, bike, or horseback ride Cades Cove to view the 19th-century homesteads.
7. The Enchanted Circle Scenic Byway, Taos, NM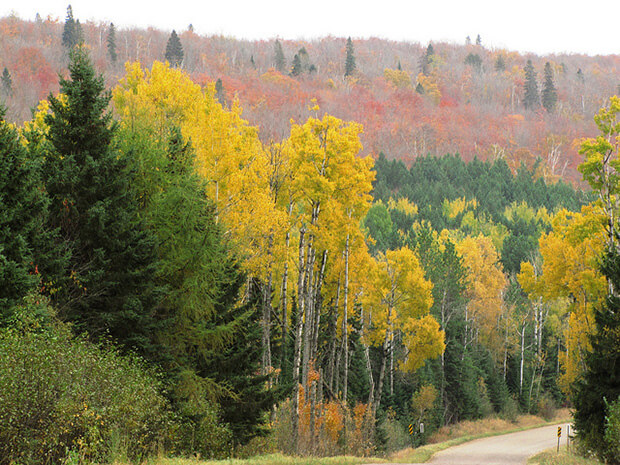 The Route: 84 miles.
You'll find some of the best southwestern fall foliage along the Enchanted Circle Scenic Byway loop from Taos to Eagle Nest (where you'll see 13,161-foot high Wheeler Peak), on to Angel Fire, and back to Taos. Here, the aspens range in color from brilliant gold to dark orange. Feast on purple cinquefoil and golden and red cottonwoods while on the lookout for elk, black bear, and eagles.
Where to Stop: Swing by the Taos Fall Arts Fest next month, as well as the old gold-mining town of Elizabethtown; stay at the Historic Taos Inn (in business since 1936) in the town's charming old section.
8. Eastern Sierras, CA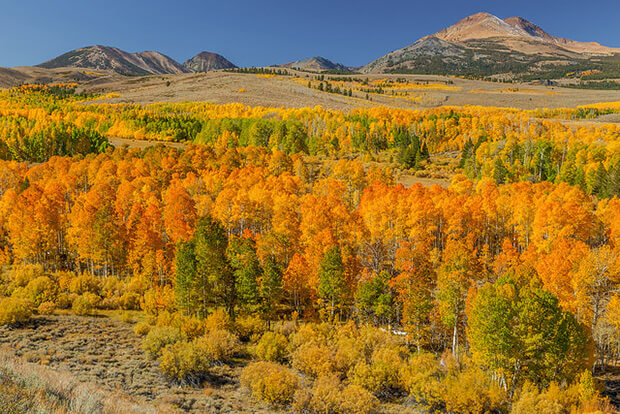 The Route: 125 miles.
Head to California for blinding displays of yellow and orange aspens, golden willows, and crimson cottonwoods amid sapphire alpine lakes, gushing waterfalls, and snow-frosted 12,000-foot-high mountain peaks. Start in Coleville to Lundy Lake, and then continue on to the June Lake Loop and Mono Lake. Go through Mammoth Lakes where orange streaks the mountainside, and finally to Rock Creek Canyon.
Where to Stop: Take a short hike for a view of Lundy Canyon Falls plunging down hundreds of feet; visit the West's largest unrestored ghost town, Bodie, in the Basin Range; and don't miss the lobster taquitos at the unusual Whoa Nellie Deli inside the Tioga Gas Mart in Lee Vining.
9. The Green Mountain and Mad River Byways, Vermont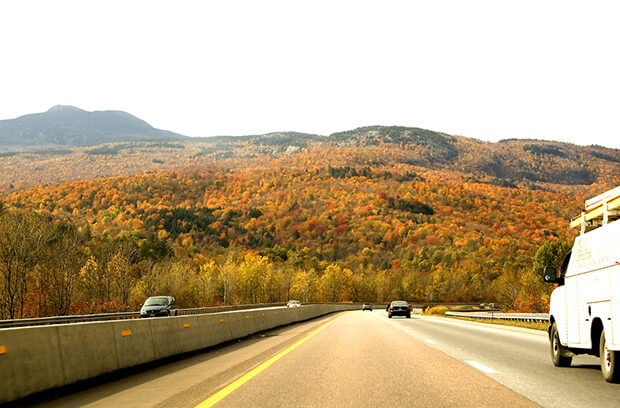 The Route: 23.9 miles.
Vermont is known as the mecca for serious leaf viewers in the eastern United States. Drive on one-lane highways meandering through valleys and mountains painted glorious shades with yellow alder leaves, purplish-red pin cherry, and brilliant orange and red maple trees. Begin in Waitsfield, where the Mad River runs, continue through Waterbury, and end in Stowe to see Vermont's highest colorful peak, Mount Mansfield.
Where to Stop: Visit Cold Hollow Cider Mill for a tour and cider tasting; dine at Michael's on the Hill, with panoramic views of Green Mountain; and shop for local products at Cabot Annex, home of eight specialty shops, including Cabot Cheese, Danforth Pewter and Lake Champlain Chocolates.
10. Michigan's Gold Coast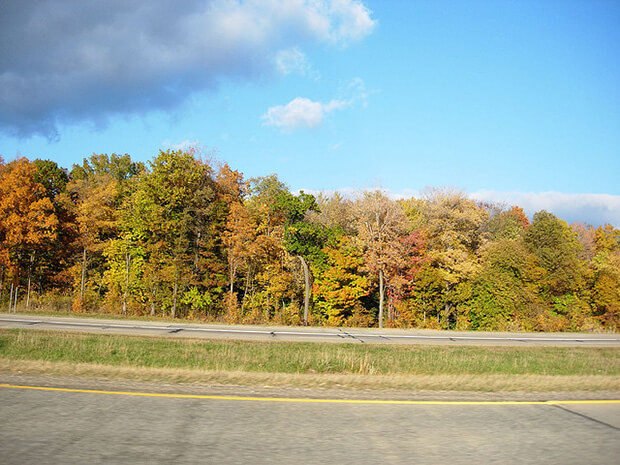 Starting Point: Traverse City
The Route: 100 miles.
What to Expect: Lake Michigan's northeastern shores have charming coves, towering sand dunes, and tiny fishing towns. Drive along Grand Traverse Bay, where, in the fall, fiery-hued maple and oak leaves stand out against green pine, fir, and spruce trees.
Where to Stop: The lakeside villages of Peshawbestown, Omena, and Northport; Inspiration Point, for views of Lake Michigan and the Manitou Islands; the 19th-century Grand Traverse Lighthouse; Sleeping Bear Dunes National Lakeshore.
Don't Miss: Visit Kilcherman's Christmas Cove Farm, in Northport, to pick apples from among 250 varieties.