The end of the bustling summer tourist season kicks off one of the best times of the year to travel. Whether you're up for adventure, relaxation, or something in between, check out our editors' list of 10 best fall trips for inspired ideas.
Sharing here 8 of the Best Trips To Have This Fall from National Geographic Travel…
1. Enchanted Circle Scenic Drive, Taos, New Mexico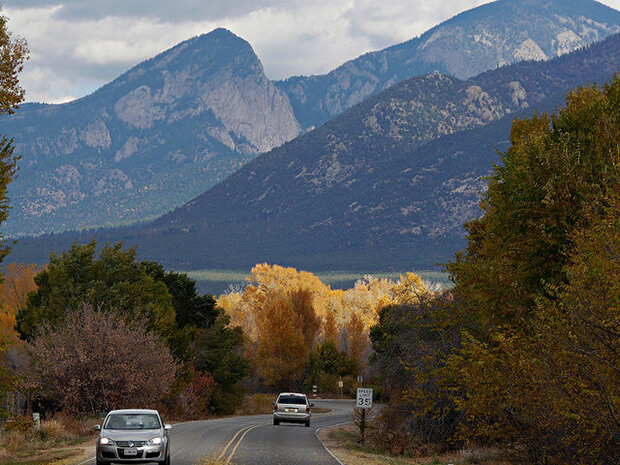 From late September through early October, north-central New Mexico's Enchanted Circle Scenic Byway is a best-of-fall highlight reel. For those beginning and ending the drive in Taos (basically circling the state's highest point, 13,162-foot Wheeler Peak), the 83-mile loop offers spectacular natural features: golden-hued aspens, thick evergreen forests, and abundant wildlife, including Rocky Mountain bighorn sheep.
How to Get Around: Begin in Taos and drive clockwise around the loop. From downtown Taos, head north on NM 64/68 to NM 522. Continue north on NM 522 for about 24 miles to Questa and turn right (east) on NM 38. Continue east and then south on NM 38 about 30 miles to Eagle's Nest. Here, you'll rejoin NM 64 to complete the circle back to Taos.
Helpful Tip: Take it slow and stay alert for changing weather conditions and wildlife on or near the road. Before making the drive, check the weather forecast for the entire route and plan accordingly. Curves on the two-lane route can become slick in wet or snowy conditions, and some sections of the road have little or no shoulders.
Fun Fact: One must-see Enchanted Circle detour is the Rio Grande Gorge Bridge, located 12 miles northwest of Taos on U.S. 64 (8 miles west of the NM 522 and NM 150 junction). Completed in 1965 and restored in 2012, the steel bridge is the second highest suspension bridge in the U.S., towering 650 feet above the Rio Grande River. For the most dramatic gorge views, park in the lot at the west end of the bridge and walk (staying on the walkways) out to the center.
Related Article: 12 of USA Cities For Fall Travel
2. Nation's Largest Oktoberfest Celebration, Cincinnati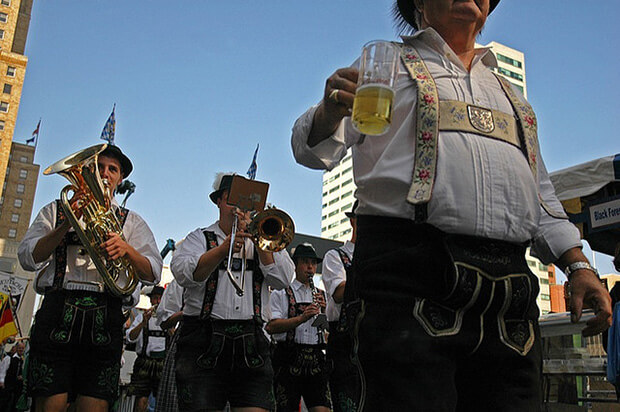 Follow the lederhosen-clad locals to Oktoberfest Zinzinnati, the largest festival of its kind in the United States. First staged as a block party in 1976, the free, family-friendly event now attracts more than 500,000 people and celebrates the city's deep German roots (German immigrants built Cincinnati's Over-the‐Rhine, or OTR, neighborhood in the 1800s).
How to Get Around: Cincinnati is located in southwestern Ohio at the junction of I-75, I-74, and I-71, about a hundred miles northwest of Louisville, Kentucky. The greater Cincinnati area extends south across the Ohio River to northern Kentucky, where the airport is located. Take the TANK (Transportation Authority of Northern Kentucky) public bus (operates 5 a.m. to midnight) from the airport to downtown, where the festival is staged on six blocks of Fifth Street, from Vine Street to Sentinel.
Helpful Tip: Download the free Oktoberfest Zinzinnati app (available in September on iTunes or GooglePlay), the interactive festival guide for iPhone or Android.
Fun Fact: The beer may get top billing, but Oktoberfest Zinzinnati is an all-out German food fest. According to the Cincinnati Regional USA Chamber survey of food vendors, the hungry herren and frauen at a recent Oktoberfest Zinzinnati consumed 80,500 bratwurst, 64,000 sauerkraut balls, and 1,875 pounds of German potato salad alone.
3. Myanmar's Biggest Hot Air Balloon Festival, Taunggyi, Shan State, Myanmar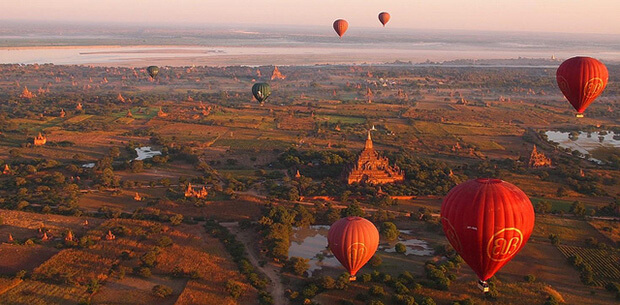 Tens of thousands of people converge on Taunggyi, a former British colonial hill station in east-central Myanmar, for the Taunggyi Tazaungdaing Festival, or Festival of Lights. The main event is on November 6 (the full moon day of Tazaungmone), but the high-flying, hot air balloon action begins five days earlier. Daily and nightly balloon competitions, parades, and fireworks displays serve as the dazzling opening act for the full moon grand finale.
How to Get Around: From Yangon International Airport or Mandalay International Airport, fly to Heho. From here, it's about a 45-minute taxi ride to Taunggyi. A more convenient option may be a custom or small-group tour (including a stop at the festival) with an English-speaking, Myanmar-based guide such as Gandawun Shwe Bagan Travel and Tours or MT & K Tourism Company.
Cultural Tip: Before your trip, read the Myanmar Ministry of Hotels and Tourism's Dos & Don'ts for tourists.
Fun Fact: Unlike modern hot air balloons commonly built from nylon or polyester, the balloons competing in the Taunggyi festival are crafted with traditional Shan paper. The thin paper, which can be folded like cloth, is handmade locally using mulberry bark. Shan paper also is used to make the umbrellas sold in markets throughout Shan state.
4. India's Biggest Hindu Festival: Diwali, Agra, India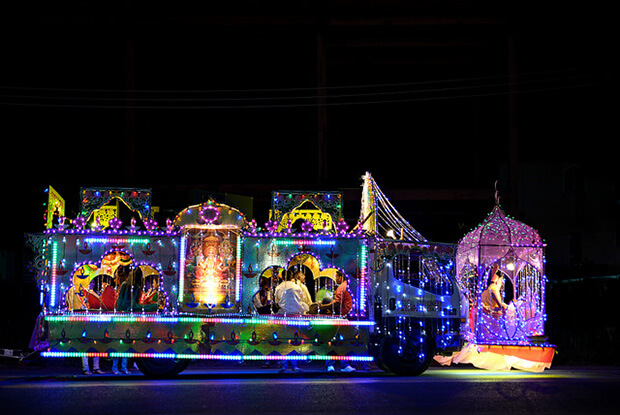 Diwali, or Deepavali, outshines all other Hindu celebrations with a dizzying array of elaborate rituals and dazzling light displays. Various legends and traditions are attributed to the five-day (October 23-27) Festival of Lights, so where you choose to celebrate will shape your personal Diwali experience. In Agra, home to three iconic World Heritage sites—the Taj Mahal, Agra Fort, and Fatehpur Sikri—Diwali is a joyous occasion commemorating the triumph of good (Lord Rama) over evil (the demon king Ravana).
How to Get Around: Agra is in northern India, about 129 miles south of New Delhi. The closest airport is New Delhi's Indira Gandhi International Airport. From the New Delhi train station it's about a two-hour ride to Agra via the high-speed Bhopal Shatabdi express train.
Fun Fact: Gift giving remains an important Diwali tradition in India, but there's nothing traditional about many of today's most popular presents. Among the top selling Diwali gifts purchased in 2013 were high-end smartphones, 3-D and plasma TVs, and washing machines and refrigerators.
Staff Tip: Diwali, a five-day autumn Hindu festival, creates a melee in the streets of India. And I made the mistake of assuming I could taxi through the hordes en route to the Taj Mahal in Agra. Indian roads are always an obstacle course of cows, monkeys, beggars, food carts, itinerant vendors, put-put drivers, and buses too big to pass. Diwali takes the melee to a whole new level of frenzy—it took me an hour to go the last half-mile to the Taj. The best access strategy? Taxi to the back of the crowd, then walk. You experience an eye-filling display of human revelry with the option of stepping aside or sitting down. And you get there faster and cheaper. —Keith Bellows, editor in chief and senior vice president, Travel Media
5. Pirates Week National Festival, Grand Cayman, Cayman Islands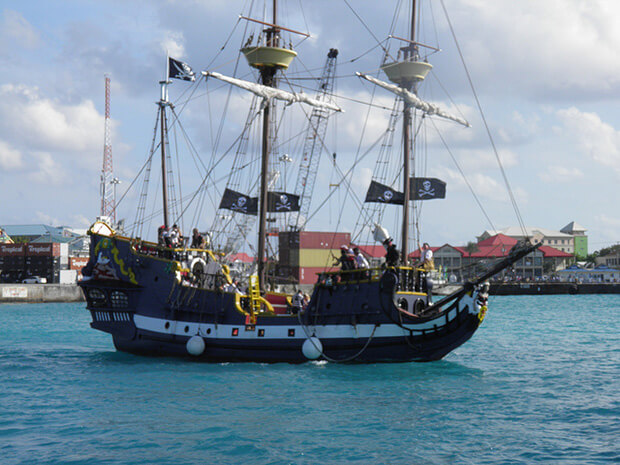 Although the name may evoke images of swashbuckling debauchery, Pirates Week has evolved over its 37-year history into a national celebration of Caymanian culture, history, music, and craft. There's still plenty of partying and pirate-themed fun, including raucous land and sea pirate invasions. No tickets are required for most major events, such as the Pan in de City steel drum band parade, pirate landings, float parade, and district Heritage Days.
How to Get Around: From Miami, take a direct flight (about 90 minutes) to Grand Cayman. Both the airport and most Pirates Week main events are held in or around George Town, the Cayman Islands' capital and largest city. Use taxis (readily available at the airport and all resorts) or public buses to travel around the island, or rent a car at the airport (drive on the left side of the road). Moped, scooter, and bike rentals also are available in George Town and at many hotels. Cayman Airways offers daily inter-island flights.
Cultural Tip: Each of Grand Cayman's five districts—Bodden Town, East End, George Town, North Side, and West Bay—hosts a designated "heritage day" during Pirates Week. Attending all five is the best way to learn about the Caymans' diverse cultures and traditions, meet local residents and artists, and visit areas typically off the tourist radar.
Fun Fact: Since Columbus first spotted modern-day Cayman Brac and Little Cayman in 1503, the names explorers have bestowed upon this three-island archipelago have been inspired by its reptiles: Las Tortugas (turtles), 1503; Lagartos (alligators or large lizards), 1523; and Caymanas or Caymans (derived from the Carib Indian word for marine crocodile), 1530.
6. Blooming Buenos Aires Walking Tour, Buenos Aires, Argentina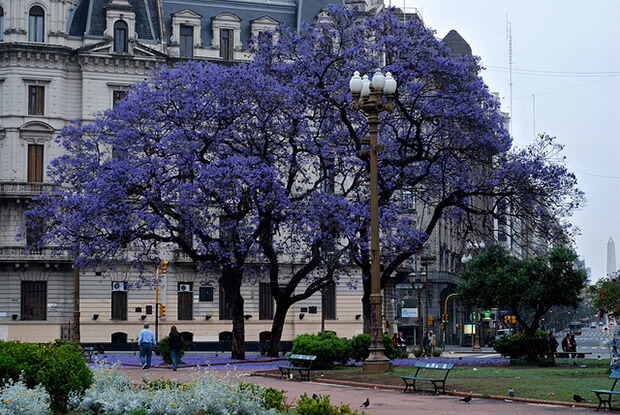 Spring in Argentina's capital city is an enchanting time to wander around the leafy streets of Palermo, Buenos Aires's largest barrio. For about three weeks (usually in November) the city's ubiquitous jacaranda trees blossom, carpeting the ground with lavender-hued petals. "Strolling through Palermo under blooming jacaranda trees is a mesmerizing experience," says Buenos Aires resident Quincy Long. "Many parks have small jacaranda alcoves that appear to be ringed by a magical layer of purple snow. Step into the middle of the trees, stare up at the black branches coated in purple flowers, and watch the blossoms slowly alight around you."
How to Get Around: Palermo's major parks (including the Botanical Gardens, Zoological Gardens, Japanese Gardens, and Parque Tres de Febrero) are located in the area closest to the Plaza Italia metro stop. Explore on your own, or book a private walking tour of Palermo with an English-speaking guide at BuenosTours (half day, $55 per person; full day, $110 per person; two-person minimum).
Cultural Tip: "Shorts, sneakers, and a T-shirt are a touch too casual for sleek porteños. Bring comfortable walking shoes but dress smartly." —Quincy Long, Buenos Aires resident
Fun Fact: Palermo gardens and parks are home to several different species of colorful parakeets. One of the most common is the lime green monk parakeet, which is easy to spot (and hear) as it hops and chatters among the branches of the jacaranda trees.
Staff Tip: If you happen to be in Buenos Aires on a Sunday, make sure your two feet lead you to the San Telmo market. The weekly festival takes over the cobblestone streets of the San Telmo neighborhood and has some of the best souvenir shopping in the city. Go hungry and enjoy a chorripan from one of the many food stalls—it won't disappoint. —Megan Heltzel, associate producer, Travel Digital
7. Cenote Snorkeling in the World's Longest Known Underwater Cave Systems, Quintana Roo, Mexico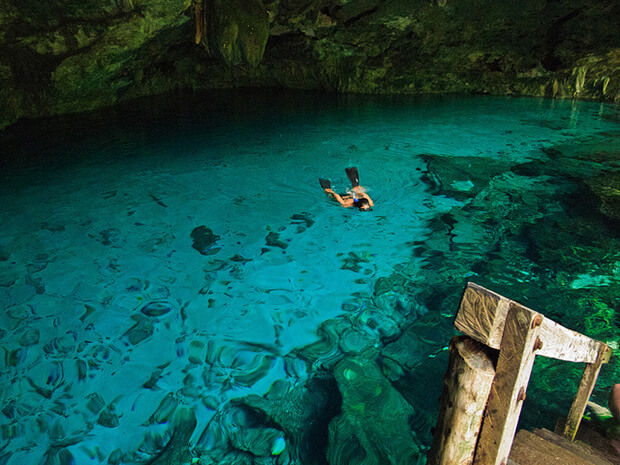 Ancient Maya associated the god Chaak with the cenotes, or cavern openings, that serve as gateways to the watery underworld beneath Quintana Roo on the Yucatán Peninsula's eastern coast. Multiple underwater cave systems are found here, including the world's two longest known: Sac Actun-Dos Ojos (205 miles) and Sistema Ox Bel Ha (160 miles). Although cenote diving requires recreational scuba certification, anyone who can swim can snorkel among the limestone formations near the surface of the cool (77ºF year-round) water.
How to Get Around: Cancun is Quintana Roo's main international airport. From here, rent a car or take a taxi, bus, or one of the ubiquitous colectivos (shared mini buses) to resort communities to the south, such as Playa del Carmen, Cozumel, and Tulum. Many hotels offer airport transfers. Cenote snorkeling day trips with qualified outfitters typically include round-trip transportation from area resorts.
Cultural Tip: U.S. dollars are accepted everywhere, but you'll get a better price if you pay in pesos. For safety's sake, use only the ATMs located at banks to withdraw cash.
Fun Fact: On Dive Academy Mexico's Dos Ojos tours, guides lead snorkelers through a passageway and into the Bat Cave, a large air-filled underground cavern. The cavern gets its name from the resident bats, which roost among the stalactites on the high ceiling.
8. Harvest Festival on the Eastern Edge of North America, Fogo Island, Newfoundland, Canada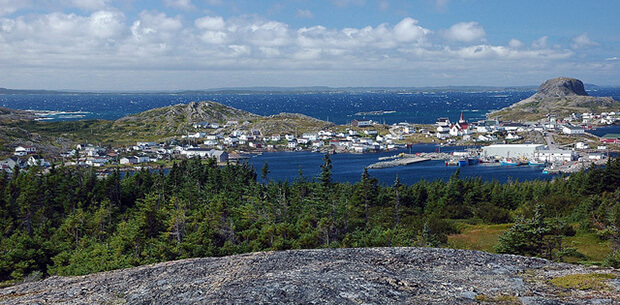 Rocky and windswept Fogo Island may look like nowhere you've ever been before, but spend a day on this far eastern edge of Newfoundland, and you'll "feel like you've come home," says Pauline Brown, director of the island's Partridgeberry Harvest Festival, held annually on Canadian Thanksgiving weekend (October 11-12 this year) at the Fogo Island Iceberg Arena. "What I love about Fogo Island is the peaceful serenity, the smell of the salt air, and, above all, the kindness of the people who live here," she adds. Meet the people—artisans, boatbuilders, musicians, chefs, fishermen, and innkeepers—who are working to preserve Fogo's cultural traditions at the community celebration named for the island's wild, tart red berries.
How to Get Around: Fly to Gander (Newfoundland) International Airport and rent a car for the 60-mile drive to the ferry terminal on Route 235 in Farewell. There are five daily ferry crossings to Fogo Island Monday to Saturday and four on Sundays (through October 15). The main ferry holds about 55 to 60 vehicles, plus passengers. Direct crossings are 45 minutes, and combined crossings (stopping first at Change Islands) are 75 minutes. The Partridgeberry Harvest Festival and the Fogo Island Inn are both located in Joe Batt's Arm, about a 20-minute drive east of the ferry landing in Man of War Cove.
Helpful Tip: Fall is an ideal time to hike the island's trails, as long as you're equipped with the right gear: sturdy hiking boots, layers of clothing (including waterproof jacket), a walking stick, and a warm winter hat.
Cultural Tip: "On Fogo Island, it is common to be invited into someone's home for a cup of tea or a meal," says Paddy Barry, ambassador of the Fogo Island Inn. "If you are quick with a song, story, or recitation, you will immediately be welcomed into the hearts and minds of locals."
Fun Fact: The Flat Earth Society claims that rocky Brimstone Head on Fogo Island is one of the four corners of the Earth. The tongue-in-cheek warning sign posted along the stairs leading up to the top of Brimstone Head reads: "You are nearing the edge of the flat Earth. One false step could be your last. Number of people lost to date '0.'"