To experience an actual volcano adventure is included in every traveler's bucket list. This may sound scary but also very inviting. The risk will be all worth it when you tried some of the mind-blowing volcano adventures carefully selected by author Lanee Lee for Yahoo Travel Explorers. We are sharing 9 of the mind-blowing volcano adventures, in no particular order.
So here's 9 of the mind-blowing volcano adventures you can include in your bucket list. Feel free to add your choice of volcano adventures in the comment section below if it is not included on our list.
1. Volcano Boarding in Cerro Negro, Nicaragua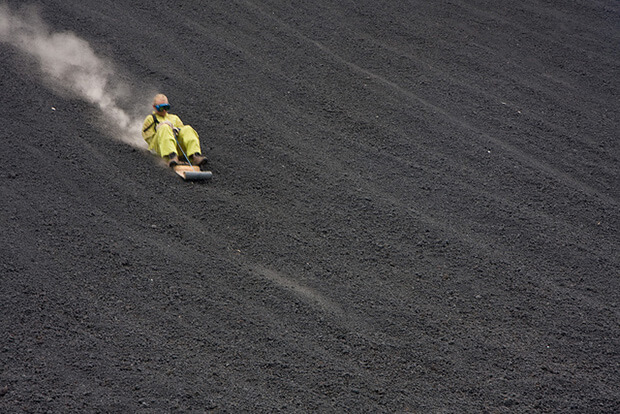 Cerro Negro, located roughly an hour outside of Leon, Chile, is the world's only active volcano that you can board down, be it sitting or standing. Due to the volcano's remote location, it's best to opt for a guided trek. Outfitters provide an English-speaking hiking guide, boards, and safety equipment, such as the (prison-style) jumpsuit, goggles, and gloves.
Suggested Outfitters for more info on Tour Details and Prices: Tierra Tours
Featured image source: Flickr – Skarphéðinn Þráinsson
2. Lava Boating in Mt. Kilauea, Hawaii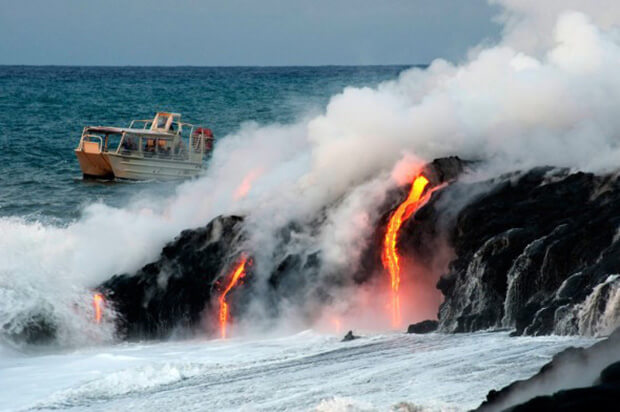 Continually erupting since 1952, Kilauea is aptly named — it means "spewing" in Hawaiian. Since you can no longer do a hot-lava scuba dive, the next best adrenaline rush is to feel the heat under your feet on a guided hike on Kilauea's lava fields, followed by a boat tour to witness the fiery show of red, liquid rock meeting the ocean in a steamy billow of clouds. Hot tip: Because volcanic activity changes daily, check the state's daily Kilauea Volcano Update or Lava Ocean Tours to make sure lava is flowing into the ocean before booking.
Suggested Outfitters for more info on Tour Details and Prices: Lava Ocean Tours Inc.
3. Geothermal Cooking in Mount Tavurvur, Papua New Guinea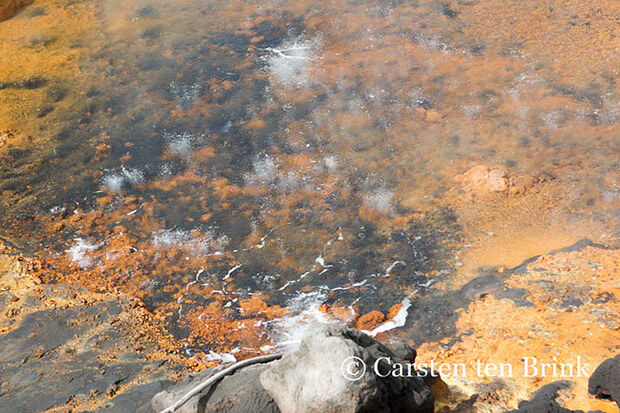 If all these extreme volcano adventures, aren't enough, there's always the novelty of cooking your breakfast via one. Local birds — called megapodes — lay eggs in the volcanic ash at the hot springs near Tavurvur volcano in Papua New Guinea. As part of a six-hour guided hike to the volcano's peak with Dive and Tours, you'll learn to do what the locals do: spot the nests, gather the eggs, and then boil them in the hot springs. Hot tip: Don't try this hike without a guide. Local villagers own sections of the volcano and you need special permits to pass.
Suggested Outfitters for more info on Tour Details and Prices: Kabaira Dive & Tours – Rabaul
4. Zip-Lining in Arenal, Costa Rica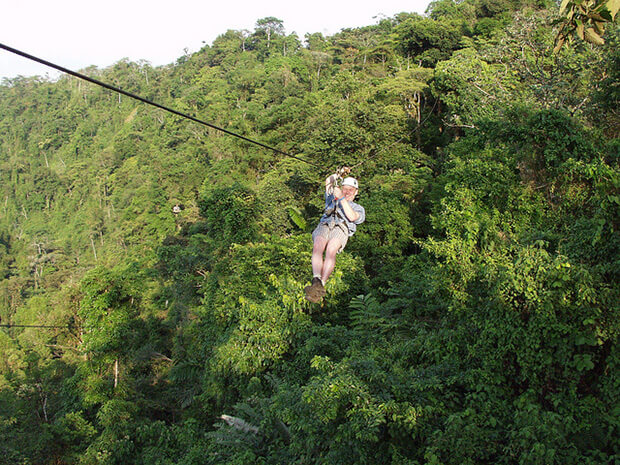 Arenal is just one of six active volcanoes in Costa Rica, albeit, the most-visited of them all. And it's also one of the best spots to zip-line with epic volcano vistas. The two-and-a-half hour tour with Sky Trek begins with a gondola ride to the top of the trees. From there, you'll fly through the air on seven cables, with volcano and lake views, at an elevation of roughly 2,500 feet.
Suggested Outfitters for more info on Tour Details and Prices: Sky Adventures
5. Heli-Skiing in Kamchatka Peninsula, Russia
Video source: Youtube – 56th Parallel
On this eight-day excursion exploring Russia's Far East volcanic slopes with 56th Parallel, it's possible to ski on five different volcanoes and even into craters with active steam vents. Optional volcanic thrills include snowmobiling, dog sledding, and geothermal hot springs.
Suggested Outfitters for more info on Tour Details and Prices: 56th Parallel
6. Volcano Biking in Cotopaxi, Ecuador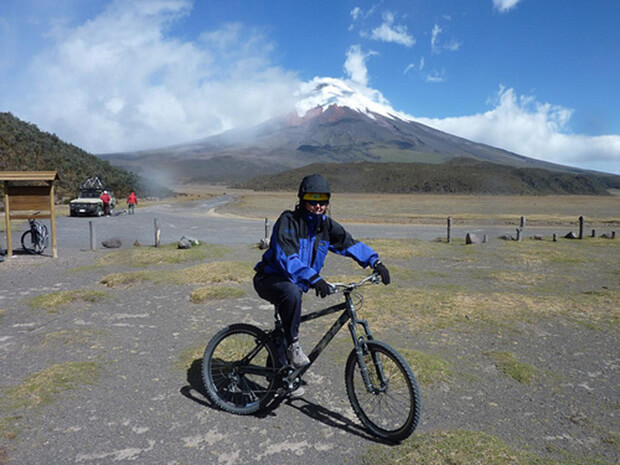 Cotopaxi, located roughly 38 miles from Quito, has been silent for almost 75 years. However, it's starting to rumble once again. Before it decides to blow its top, head out on a four-day mountain biking trek with Adventure Life, cycling through Santa Rita Ecological Reserve, El Tambo Trail, The Road of the Lahars, and down the volcano itself.
Suggested Outfitters for more info on Tour Details and Prices: Adventure Life
7. Volcano Cable Car in Thrihnukagigur, Iceland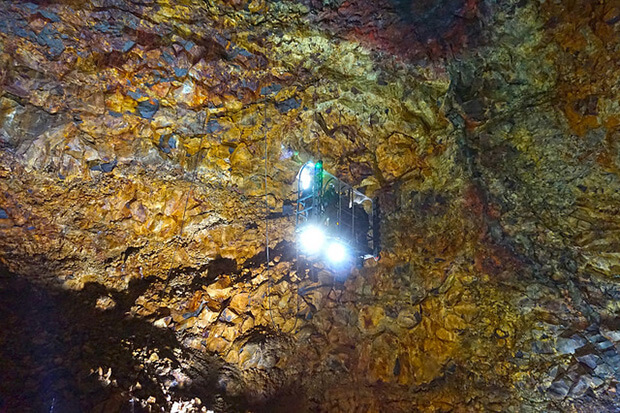 Eyjafjallajokull is Iceland's most infamous volcano thanks to its show-stopping (and flight-halting) antics in 2010. However, there is only one way you can actually descend into its belly. The 4,000-year dormant Thrihnukagigur reveals its secrets only to those who venture in by way of a cable car. Go down 400 feet into one of its magma chambers for views of Mother Nature's art — a spectrum of rainbow-colored residue on the rock walls. Day trips by Inside the Volcano run May through September.
Suggested Outfitters for more info on Tour Details and Prices: Inside the Volcano
8. Bungee Jumping in Villarrica Volcano, Chile
Perhaps you've bungee-jumped from a bridge or platform, but how about from a helicopter? Perched on the helicopter's skid, you leap from 10,000 feet in the air, heading straight for a molten pool of lava. Luckily, the cord yanks you back 700 feet above Vllarrica's caldera. Then you're transported back to the airport dangling upside down from the helicopter, roughly 35 minutes away. Run by Bungee, the jump is part of a five-day adventure.
Suggested Outfitters for more info on Tour Details and Prices: Bungee.com
9. Snowboarding in Mount Ruapehu, New Zealand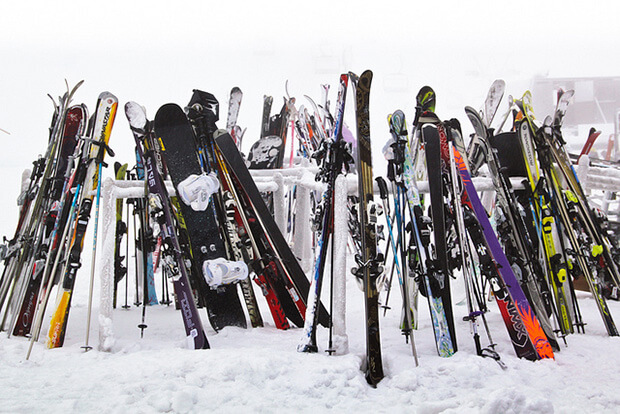 Mount Ruapehu has two of the largest ski fields in New Zealand. Nothing too crazy about that, right? Well, it's also the country's most active volcano. (The last eruption was in 2007.) Of course, plenty of safety precautions are in place in case of an eruption, such as an alarm that sounds alerting you to head to higher ground to avoid lahars (rivers of volcanic mud). Nothing like running from lava to spice up your snowboard or ski vacation.
Suggested Outfitters for more info on Tour Details and Prices: Mt. Ruapehu