Bungee jumping is one of the adrenaline fueled activities that you should try at least once in your lifetime. It started as a rite of passage for the youth of Naghol tribe in Pentecost Island, Vanuatu. AJ Hackett, an entrepreneur from New Zealand, witnessed this ceremony and he came up with a marketable idea. There are now 15 Hackett bungee jumping sites around the world, including the Kawarau Bridge Bungy located in Kawarau Gorge Suspension Bridge near Queenstown, New Zealand.
Here are 8 exciting bungee jumping destinations for the bravest of souls to try: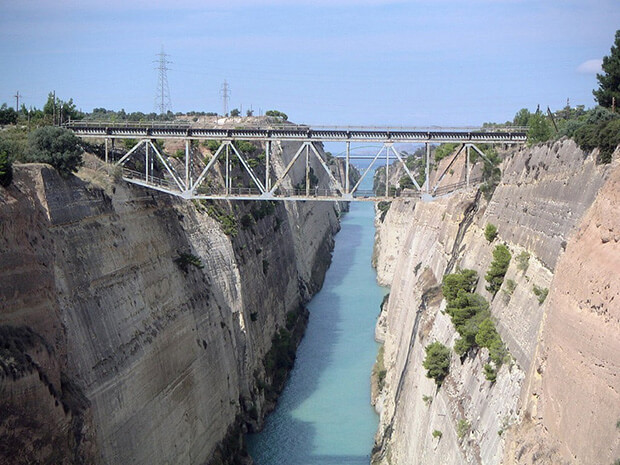 1. Corinth Canal, Greece
The exclusive Corinth Canal, which separates the Peloponnese from mainland and connects the Gulf of Corinth with the Saronic Gulf, is a stop that nearly all visitors to the Peloponnese make. The bridge above the canal is an ideal place for bungee jumping. Yes. Adrenaline seekers will not find anything more exciting than jumping off the bridge. One of the best bungee operators in this corner of the world is Zulu Bungee with staff extremely nice and hospitable. For those with not so much adventure, you can stand on the bridge and watch the bungee jumps along with looking down on the passing ships sailing slowly along the canal.
Source: Travel ViVi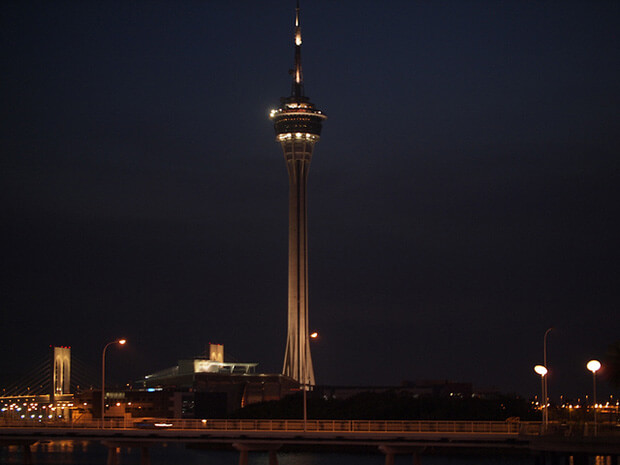 2. Macau Tower, Macau, China
Hear Macau, and you may think gambling and casinos. But Macau is not all about losing your inheritance over the slot machine.
It's here where New Zealand entrepreneur Alan John "A. J." Hackett made a 233-meter jump earning him a Guinness world record as the "highest commercial bungee jump" in 2007. If you think you are bold enough to beat this record, The Macau Tower is surely a place to earn it.
Source: Travel CNN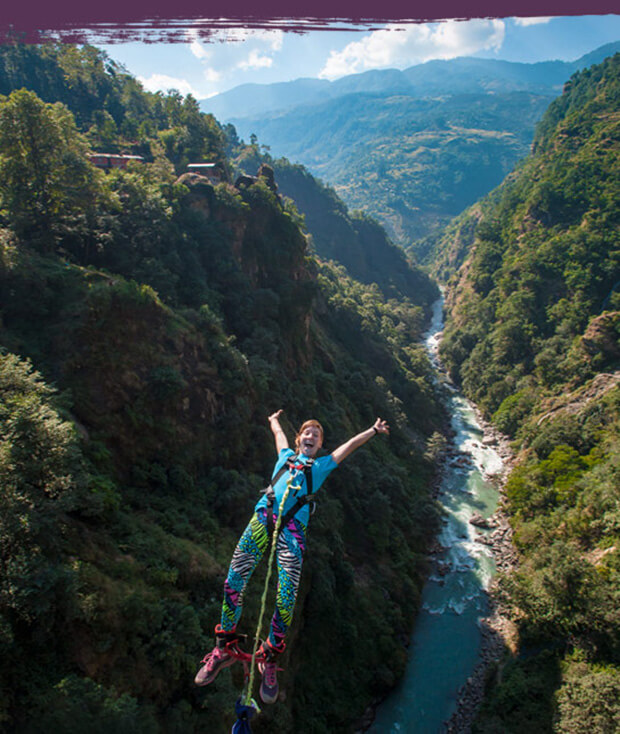 3. The Last Resort, Tatopani, Nepal
Located on a ridge overlooking the rapids of the Bhote Kosi river, about 60 miles east of Kathmandu and just seven miles from the Tibetan border, this adventure-mad resort is home to whitewater rafting, canyoning and the country's only bungee jump. It is surrounded by jungle and you plummet 160m from the bridge towards the raging Bhote Kosi below.
Source: The Guardian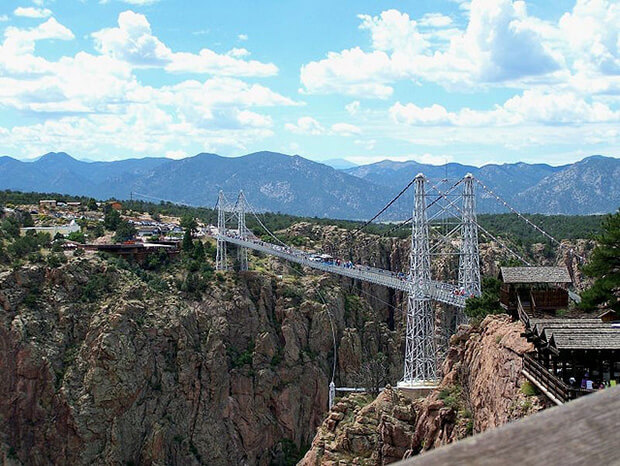 4. Royal Gorge Suspension Bridge, USA
Hanging above the Arkansas River, this suspended bridge is an all-time favorite bungee-jumping spot because of its amazing height. It spans over the Royal Gorge Route Railway and has a wooden plank-way for a breathtaking walk across the river.
Source: Xtreme Sport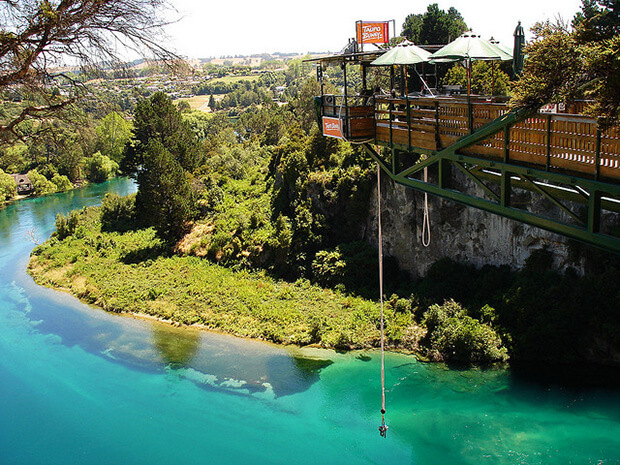 5. Taupo Bungee, Lake Taupo, New Zealand
The Taupo bungee isn't the highest, but it is one of the best because you can get dunked into the freezing water below. You can actually stipulate how deep you want to be dunked and that staff, using your weight, figures out how to get you to that point. After you reach your deepest spot underwater, you're ripped back up into the sky, as disorientation from taking in water goes through your body. It's a really wild jump!
Source: Conde Nast Traveler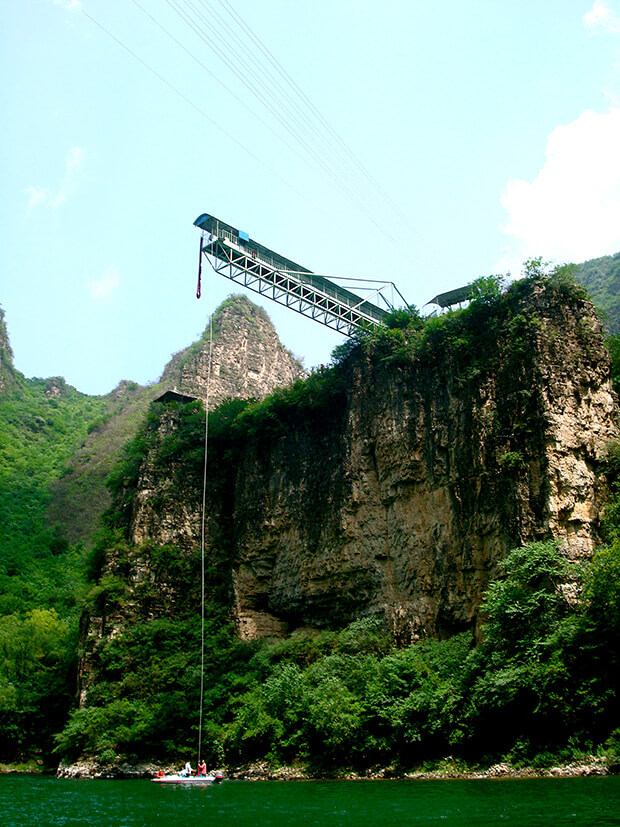 6. Longqing Gorge Bungee, China
With its green mountains, caves and clear water, Longqing Gorge of northeast Yanqing County is an amazing natural spot for trekking and cruising. However, nothing matches up to bungee jumping. Just gear up some courage and take the plunge. Let your friends capture your action in a camera that you can treasure for a lifetime.
Source: Adventure Seeker
7. Europabrücke Bridge Innsbruck, Austria
If you've grown weary of playing culture vulture on your European vacation, switch gears to an activity that's a bit more … death-defying, like bungee jumping off Austria's Europabrücke Bridge. This massive, 630-foot-tall structure spans more than 2,500 feet across the Wipp Valley, and supports the stretch of Autobahn twisting through the Alps between western Austria and Italy. Rupert Hirner Bungy Jumping operates the jumps off the bridge, and offers a variety of wild options including Rocket Bungy and Bungy Running.
Source: Travel Channel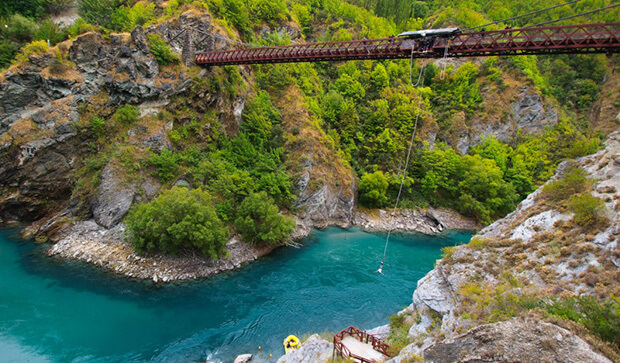 8. The Pipeline Bungee, New Zealand
This is the place where it all begins. The Pipeline Bungee of New Zealand is the brainchild of bungee pioneer A.J. Hackett. It's the world's first commercial bungee jump and is also the most popular bungee site. The Kawarau Suspension Bridge of Queenstown offers leaps over the Kawarau River at an amassed height of 141 feet. It takes 20 minutes to drive from Queenstown to this jumping site. It is here A.J. Hackett and Henry Van Asch first demonstrated the art of bungee jumping to the locals of Queenstown in 1988. Over 25 years have passed since then and the site remains the world's most beloved bungee jump.
Source: Escape Here