Legend has it that for every falling star, a wish will be granted.
So If you want to your chance and go star gazing or just want to watch the beauty of a full moon, here are some amazing outdoor hotel suites for you doze off or to look all starry eyed to at the sound of delicate waves, encompassed by vineyards, or drenched in the fragrance of wild roses, jasmine, gardenias and other aromatic peonies. Whatever your inclination, there's a suite to suit.
Here are some astonishing outdoor lodging suites for you to choose from. So book your suite and make a wish!
1. Wilderness Safari's Savuti Camp
Address: Savute Channel, Linyanti Concession, Okavango Delta, Botswana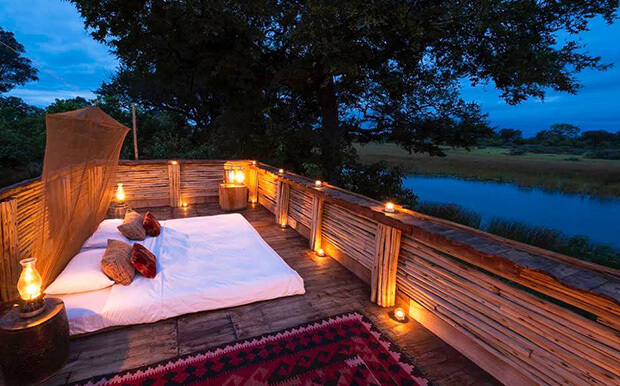 Savuti Camp is situated in the private Linyanti Concession along the Savute Channel, famous for the fact that between 1980 and 2008 it stopped flowing altogether, creating an unusual ribbon of grassland. Surprisingly, the Channel began to flow once more, becoming a deep, clear waterway harbouring hippo and aquatic life while wildlife had to adapt to a new source of water and all the opportunities and menaces it brought with it.
Guests at Wilderness Safari's Savuti Camp in Botswana can now sleep on two outdoor decks overlooking the Savute
Channel, where hippo, impala, buffalo and other wildlife can be seen. Both decks are a 20-minute drive or 45-minute boat trip from the main camp, so a sense of isolation is assured.
2. Nkwichi Lodge
Address: Lake Malawi, Mozambique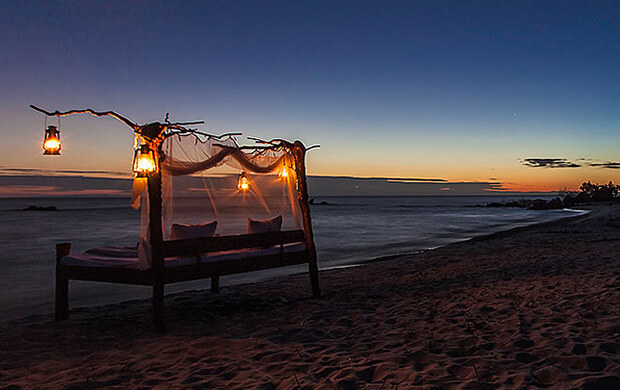 The ultimate way to savour Lake Malawi, Nkwichi's 'Lake of Stars' Bed' is a unique and unforgettable experience.
Set on a deserted, virgin beach surrounded by breathtaking baobabs, or on a private rock island close to the shore with Fish Eagles soaring overhead, this is the perfect way to see the wonders of an African night sky.
A hand-built lodge by the shores of Lake Niassa in Mozambique, Nkwichi Lodge stands by a 600 sq km game
reserve that houses sable, elephant, reedbuck, leopard and more than 300 species of bird.
3. Hotel Killa Bhawan
Address: 445 , On Fort, Kotri Para, Jaisalmer, Rajasthan 345001, India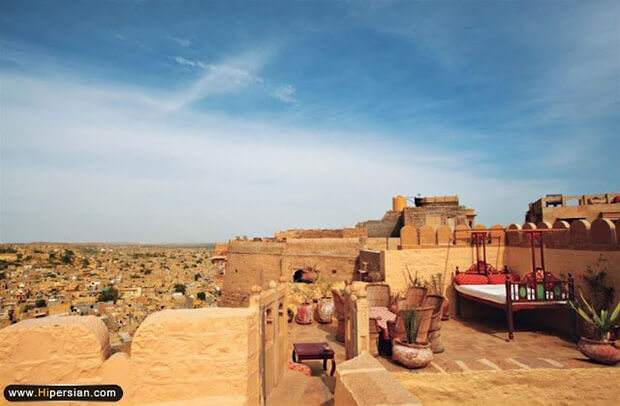 Hotel Killa Bhawan is said to be the best place to stay in town.
A Charming hotel in the heart of the old city of Jaisalmer just opposite the famous Patwa Haveli. Just opened in 2005, with 6 comfortable and nicely decorated rooms, all with attached bathrooms.
In Jaisalmer, a living fortress high above the surrounding small city of the same name, a Killa Bhawan guest might follow local custom and sleep out on the roof, in a well-made colonial bed. Jaisalmer's magic is magnified by its isolation in the middle of the Indian desert. Known as the Golden City, it was built in the twelfth century of yellow limestone marble and is famous for its palace, which you can see from the terrace, as well as its exquisite havelis (mansions) and seven Jain temples. Night brings a little wind, a clear desert sky, and the sounds of the city bedding down. Three thousand people live in the fort; in the temples, the worshippers sing and drum, then motorbikes
head home, and by ten all becomes quiet. Life begins again around six with the bells of the temples and first prayers.
4. AKA Central Park
Address: 42 W 58th St, New York, NY 10019, United States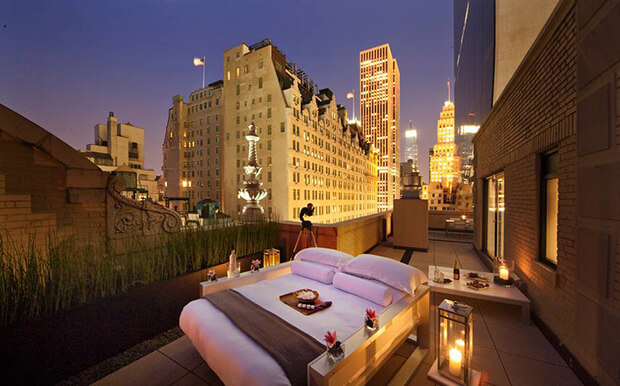 Located on the private key-accessed 17th floor, AKA's two, very special Sky Suites provide a one of a kind New York City experience. These expansive, light-filled one bedroom with terrace suites of nearly 1500 square feet have been
meticulously designed with custom interiors, creating a relaxing, zen-like atmosphere. Decorated with iconic mid-
century modern furnishings, the Sky Suites sit high above Central Park and feature breathtaking city views.
These two exclusive furnished apartments are surrounded by spectacular wraparound terraces with metal clad wood burning fireplaces, lounging and dining areas, and breathtaking city views in three directions.
5. Malori Sleep-Out Deck
Address: Northern Cape South Africa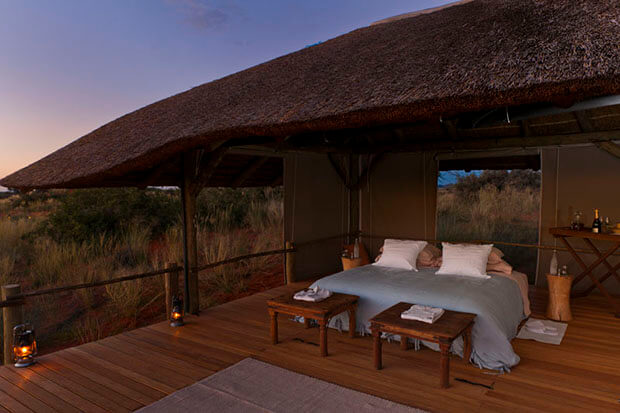 In Malori (meaning 'dreamer' in Tswana) Deck guests can sleep either under a thatched overhang or along the exposed deck. Sleeping in a luxury king-size bed on a raised deck in the middle of a game reserve, surrounded by the calls of nocturnal animals, with nothing between you and the brilliant stars of the Kalahari night sky…
Tswalu also provide children's camping beds, so the whole family can enjoy an exhilarating Kalahari sleep out under the stars.
6. Loisaba Star Beds
Address: Laikipia, Kenya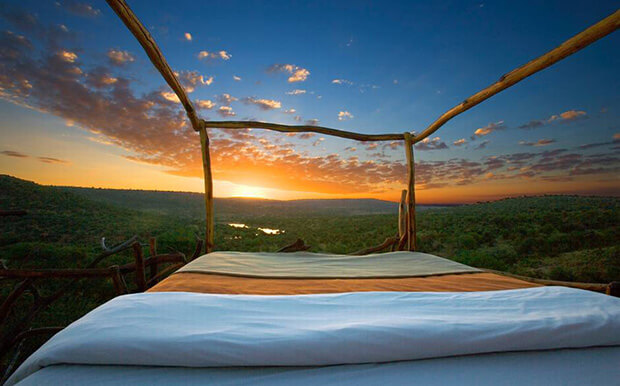 "It's all about the beds," says owner Tom Silvester. "They are ridiculously comfortable." You're just off the equator, amid acacia woodland and savanna, not far from the Rift Valley, the birthplace of modern man. There are two Star Bed camps: Kiboko, by a huge water hole that attracts wildlife, and Koija, on the Ewaso Nyiro River (you can hike from one to the other).
The two sets of Star Beds are unique to Loisaba. The first and original set are located among a kopje of rocks in one of the eastern valleys overlooking the "Kiboko" waterhole. The second and newer set is located about 8 kilometres further south on the banks of the Ewaso N'giro River.
Each Star Bed dramatically designed, handcrafted wooden raised platform, and partially covered with a thatched roof. Homemade "Mukokoteni" (uniquely designed bed on wheels), can either be wheeled onto the open deck area for a night under the stars, or left under the shelter of the roof.
All the beds have complete "four-poster" insect netting. The Star Beds are normally reached by one of many options; on foot, horse, camel or vehicle and with two sets now in place create a unique opportunity to travel between them both and the lodge as part of a Star Bed Expedition.
7. Amangiri Luxury Resort
Address: 1 Kayenta Rd, Canyon Point, UT 84741, United States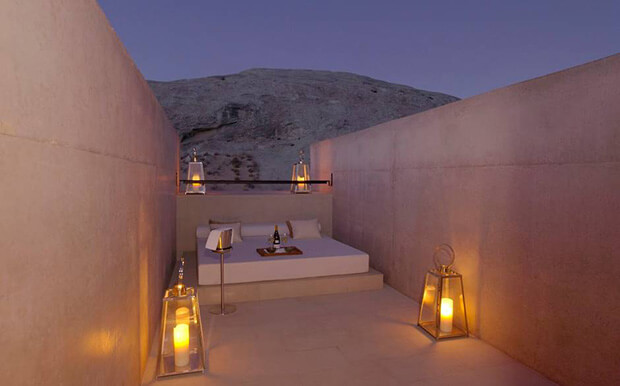 A full moon showcases the mesa against the sky. At night the occasional coyote yips, and at dawn bighorn sheep may troop by. Welcome to Amangiri (peaceful mountain), the extravagant 600-acre resort near the Navajo Nation in Utah as it cuts in near Page, Arizona. This is one of the best places in the United States for star-gazing: The air is clear and dry, and there's very little ambient light. If you'd like less exposure but a more focused relationship with the starry pitch above, six Amangiri suites have "Sky Terraces" three protecting walls with the open sky above and a pool below you.
Amangiri's Aman Spa features a floatation therapy pavilion, water pavilion with sauna, steam room, cold plunge and step-pool, fitness centre and yoga pavilion.
8. Ivory Lodge Lion Sands
Address: Sabi Sands, Mpumalanga, 1260, South Africa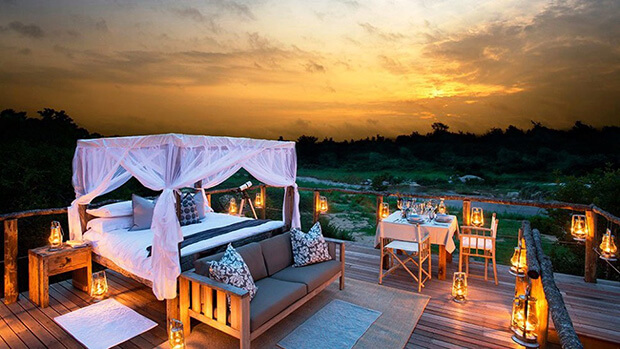 For the ultimate African Bushveld experience in lavish comfort, we recommend you to stay at one of the
ultraluxurious treehouses within the private Lion Sands wildlife reserve. Guests are led to the treehouse at sunset,
where drinks and a sumptuous picnic dinner await them, and are then free to enjoy a night under the stars to truly
experience nocturnal Africa in its rawest form.
Guy Aubrey Chalkley, who founded Lion Sands in 1933, used to tell his daughter when she slept out on the Chalkley
Treehouse, "Never fear the roar of the lion for it is rather when you don't that you need to be aware." Over the past 60 years, this tree house built as a photographer's platform has been reinforced and adorned with a cozy double bed, a hot- water bottle, dressing gowns, and a basin. Guests can have dinner and drinks in the tree or dine at the lodge and head out afterward. Once dropped off with mosquito repellent, torches, lanterns, and a two-way radio, they're on their own till morning. Chances are that during the night you will hear a lion roaring to stake its claim.
Images are from their website.
For rates and instructions on how to get there, please refer to their respective websites as they have a multilingual support team ready to aid your every need and will answer all the queries you may have.