To name only 9 of America's stunning waterfalls can be a tough one because each falls is stunning and beautiful in their own unique ways. Almost all of America's National Parks have stunning waterfalls to boost off, but since I cannot enumerate them all, I'm gonna list 9 of my favorite waterfalls, in no particular order.
So here it is…9 of USA's Most Stunning Waterfalls!
1. Multnomah Falls – Oregon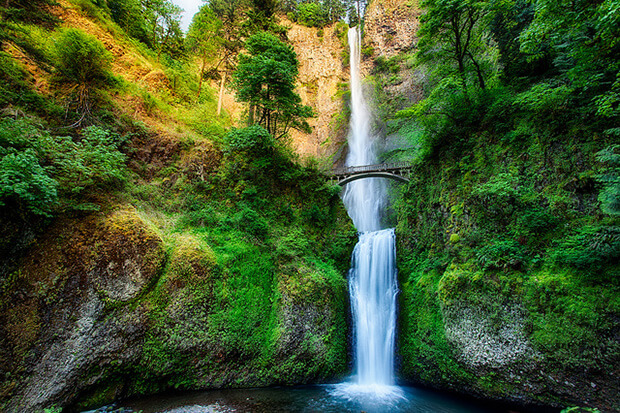 This breathtaking waterfall is made up of two falls, the upper one at 542 feet tall and the lower one at 69 feet tall. I did a 6-mile hike that went to the top of the falls and all around this remarkable area. The hike passed several other waterfalls, but Multnomah was definitely the most spectacular. There is a reason Multnomah Falls is the most visited natural attraction in all of Oregon.
2. Cumberland Falls – Corbin Kentucky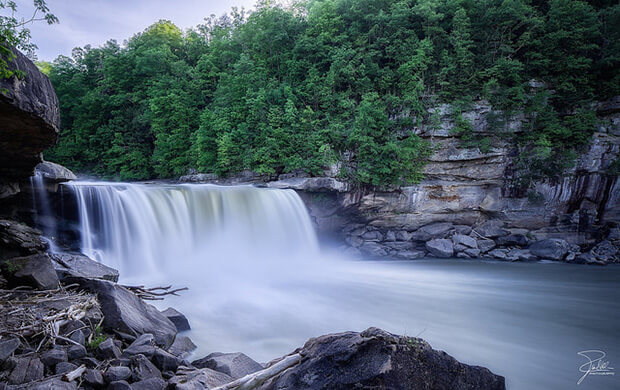 This classically wide and rectangular waterfall is known for producing lunar rainbows (also known as moonbows), Adding to the already colorful scene were pretty fall colors as well! The place still retained a rural countryside charm that seemed to be the norm in the South. The Niagara of the South is a really wonderful view to see.
3. Havasu Falls – Arizona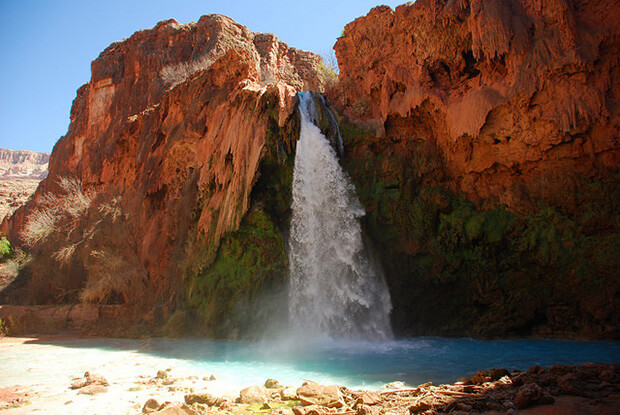 Havasu Falls can be found in The Grand Canyon National Park, and it is apart of the Havasupai Indian Reservation. This waterfall is the most visited of the falls in the park, understandably so! It looks like something out of a movie, with the red cliffs and blue water.
4. Yosemite Falls – California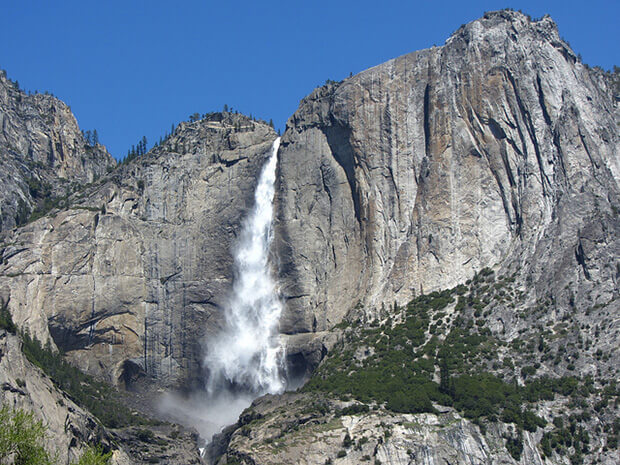 Yosemite National Park has numerous falls we can name here but Yosemite Falls is the country's tallest waterfall, three tiers of water falling 2,425 feet, so unbelievably pretty it could make your camera shed a tear. And that's during the day, at night, there are sometimes moonbows. Get there between early spring and mid-summer as the snow is melting or all you'll see is rock and other stone-faced tourists.
5. Palouse Falls – Washington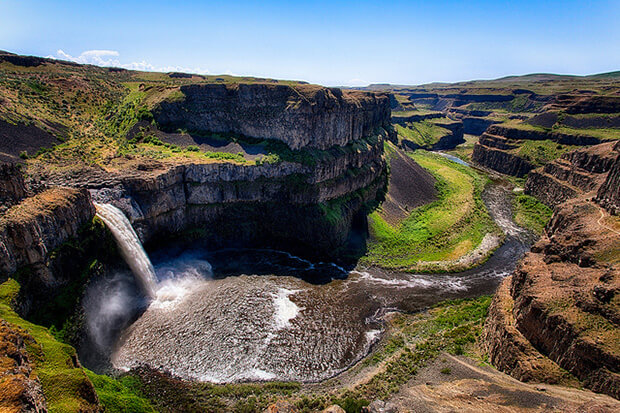 The nearly 200-foot Palouse Falls plunges fiercely over the side of a canyon into the Palouse River. In February 2014, it was honored as the official state waterfall of Washington.
6. Niagara Falls – Between New York and Ontario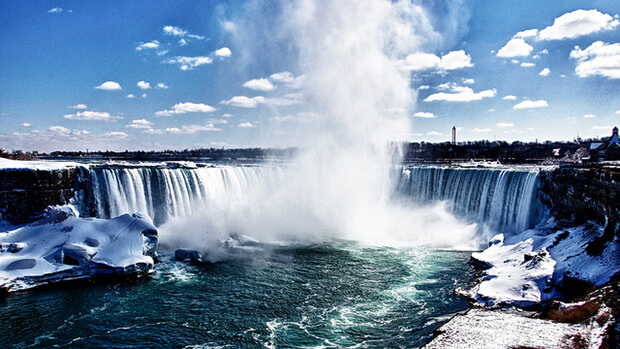 What Niagara Falls lacks in height, it makes up for in length. Three separate falls comprise greater Niagara Falls, which straddles the U.S. and Canadian border between New York and Ontario. Two of them—American Falls and Bridal Veil Falls—are on the U.S. side. Together, the three falls have the highest flow rate in the world.
7. Alamere Falls – California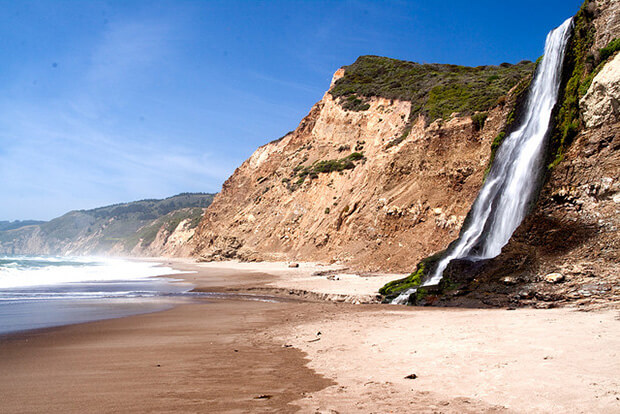 Part of the beautiful Point Reyes National Seashore, Alamere Falls is accessible via a 4+ mile hike in from the trailhead near Bolinas. It's a great hike that offers some uniquely spectacular views of the Marin coast. Getting down to the falls and the beach below requires some moderately difficult climbing, but is well worth the effort.
8. Lower Yellowstone Falls – Wyoming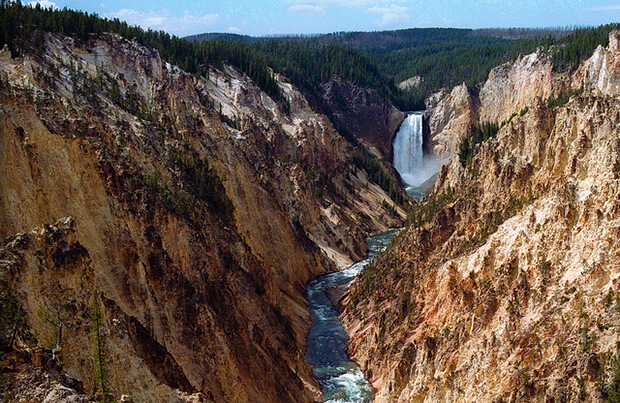 These falls just so happen to be almost twice as high as Niagara Falls (308 feet), but these falls lack in the width. The Yellowstone Falls in Yellowstone National Park is only 70-feet wide, compared to the half-mile that is Niagara. These falls were created from 590,000-year-old lava.
9. Ruby Falls – Tennessee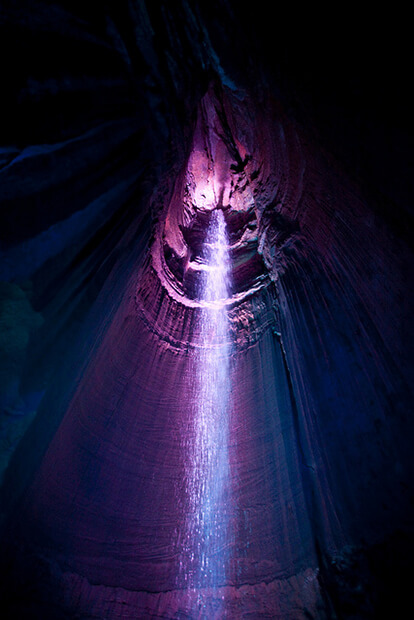 This is a natural wonder inside of a cave, 1,120 feet under the surface of Lookout Mountain (which, fun fact, has a beautiful manmade outdoor waterfall as well). At 145 feet, it's the tallest underground fall in the US and one of the oldest tourist attractions in the Southeast. See it under brilliant stage lighting or late at night, on smaller, lantern-only tours.