When most people think of a Skiing or Snowboarding vacation, they usually toss up between the European Alps, the USA (more then likely Colorado), Canada (probably the Rockies or Whistler) or possibly Japan & New Zealand. Next time think out of the Box, here comes 10 Snow Mountains in places that you would never have guesed!
1. Gulmarg Ski Resort, Kashmir INDIA
When you think of India, you generally think of bright colours, monsoon and HEAT. But that is just the surface. The Northern parts of India, sit nestled in the Himalayas, yep you got it the Himalayas, home to the tallest peaks on the planet, in fact the only ones that rise above 8000 meters.
Gulmarg is not for the faint hearted, this one is for the advanced and expert skiers and riders. While your there it is worth absorbing the amazing culture that greater India has to offer.

Source: Flickr Sunstone Adventures
2. Oukaïmeden, Ski Resort, MOROCCO
Who would have thought it, Snow in Africa (U2 certainly didn't), especially Skiing and Snowboarding in Africa! Yep, this has to be one of the more bizarre locations for a snow Mountain. The best time to hit this Mountain is between January and late March it is also recommended to do a day trip from Marrakesh, where you can wonder around the Medina and have a mean tagine.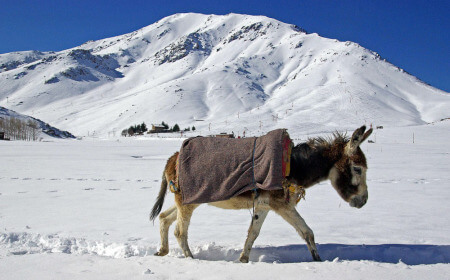 Source: http://deepsouthmorocco.com
3. Ski Pucon, Pucon, CHILE
Ever wanted to rip some powder on a volcano? This small family resort is perched on Villarrica Volcano in Chile's lake district. the lava flow has created natural half pipes, a freestylers dream. Chile surprisingly has an abundance of Ski resorts, scattered through the Andes Mountain range, a great destination for the Northern hemisphere folks when you need a snow hit in the middle of summer.

Source: Flickr clicheforu
4. Ben Lomond Alpine resort, Tasmania, AUSTRALIA
Ever thought of playing in the snow with a Koala? How about cutting some moguls with a Kangaroo? or ripping down the hill with a Tasmanian devil? Yep sunny, beach ridden Australia has some great Snow resorts and the one most off the beaten path has to be Ben Lomond, just out of Launceston, on that little island, Tasmania that hangs at the bottom of Australia. Maybe not Australia's best mountain, however the scenery and friendly local vibe is worth a visit if you are near by.
Source: Flickr James Leggate
5. Ski Dubai Snow park, Dubai, UNITED ARAB EMIRATES
No, your not wrong, there aren't any Alpine resorts in Dubai, but that hasn't stopped them from trying. In November 2005 the worlds largest indoor snow park was open. Consisting of 3000 square meters of snow, this park features a freestyle zone, 5 runs, tube zone and snow penguins! An unique experience you cant miss if you are ever in Dubai.
Source: Flickr Els
6. Tiffindell Ski Resort, Southern Drakensberg, SOUTH AFRICA
Yep, another African resort. Built in 1993, with an elevation of 2810 meters. This is South Africa's only Ski resort. Manned with state of the art snow making equipment, to help top up natures snow, this is a unique place to build a snowman and have some typical fun time in the snow.A great add on to your safari- after all how many people can say the skied in South Africa?
Source: Flickr Brad Jackson
7. Chrea, Algiers, ALGERIA
Taken over by armed groups, military vehicles and the brutal leaders of the GIA (armed Islamic group), Chrea was closed between 1992 and 2002. Now the laughter and enjoyment is back. Its size is not what lures people to the park, it is the majestic mountain forest landscapes, the undisturbed beauty of nature and the vast variety of wildlife that remained isolated from the public eye for ten years that draws them. Another African hidden Gem.
Source: http://www.algeria.com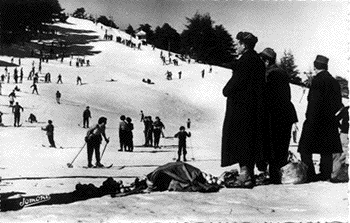 Source:http://afn.collections.free.fr/
8. Shemshak, Tehran, IRAN
There are several ski resorts in Iran, however the most popular are Dizin and Shemshak. With strict Islamic laws, some resorts have different lifts for Men and Women, however everyone should feel comfortable at Shemshak. Known as the party resort, you a bound to have a good time with it also renowned for been an advanced skiers and snowboarders mountain. An awesome destination, worth checking out, with tickets around the $12 mark- you will be pleasantly surprised!
Source: Flickr Reza Vaziri
9. Vasilitsa, Pindos, GREECE
When you think of Greece, you think of the beautiful Islands of the Mediterranean ocean, eating olives and seafood. However Greece has 21 ski resorts, scattered all through the country. Vasilitsa is located in north western Greece, 42km from Greneva. With outstanding Glade runs and powder to please the pickiest of Snow bums, here is one to add to your list.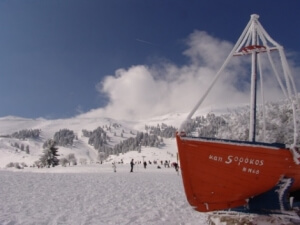 Source: http://www.wheretoskiandsnowboard.com/
10. Big Island, Hawaii, USA
With you 4×4 your ski lift. Mauna Kea or White Mountain, offers some of the world's highest skiing.This massive extinct volcano is blessed with the finest snow in the world. Who would have thought, Snowboarding in one of the worlds finest paradises.
Source: Flickr Alan L